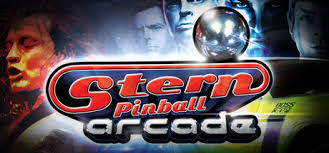 Back to All News
09/25/18
Stern Pinball and FarSight Studios to Release New Stern Pinball Arcade Tables for Oculus Rift
ELK GROVE VILLAGE, IL – September 25, 2018 – Stern Pinball, Inc., a global lifestyle brand based on the iconic and outrageously fun modern American game of pinball, proudly announced today the release of 10 new tables for Stern Pinball Arcade for Oculus Rift. Both classic and modern Stern pinball tables will now be playable in virtual reality for the most realistic and immersive experience yet. To celebrate this historic launch, Stern Pinball, with FarSight Studios and Dead Flip's Jack Danger of Twitch notoriety, will be giving fans a sneak peak of this long awaited VR version of the Stern Pinball Arcade.
"With gameplay running at 90 frames per second, the Oculus Rift version of Stern Pinball Arcade is the most technologically advanced virtual pinball simulation ever created," said Bobby King from FarSight Studios. "Exclusive to Rift, we've also added a free-to-play design that allows players to try all of these beloved Stern titles without spending a dime, and players can even own tables in-game through our system of achievements and unlockables. We think both pinball fans and VR enthusiasts are going to really love this version."
This is the first time that Stern Pinball tables are available digitally on a VR platform with positional tracking, adding precise detection of where the user is looking and interacting with the game. The result is a riveting pinball experience, controlled solely by the user.
"Virtual Reality is a natural extension of exposing and expanding the fun of pinball to the global entertainment audience," said Gary Stern, Chairman and CEO of Stern Pinball, Inc. "Stern truly values our partnership for developing these new pinball platforms with Oculus and FarSight Studios."
Join the fun Thursday, September 27th as the pre-reveal stream begins at 6:00 PM CT on Twitch from FarSight Studios stream (https://www.twitch.tv/farsight_studios) before raiding Jack Danger's channel (https://www.twitch.tv/Dead_Flip) at 7 PM CT for more VR fun.
Pricing and Availability
The new Stern Pinball Arcade is available on Oculus Rift starting October 4th from the Oculus Rift app store, Rift Experiences (https://www.oculus.com/experiences/rift/1316974601661898/). The Stern Pinball Arcade app is free to download with Mary Shelley's Frankenstein unlocked for unlimited play.
All pinball tables are purchasable with in-game currency or real money.
Modern Stern Tables – $9.99
Classic Stern Tables – $4.99
Available Stern Pinball titles include: Ghostbusters, Star Trek, Mustang, AC/DC, Last Action Hero, Phantom of the Opera, Starship Troopers, High Roller Casino, Ripley's Believe It Or Not, and Harley Davidson.
For more information on the Stern Pinball Arcade on Oculus Rift visit: (https://www.oculus.com/experiences/rift/1316974601661898/)
About Stern Pinball, Inc.
Stern Pinball, Inc. is a global lifestyle brand based on the iconic and outrageously fun modern American game of pinball. Headquartered minutes from Chicago's O'Hare International Airport in the heart of North America, the company creates, designs, engineers, manufactures, markets, and distributes a full line of technologically advanced terrestrial and digital pinball games, parts, accessories, and merchandise. Stern Pinball serves digital, consumer, commercial, and corporate markets around the globe.
Recent Stern Pinball titles include Deadpool, Iron Maiden, Guardians of the Galaxy, Star Wars, Aerosmith, Ghostbusters, KISS, Metallica, Game of Thrones, The Walking Dead, Star Trek, AC/DC, Batman, and Spider-Man. A broad range of players enjoy Stern Pinball's games from professional pinball players who compete in high-stakes international competitions around the globe to novice players who are discovering the allure of the silver ball for the first time. To join the fun and learn more, please visit www.sternpinball.com.
About FarSight Studios
Based in Big Bear Lake, California, FarSight Studios has been developing video games since 1989. Among their titles are multimillion-unit-selling NFL football games, casual mass-market games, kid friendly sports games, and plug-and-play toys. FarSight has made games for every major console from the original NES to the PlayStation 4, Xbox One, and Virtual Reality devices. FarSight's games have been honored as Mobile Game of the Year, Greatest Hits, Toy of the Year nominee, and Editor's Choice on multiple platforms.
About Dead Flip
Twitch star and Stern's Global Pinball Ambassador, Jack Danger, streams his live action pinball adventures from around the country every weekday, as well as from every major pinball event you can think of. Jack Danger's Dead Flip channel is dedicated to bringing pinball to both experienced players and people looking to learn how to play pinball. Jack has perfected the art of bringing live action pinball to eSports through a custom multi camera, live stream set up. For more information on Jack Danger and Dead Flip visit: http://www.deadflip.com/