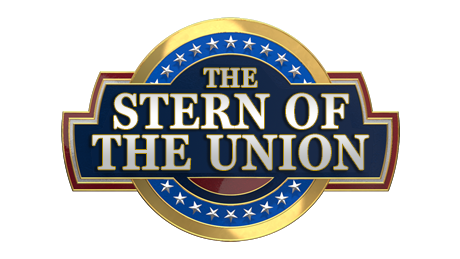 Back to All News
01/08/19
STERN OF THE UNION ADDRESS – JANUARY 2019
The Stern of the Union Address will be on the first Tuesday of every month (holiday and vacation excepted).  Without further ado my fellow pinheads:
The Munsters at CES:
Stern Pinball unveiled today at the Consumer Electronics Show (CES) in Las Vegas, Nevada our latest game, The Munsters!  Read the full press release and see pictures on our website – https://sternpinball.com/game/the-munsters
Also check out the official game trailer – https://youtu.be/-mSURMrFb2I
We'll be live streaming all models throughout CES week so make sure to tune in to Jack Danger's Dead Flip channel.  We will soon have more details about the official Stern Army Launch Parties for this game.
Stern Army Updates:
The Stern Army continues to grow with members spreading the gospel of pinball across the globe.  Here are our newest members and the pinball locations they support:
Private David Andersen of Colorado (Pinball Jones)
Private Michael Hosier of California (Coin-Op Sacramento)
Private Anna Hovhannessian of New York (Modern Pinball NYC)
Private Lucas Bardin of Australia (Sandbelt Club Hotel)
Private Jon Stoddard of Tennessee (The Retro Arcade)
Private Will Long of Ohio (Cartridge Gaming)
Congratulations to the following Stern Army members on their promotion from Private to Private First Class:
Private First Class Matt Quantz of Texas (EinStein's Pub)
Private First Class Bill Lembesis of Michigan (M-Brew)
Private First Class David Pollock of Texas (The Game Preserve)
For more information and to join the Stern Army, please reach out to SternArmy@sternpinball.com
Stern Army Iron Maiden Legacy of the Beast Tournament:
Congrats to all winners in the official Stern Army Iron Maiden Legacy of the Beast tournament!  Final standings and winners are located here: https://www.ifpapinball.com/maiden/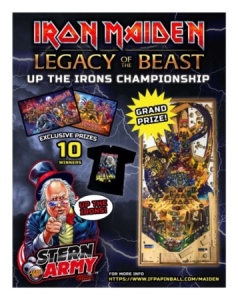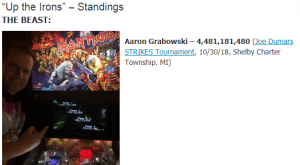 Stern Pro Circuit:
Congratulations to Raymond Davidson for winning the last Stern Pro Circuit tournament at San Francisco City Champ, his third circuit event win this season!  Stay tuned for an announcement of the 40 finalists who will compete in the Stern Pro Circuit Final this March soon.
For full details on the Stern Pro Circuit and to keep up with the current standings and schedule, please visit – https://sternpinball.com/stern-pro-circuit/
2018 Stern Pro Circuit Rankings – Top 10
1st
 Steven Bowden
San Antonio, TX
2nd
 Raymond Davidson
Mukilteo, WA
3rd
 Trent Augenstein
Delaware, OH
4th
 David Riel
Pittsburgh, PA
5th
 Eric Stone
Fort Myers, FL
6th
 Keith Elwin
Carlsbad, CA
7th
 Jim Belsito
Murrieta, CA
8th
 Adam Becker
Keswick, ON
9th
 Fred Richardson
Minneapolis, MN
10th
 Bowen Kerins
Salem, MA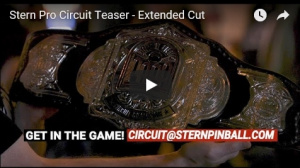 While the 2018 season of the Stern Pro Circuit is wrapping up, we are excited to announce the official 2019 Stern Pro Circuit tour!  (Feels like a pinball blog response to one of our game announcements doesn't it?  What's next??!!). Official schedule and dates are still being finalized, but congrats to the players and winner of the first circuit event of the year at MAGfest, Eric DeStasio!
Upcoming Stern Pro Circuit Events: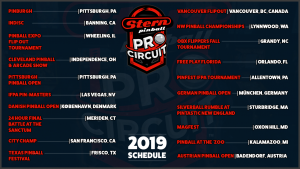 Makers Wanted Bahamas Bowl:
In case you haven't seen the press coverage from our official Stern Facebook page, Stern Pinball hosted a pinball tournament at the Makers Wanted Bahamas Bowl game.  The bowl was sponsored by the city of Elk Grove Village.  Elk Grove Village Mayor Craig Johnson was also in attendance to emcee the pinball tournament where both schools competed to take home a pinball machine for their school.
"The pinball contest is exactly what we wanted. Elk Grove is a manufacturing town and we wanted to highlight one of our manufacturers," said Johnson. "Stern is the biggest maker of pinball machines in the world, and we thought it would be a great way to show off Elk Grove. It was a win for everyone – for the teams, the players, the bowl, the Atlantis and Elk Grove Village."
Here's some of the great media coverage this event has already garnered with more to come including an exclusive Stern Pinball nationally televised commercial, exposing pinball to a massive audience.
https://www.bahamasbowl.com/panthers-and-rockets-arrive-in-the-bahamas-with-great-excitement/
https://www.dailyherald.com/business/20181211/elk-grove-businesses-are-going-to-bahamas-bowl-for-work-and-a-little-pinball
https://www.dailyherald.com/news/20181217/elk-grove-mayors-day-1-diary-from-the-bahamas-bowl
https://www.dailyherald.com/news/20181218/elk-groves-nice-to-everyone-mayors-day-2-diary-from-the-bahamas-bowl
https://www.sbnation.com/college-football/2018/12/20/18140969/makers-wanted-bahamas-bowl-elk-grove-village-chicago-what-why-sponsor
https://www.dailyherald.com/news/20181221/when-elk-grove-was-mentioned-on-espn-bahamas-bowl-broadcast-we-logged-it
https://www.journal-topics.com/articles/elk-grove-scores-big-with-bahamas-bowl-sponsorship/
We look forward to collaborating with the city of Elk Grove Village for next year's Bahamas Bowl Pinball Tournament, exposing and generating awareness of pinball to an even larger audience.  Check out this video during the ESPN broadcast highlighting this event.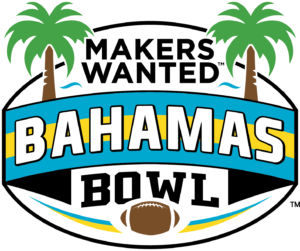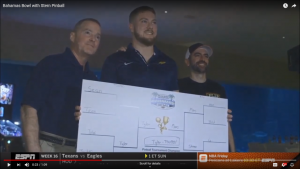 Stern Pinball at ESPN X Games Aspen:
Continuing our collaboration with ESPN, Stern Pinball will have quite a presence at this year's ESPN X Games Aspen thanks to our authorized Stern distributor, Game Exchange.  We will share a recap of this exciting event next month.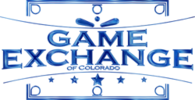 Pocket Con Chicago:
Stern Pinball continues to explore unique opportunities to expose pinball to new audiences.  Pocket Con Chicago was no exception.  Check out a few pictures from this comic book convention for youth featuring the work of creators of color, women and and the LGBTQ community.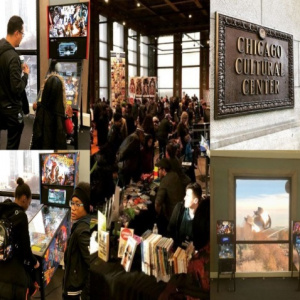 Status of Code:
We are continuously working to update and improve software for our machines.  There are always code updates and bug fixes in various stages of development; we will release them upon update completion.  Here are some of the latest updates and the status of things in the works.  As always, if you do encounter any bugs please feel free to provide information to bug.report@sternpinball.com:
Deadpool – Hope all you Deadpool owners have been enjoying the new v0.97.0 code that was released a few weeks ago. We are working on another code update that is scheduled to be released later this month.
Ghostbusters code update is delayed, but remains in our schedule.
Just because a game isn't listed here doesn't mean there can't be surprises from time to time. We hope you enjoyed the gigantic Metallica code update last month!
If you would like to join our mailing list for code updates, please send an e-mail to: Updates@sternpinball.com
Accessories:
Check out our new on-line Stern Shop here for all accessories, collectibles, clothing and more.
https://shop.sternpinball.com/
The physical model for the Star Wars topper has been approved.  We'll make a formal announcement once it's available for sale and add it to our Stern Shop.
All Stern Pinball accessories are also available to purchase from your local authorized dealer – https://sternpinball.com/find-a-dealer/
Happy New Year from Stern Pinball:
Happy 2019 from everyone here at Stern Pinball!  Check out this video highlighting our annual holiday lunch here at the Factory.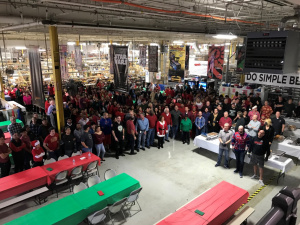 Stern Spotlight – Shirley Zebro:
"Hi everyone, hope the holidays were joyous for all.  My name is Shirley Zebro and I have been at Stern Pinball for going on 31 years, and I am the Accounting Manager.
Even though the accounting department is my heart and has really grown I have been lucky enough to be able to help out over the years in various areas of the company which is always fun because it's a learning experience.  It has been amazing establishing the relationships with everyone here at Stern since we all feel like family, not to mention that we have all watched each other's families grow.
Over the years, I have seen the ups and the downs but we always bounce back and come in better than ever, I have been lucky  enough to have  had the opportunity to work alongside  some great talent from the pinball industry. I have also been able to establish some pretty great friendships with many of our customers & vendors.
I would not trade this pinball life for anything and want to say a special thank you to everyone for your kindness and for your support.
Keep flipping !!!"