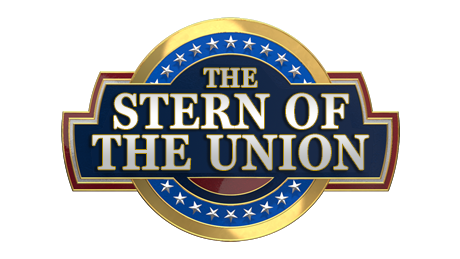 Back to All News
04/02/19
STERN OF THE UNION ADDRESS – APRIL 2019
The Stern of the Union Address will be on the first Tuesday of every month (holiday and vacation excepted).  Without further ado my fellow pinheads:
Black Knight: Sword of Rage:
Stern Pinball unveiled our latest game, Black Knight: Sword of Rage!  This release was covered by numerous media outlets including IGN, Blabbermouth, Metal Injection, Tone Deaf, MXDWN, and Destructoid.  Read the full press release and see official pictures on our website – https://sternpinball.com/game/black-knight/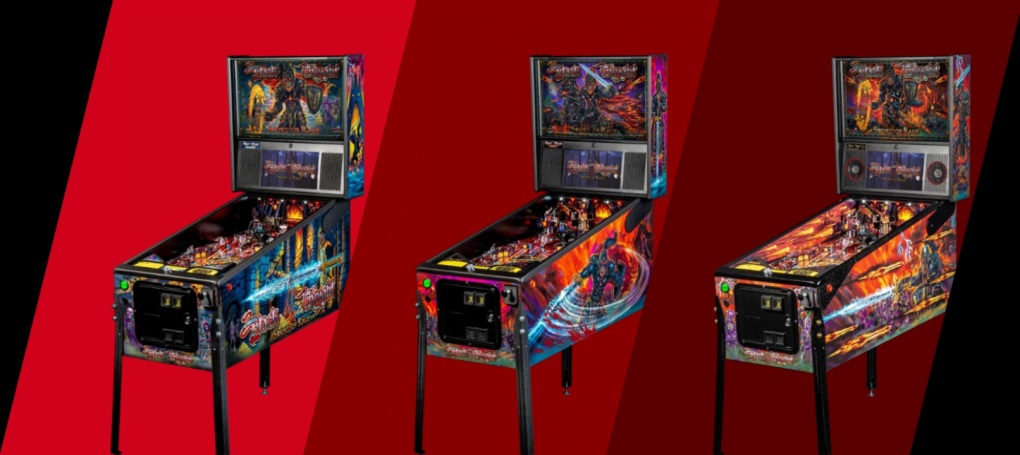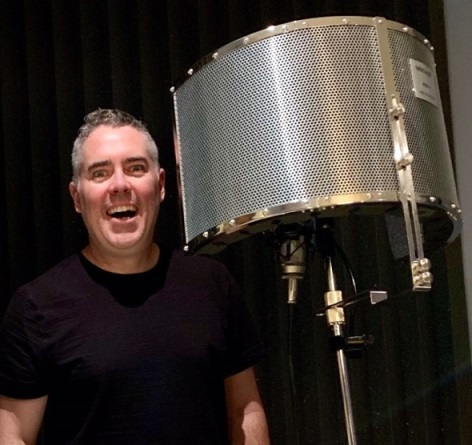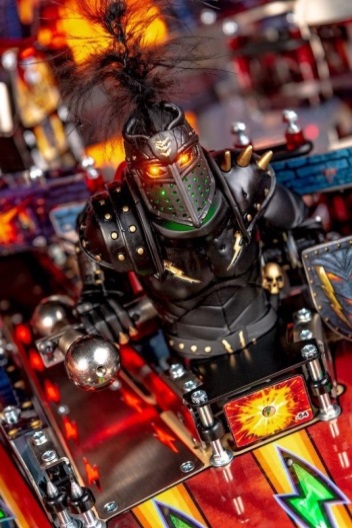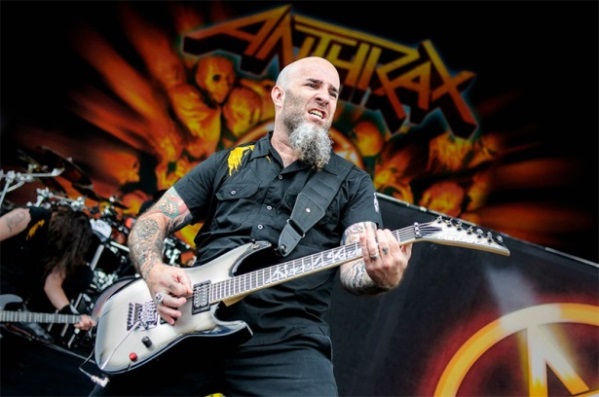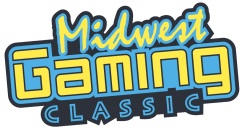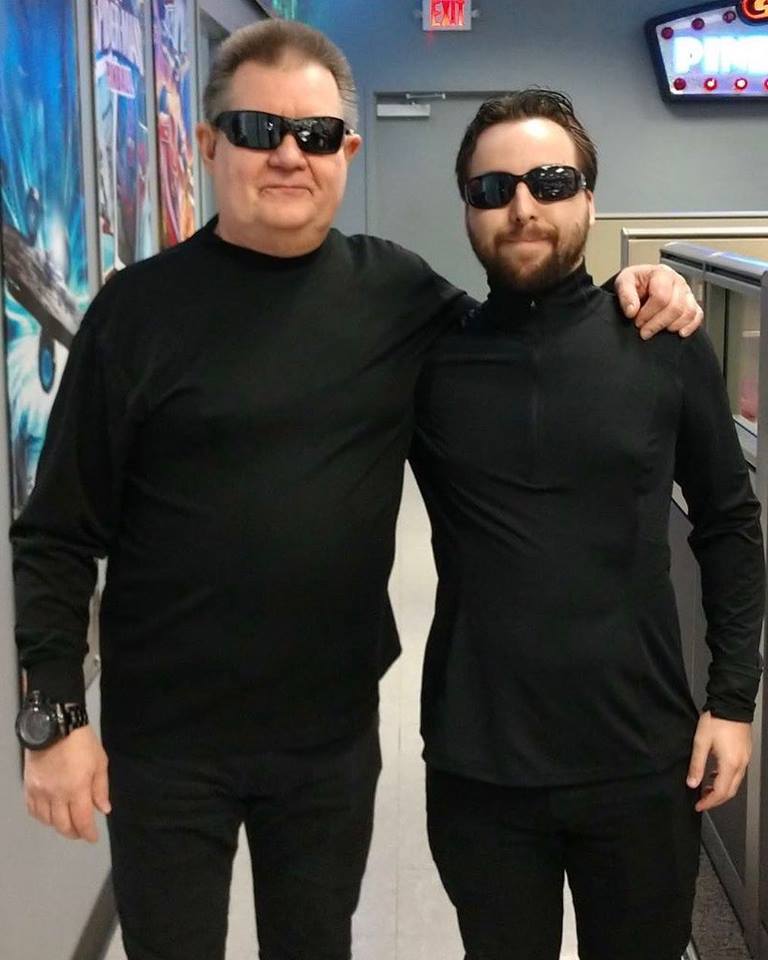 Make sure to check out the Midwest Gaming Classic in Milwaukee, April 12-14th for the first public access to this game.  We will have both Pro and Premium models at the Marco/Stern booth for people to play in addition to an exclusive seminar featuring the game development team including lead designer, Steve Ritchie, and lead programmer, Tim Sexton!
Black Knight: Sword of Rage will also be making an appearance at the Pinball at the 'Zoo show courtesy of our authorized dealer, Tilt Amusements, April 25-27.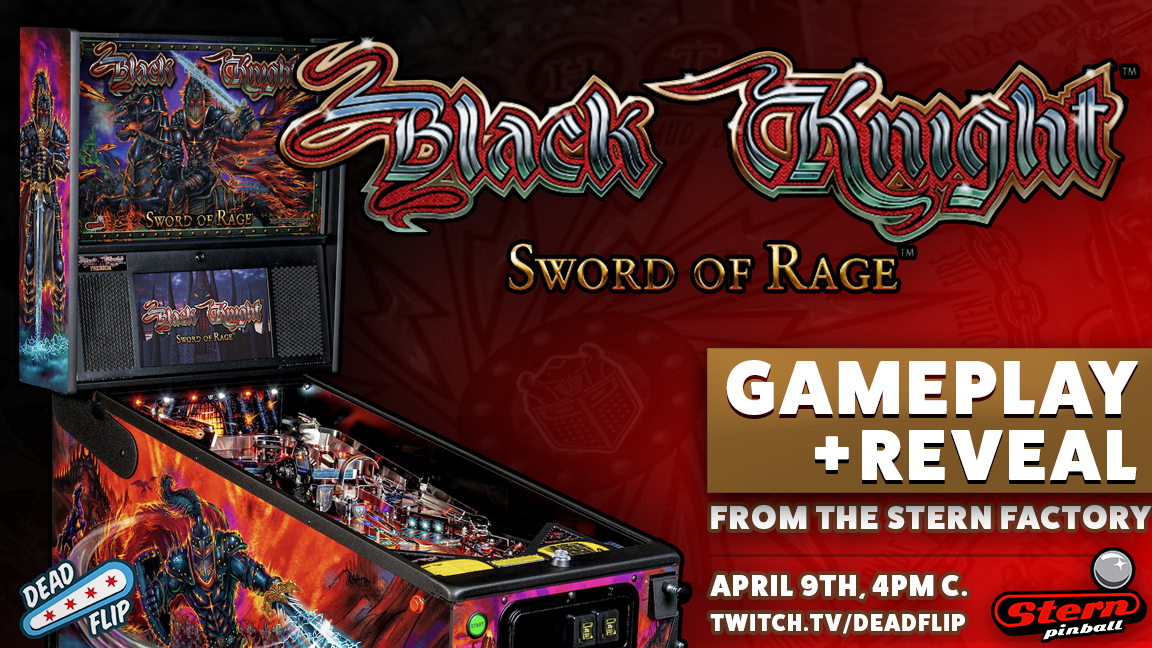 We'll be live streaming both the Premium and Pro models April 9th at 4pm so make sure to tune in to Jack Danger's Dead Flip channel.  We will soon have more details about the official Stern Army Launch Parties for this game.
Stern Pro Circuit Championship: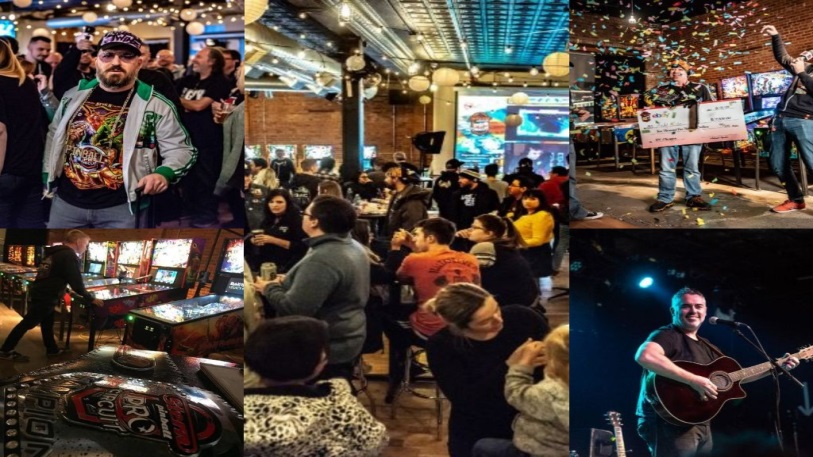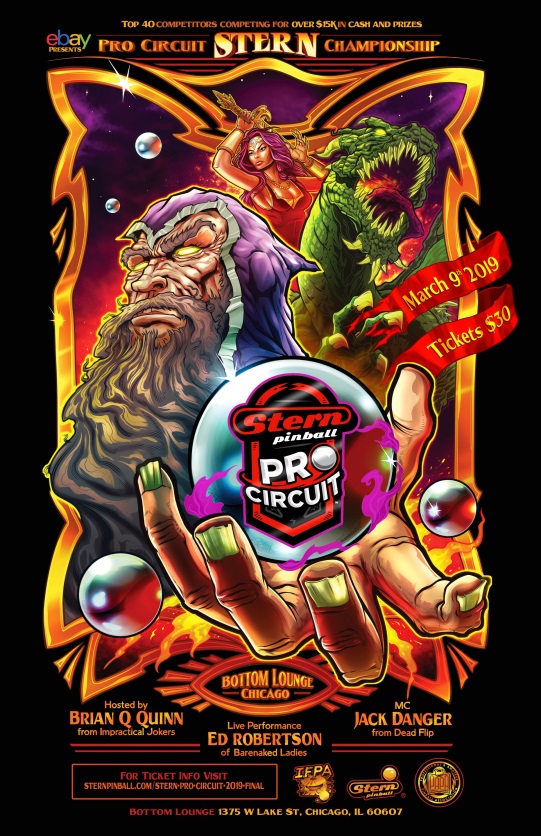 Congrats to all competitors who participated in the Stern Pro Circuit Championship presented by eBay.  In the end, it was Andy Rosa from Michigan who ultimately took home the cash, the new Stern Pinball machine, the glory and the iconic Stern Pro Circuit Championship Belt.  Andy defeated 39 of the world's best pinball players.  Brian "Q" Quinn of Impractical Jokers hosted the event and highlights included a live performance by Ed Robertson of Barenaked Ladies.  Live streams were provided on the PAPA YouTube channel and Jack Danger's Dead Flip Twitch channel.  Watch a replay of the entire broadcast here.
Texas Pinball Festival:
The Munsters had a big presence at this year's Texas Pinball Festival.  TPF featured a unique VIP experience with Butch Patrick (Eddie Munster), Pat Priest (Marilyn Munster), and the entire Stern development team.  In addition, attendees were able to play the iconic black and white Premium edition in the Marco/Stern booth and purchase a one-of-a-kind Munsters Texas Pinball Festival t-shirt, only available at this show.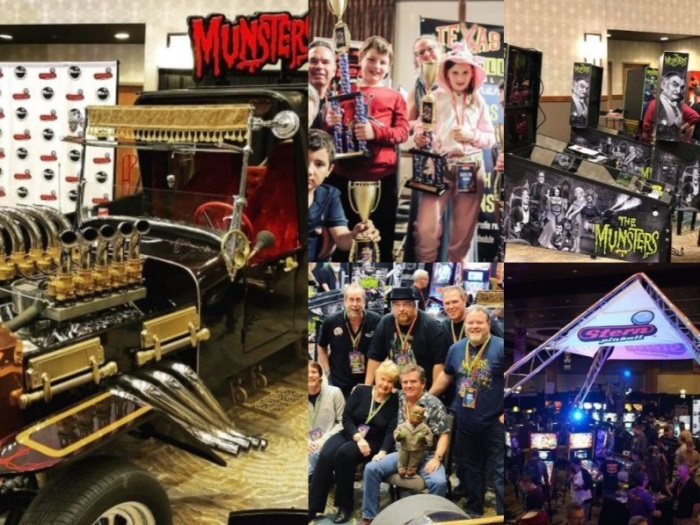 Stern Pinball also hauled in several awards and accolades at this year's TWIPYs awards show, winning the following categories BEST CALLOUTS (Deadpool), BEST THEME (Deadpool), ROOKIE OF THE YEAR (Keith Elwin), BEST ARTWORK (Iron Maiden), BEST RULES (Iron Maiden), BEST PLAYFIED GAMEPLAY AND LAYOUT (Iron Maiden), BEST MUSIC AND SOUND EFFECTS (Iron Maiden) and in a surprise to absolutely no one on the planet, GAME OF THE YEAR (Iron Maiden)!  Congrats to all winners!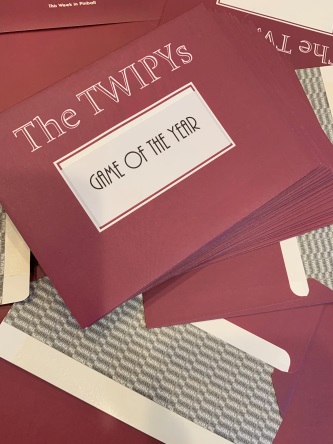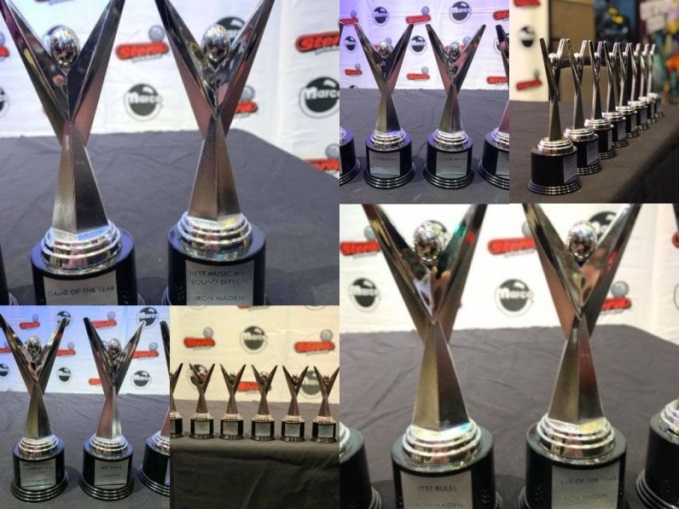 Star Trek Final Voyage:
After a long and successful run, the Star Trek game is coming to its final production voyage. To celebrate the end of this game's journey, we have added a little something special to each of the final Pro models.  We've placed a commemorative plaque that reads "Star Trek Pinball 2019: Final Voyage" above the left speaker of the backbox.  Check out this video highlighting the final voyage!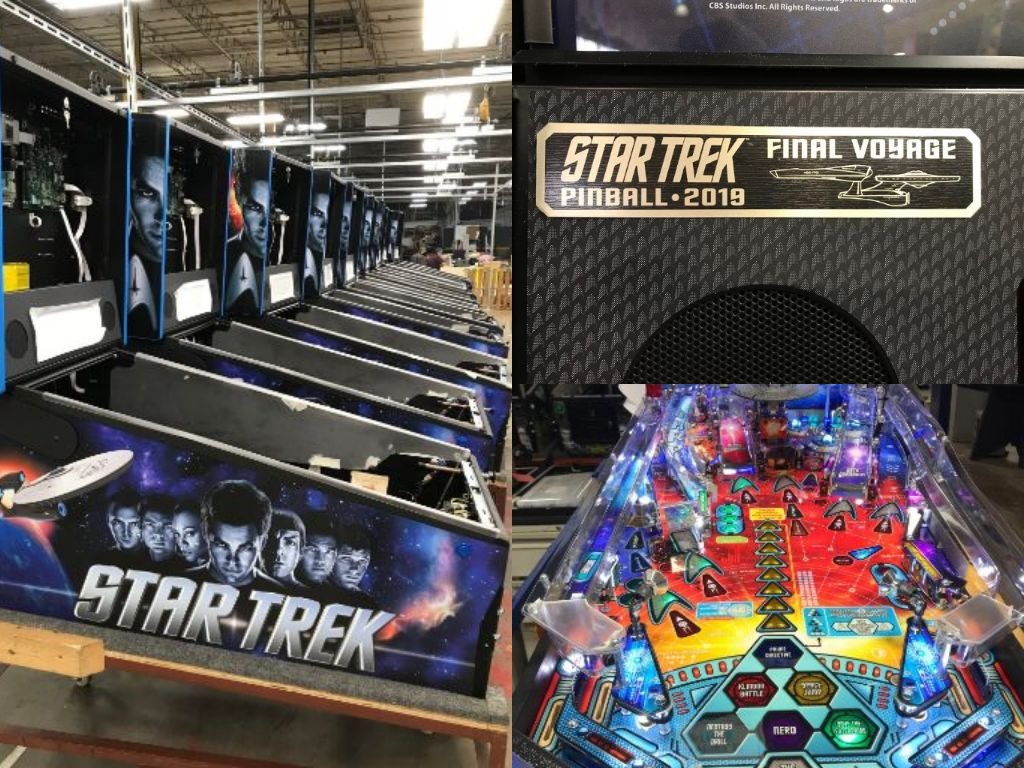 Star Wars Celebration:
In another galaxy, albeit not too far away, Stern Pinball will have a presence at this year's Star Wars Celebration event April 11-15 in Chicago.  If you are attending, make sure to stop by booth 2416!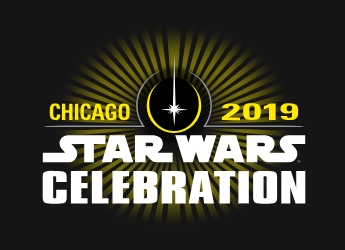 Stern Army Updates:
The Stern Army continues to grow with members spreading the gospel of pinball across the globe.  Here are our newest members and the pinball locations they support:
Private Hollie Sara Mills of Australia (Timezone Coolangatta)
Private Brian Harpster of Ohio (Barley Hopsters)
Congratulations to the following Stern Army members on their promotion from Private to Private First Class:
Private First Class Corey and Tony Sims of Kentucky (Recbar)
Private First Class Chad Bruhaug of Canada (The American)
Private First Class Chris Badyk of Canada (Lamplighter Pub and Bimini Pub)
Private First Class Joe Said of Maryland (Spinners Pinball)
Private First Class Kyle Seller of Canada (Pub 340)
Private First Class Hannah Holmberg Hatch of Washington (The Ice Box)
For more information and to join the Stern Army, please reach out to SternArmy@sternpinball.com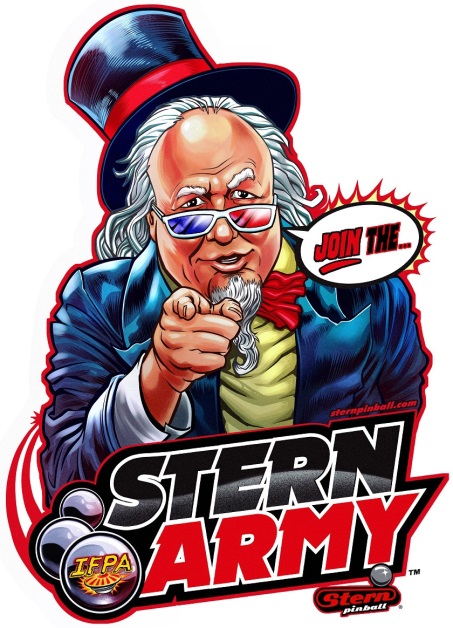 Stern Insider All-Access: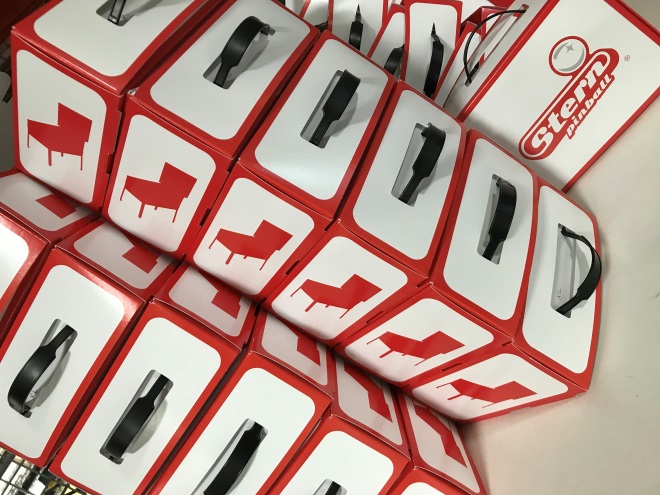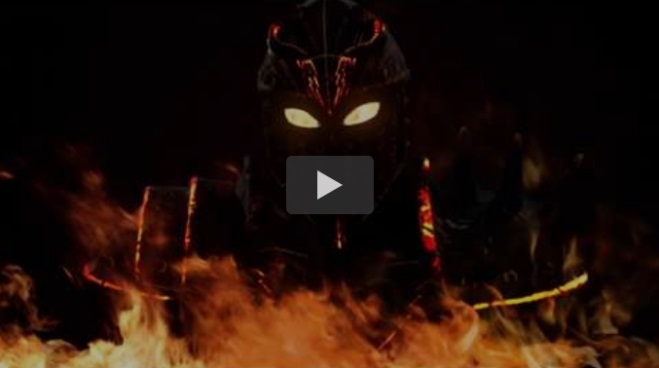 Stern Insider All-Access membership kits are currently being shipped all over the world, but there's already been some exciting sneak peeks provided to All-Access members.  Stern Insiders were the first people on the planet to see the official teaser trailer for our newest game Black Knight: Sword of Rage.  In addition, Stern Insiders got an exclusive first look at The Munsters topper prototype in action, including concept artwork!
To register and become a Stern Insider, please visit https://sternpinball.com/stern-insider/
Stern Pinball at Amusement Expo:
In late March, Stern Pinball attended the Amusement Expo show in Las Vegas, providing attendees access to all of our latest games including The Munsters (Pro and Premium models), The Beatles, Deadpool, Iron Maiden, Star Wars, Star Trek and our custom FEC Pinball Alley topper.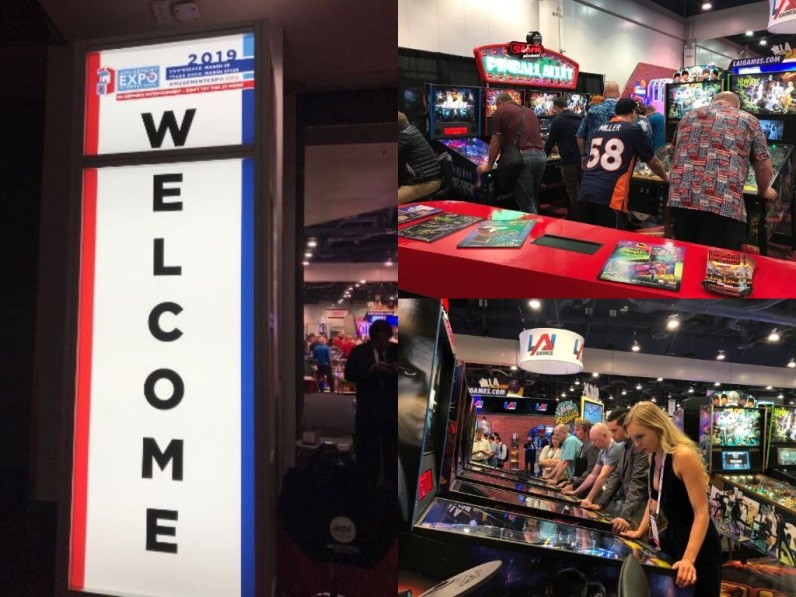 Stern Pro Circuit:
Congrats to all competitors at the Texas Pinball Festival and IFPA Pin-Masters Stern Pro Circuit tournaments.  In the end, the current #1 ranked player in the world, Raymond Davidson, secured the victory in Texas.   In Las Vegas, Stern's very own Director of Marketing, Zach Sharpe, emerged victorious.
For full details on the Stern Pro Circuit presented by eBay, and to keep up with the current standings and schedule, please visit – https://sternpinball.com/stern-pro-circuit/

Upcoming Stern Pro Circuit Events:
Robotics Competition:
While the Stern Pro Circuit Championship was taking place, an entirely different competition was taking place nearby.  Stern Pinball engineers, Harrison Drake, Waison Cheng and Elliot Eismin all volunteer as mentor-engineers for the FIRST School District 214 robotics team, Team 111 WildStang.  This district outside Chicago, Illinois covers the towns of Elk Grove, Arlington Heights, Mt. Prospect, Buffalo Grove and Rolling Meadows.  Competing against 52 other teams from the United States, China, the United Kingdom and the Netherlands, they were victorious!  It was the first Midwest Regional win since 2011 and the first regional win since 2013.  Congrats!  And for those curious to see WildStang in action, check out this video!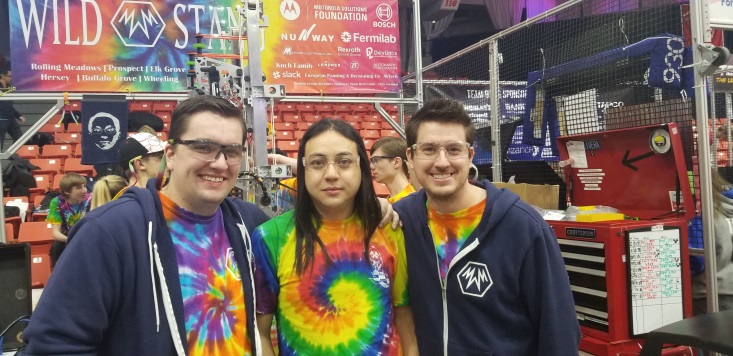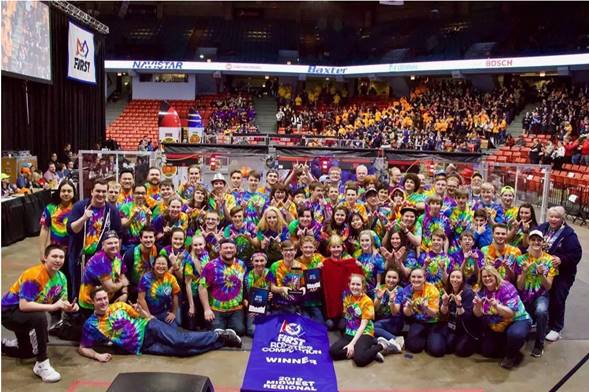 Status of Code:
We are continuously working to update and improve software for our machines.  There are always code updates and bug fixes in various stages of development; we will release them upon update completion.  Here are some of the latest updates and the status of things in the works.  As always, if you do encounter any bugs please feel free to provide information to bug.report@sternpinball.com:
The Munsters – The team is hard at work on this month's upcoming release.
Deadpool – There will be an update coming out later this month.
Batman '66 – There is a new Batman update in the works.
Ghostbusters code update remains in our schedule.
Just because a game isn't listed here doesn't mean there can't be surprises from time to time.
If you would like to join our mailing list for code updates, please send an e-mail to: Updates@sternpinball.com
Gary Stern World Tour:
Just like our manufacturing facility here in Elk Grove Village, the work never stops in creating, producing and distributing pinball machines all over the world.  Here are a few highlights of Gary's "world tour" this past month, with visits and meetings taking place in Germany, Italy, and Dubai.  Global pinball domination shows no signs of slowing down!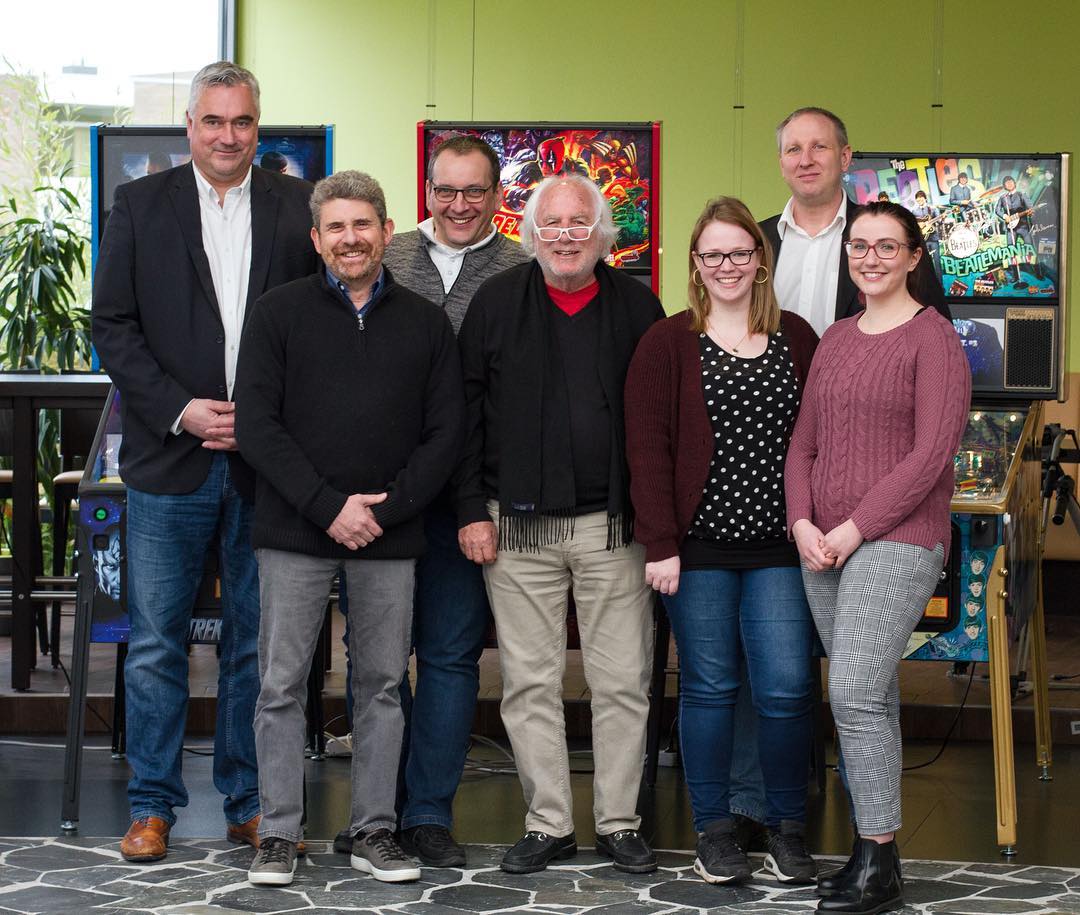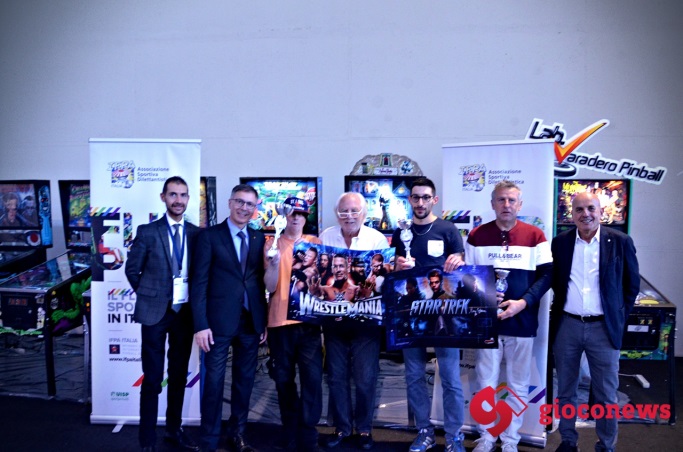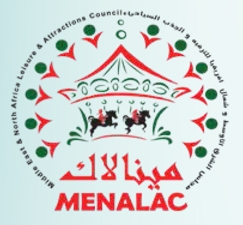 Accessories:
Check out our Stern Shop for all accessories, collectibles, clothing and more including this month's featured items for The Munsters!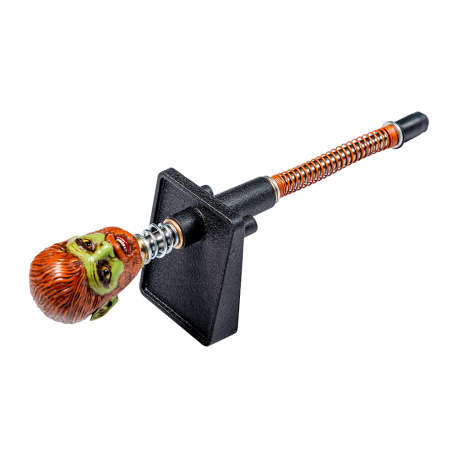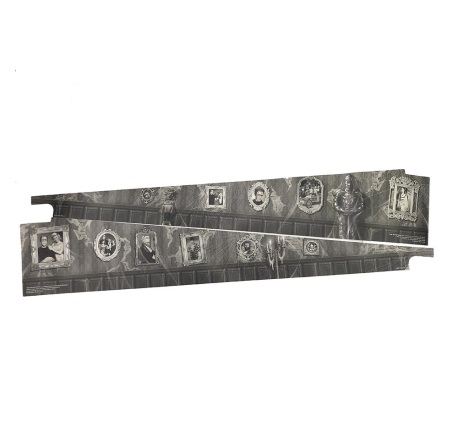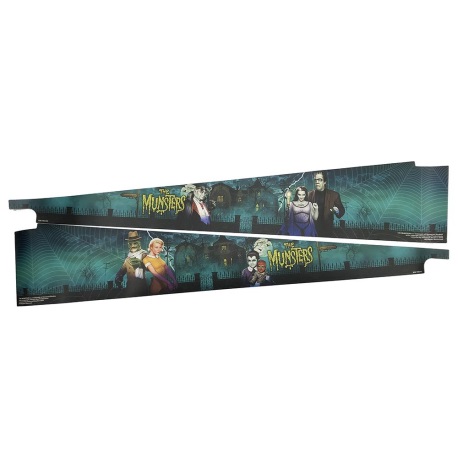 Pinball player mats, Stern shaker motor kits, Stern headphone jack kits, and high definition playfield glass are all back in stock.
The physical model for the Star Wars topper has been approved and we'll make a formal announcement once it's available.  All Stern Pinball accessories are also available to purchase from your local authorized dealer – https://sternpinball.com/find-a-dealer/
Stern Spotlight – Tim Sexton:
"Hi! My name is Tim Sexton and I am a software engineer here at Stern Pinball.
While I was enrolled at Penn State University I became very interested in pinball. Terrestrial pinball, along with video arcades, had all but disappeared when I was a kid and it wasn't until pinball started making a comeback in the 2010s that I was able to access pinball machines regularly. While I was enrolled at Penn State I found a few pinball arcades, joined some leagues and became completely hooked.
After I graduated, I spent 3 years working at IBM in Poughkeepsie, NY where I spent most of my free time practicing pinball, traveling to competitions around the country, and producing pinball content like Twitch streams and YouTube videos.  I took an opportunity to jump to Stern Pinball to work in game development in February 2018.  It wasn't the easiest time to move to Chicago in the middle of the winter but it was well worth it.
Lately at Stern I have been the lead game developer on Black Knight: Sword of Rage.  In this role I am responsible for developing the game concepts, story, rules, and presentation.  I work closely with Steve Ritchie, the game designer, as well as the great team of people we have in Stern's engineering department.  I'm just one part of a huge talented team of engineers and artists who bring the games we develop to life.
Working at Stern Pinball is a dream job.  There is always something exciting going on and all of us share with each other our different talents and make great games.  I'm very excited for the future as Black Knight: Sword of Rage makes its way to arcades and homes around the world and people get the chance to play something I helped create!  Players will enjoy the amazing music and sound package, the spectacular art and animations, and the compelling gameplay that keeps them wanting to play again and again!
Many people tell me that I have my dream job and they are correct.  I feel very fortunate that I was able to return to pinball, which was what made me fall in love with games when I was five years old.  It's great to work with such an amazing and talented group of people here at Stern to bring these games to life for the world to enjoy."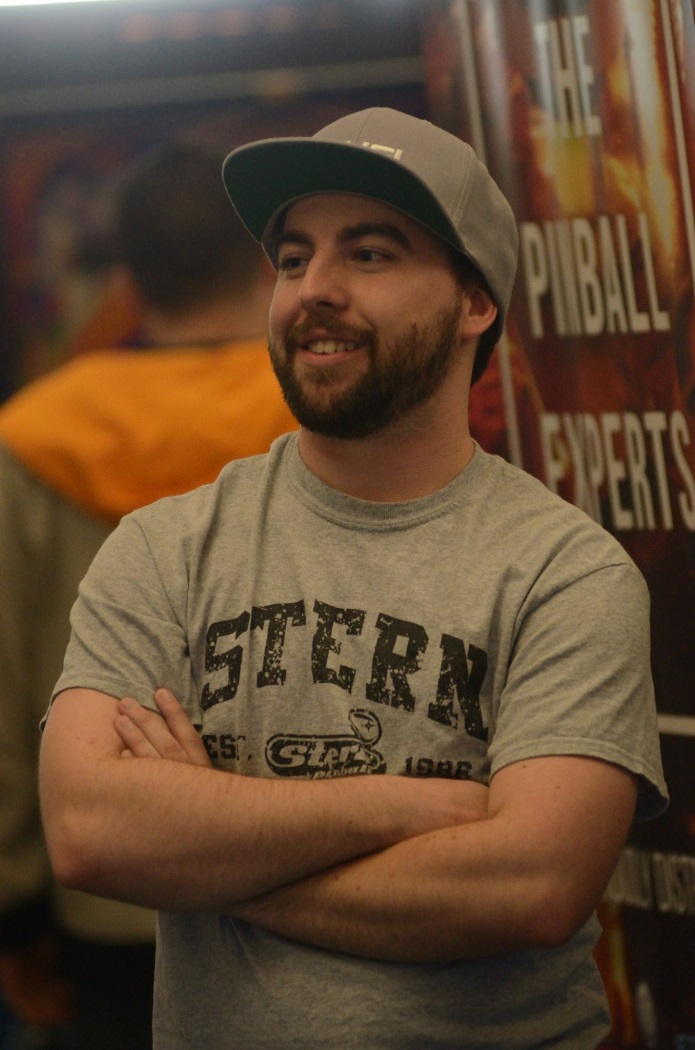 (Photo by Joe Ciaravino)