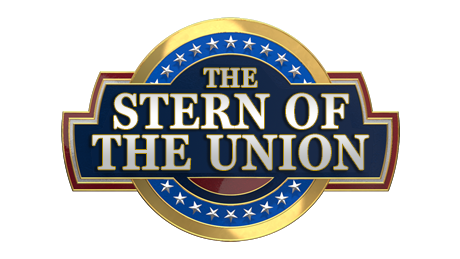 Back to All News
07/02/19
STERN OF THE UNION ADDRESS – JULY 2019
The Stern of the Union Address will be presented on the first Tuesday of every month (holiday and vacation excepted).  Without further ado my fellow pinheads:
Black Knight: Sword of Rage:
Legendary guitarist Scott Ian of Anthrax discusses his inspirations and thoughts behind the music of Black Knight: Sword of Rage Pinball!  Check out the video here.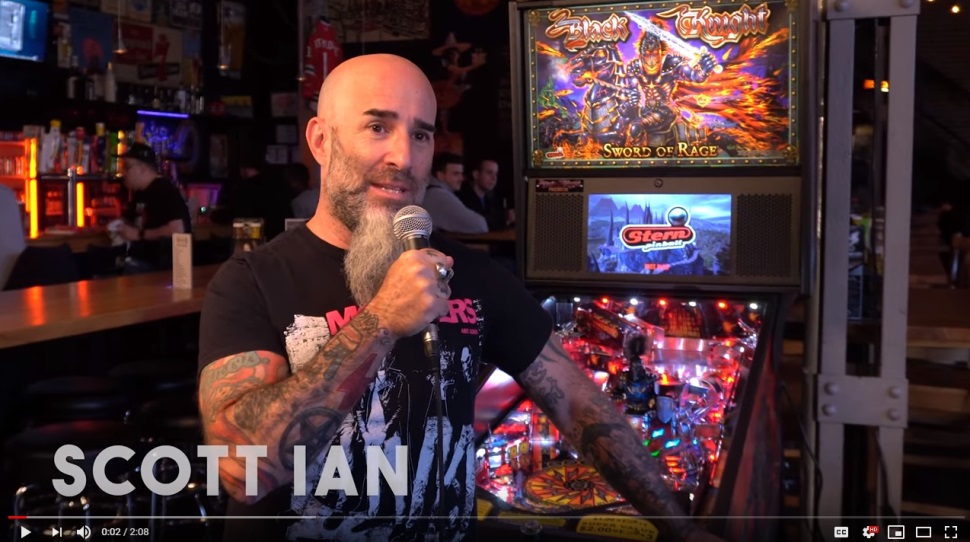 New code (v0.97.0) was revealed and released for the Premium and Limited Edition models.  This exciting code update contains a new RANSOM WIZARD MODE, featuring sounds, speech and display effects from Black Knight 2000!  In addition, there is a new LAST CHANCE feature, allowing players to continue the action of their gaming experience with an enhanced SUPER CATAPULT MULTIBALL!  To highlight the action, Stern hosted a live stream event with Jack Danger and the game team to take you through these new features.  Check out a replay of the event here.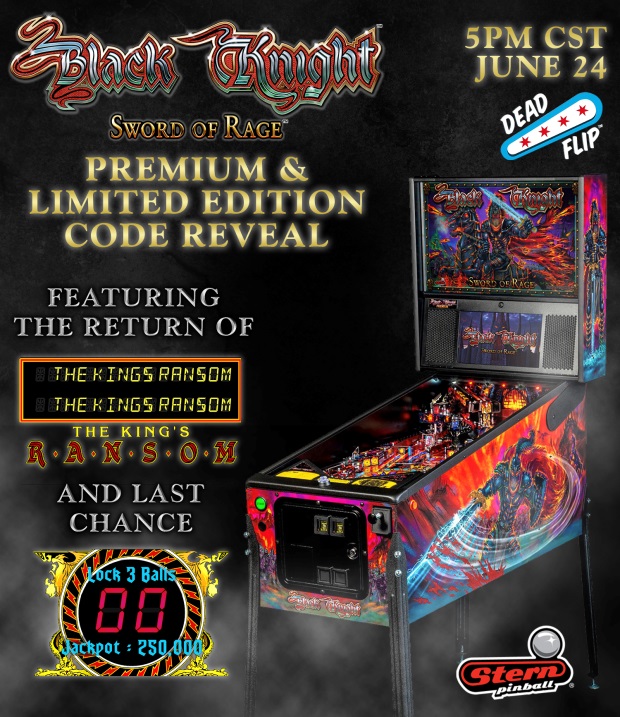 Batman '66 and Catwoman Signature Edition LAST CALL:
These are the final production games for Batman '66 Premium and Batman: Catwoman Signature Edition.  All Catwoman editions contain a highly collectible Julie Newmar autographed card in a protected sleeve located on the arch of the game. Julie Newmar played the original Catwoman from the 1960's TV show, alongside Adam West (Batman).  There will also be exclusive celebratory art blades coming soon!  Contact your local dealer or distributor now for pricing and availability before they are all gone.  https://sternpinball.com/buy-a-game/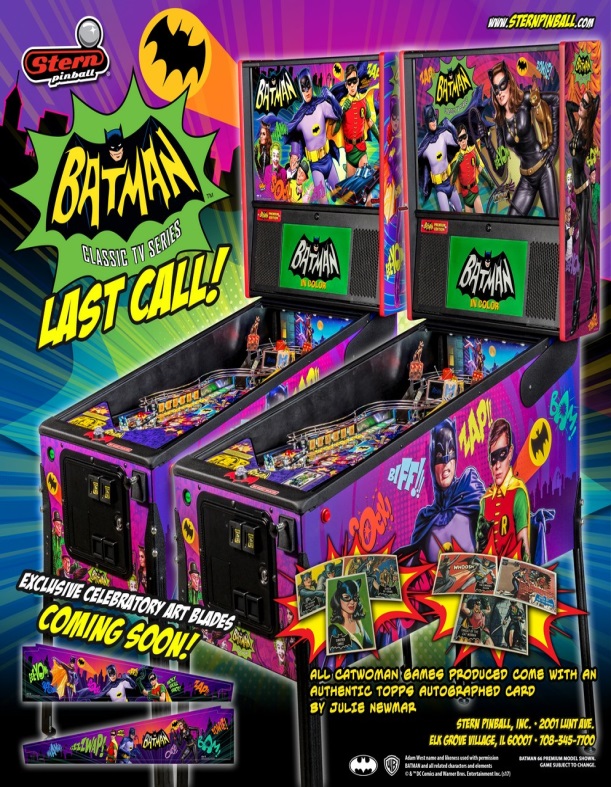 Stern Army Updates:
The Stern Army continues to grow with members spreading the gospel of pinball across the globe.  Here are our newest members and the pinball locations they support:
Private Ray Leitzke of Illinois (Pac-Man Entertainment)
Private Michael Palero of California (Chaparral Lanes)
Private Tony Evans of South Carolina (Asheville Retrocade)
Private Eric Grogan of South Carolina (Firefly Toys & Games)
Private Dale Geiger of Virginia (Maltese Brewing Company)
Private David Dahl-Hansson of Sweden (Pinballseye)
Private Jordan Semrow of Wisconsin (Player 2)
Congratulations to the following Stern Army members on their promotion from Private First Class to Specialist:
Specialist Doug Polka of Pennsylvania (Kickback Pinball Café)
Specialist Marc Patenaude of Maine (Arcadia National Bar)
Specialist Andy Rosa of Michigan (Richfield Bowl and Frankenmuth)
Specialist Aaron and Brandon Pennington of Missouri (Meta Games Unlimited and 1984 Arcade)
Congratulations to the following Stern Army members on their promotion from Private to Private First Class:
Private First Class Heather Kendrick of Michigan (The Avenue Café)
Private First Class Dwain Marchant of North Carolina (Reboot Arcade Bar and Boxcar Bar + Arcade)
Private First Class Ryan Clancy of Wisconsin (Bounce Milwaukee)
Private First Class Mike Burgess of Indiana (Fort Wayne Pinball Wizard's World Arcade)
For more information and to join the Stern Army, please reach out to SternArmy@sternpinball.com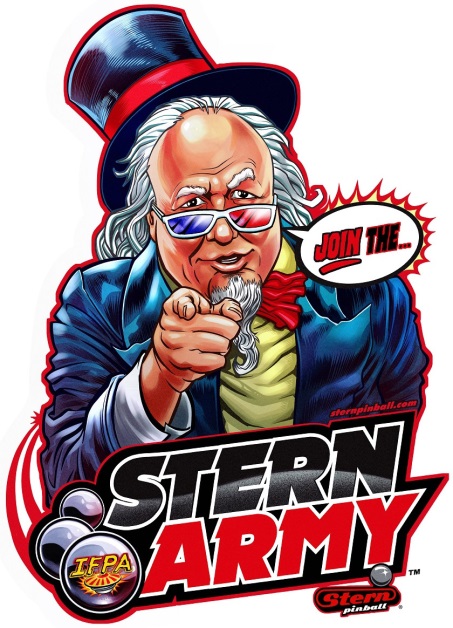 Stern Army Deadpool BOOM! Championship Tournament:
Stern Pinball and the International Flipper Pinball Association are teaming up to sponsor a Stern Army High-Score Tournament on Deadpool Pro, Premium and LE pinball machines.  Players can enter by participating in any IFPA-sanctioned Stern Army events that include Deadpool in their tournament.  For full details on this exciting tournament which ends July 31, 2019, visit – https://www.ifpapinball.com/deadpool/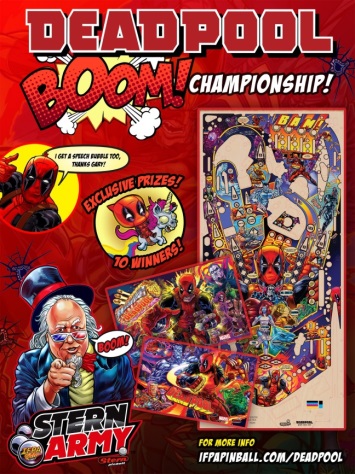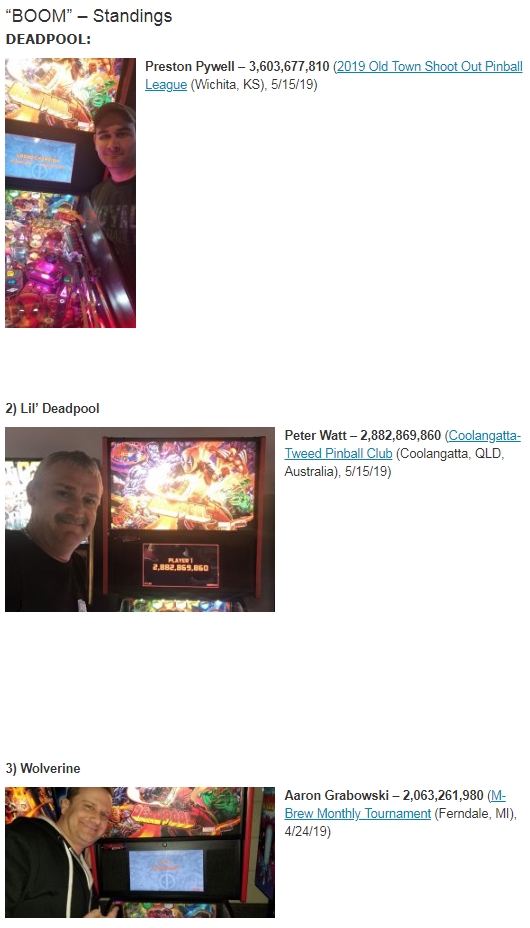 Lady Gaga and Tony Bennett Playing Their 15 Minutes of Pinball:
Like the music of Tony Bennett, who's nearly 93 years old, playing pinball is timeless.  The I Left My Heart in San Francisco singer posted a picture on Facebook recently showing him playing Stern's Aerosmith pinball machine backstage at a Lady Gaga show in Las Vegas, where she's in residency at the Park Theater.  The duo recorded an album together released in 2014.  Aerosmith's lead singer, Steven Tyler was so excited about these legends playing his band's game he had to leave the perfect comment/hashtag #YOUKNOWYOUVEMADEITWHEN….
Stern Insider All-Access: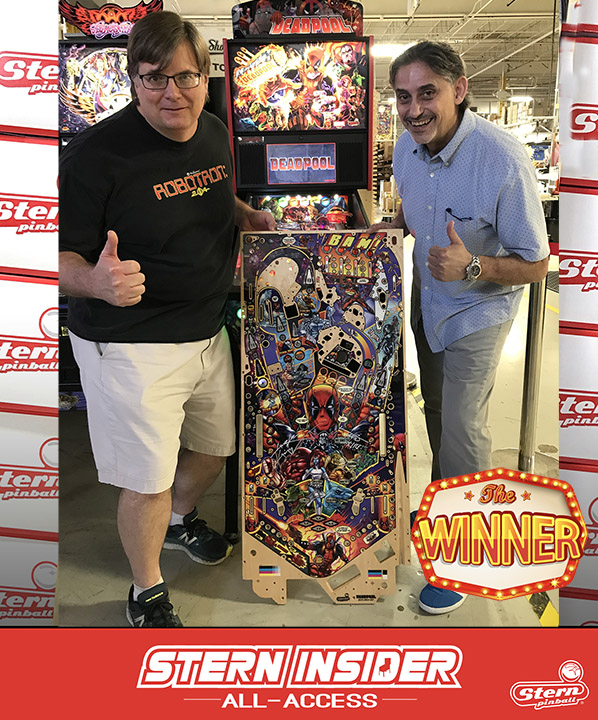 Congrats to Catherine from Minnesota on being June's Stern Insider All-Access winner who received an autographed Deadpool playfield by lead game designer, George Gomez and lead programmer, Tanio Klyce…BOOM!  Do you have All-Access?  To register and become a Stern Insider, please visit https://sternpinball.com/stern-insider/
Between Two Sterns: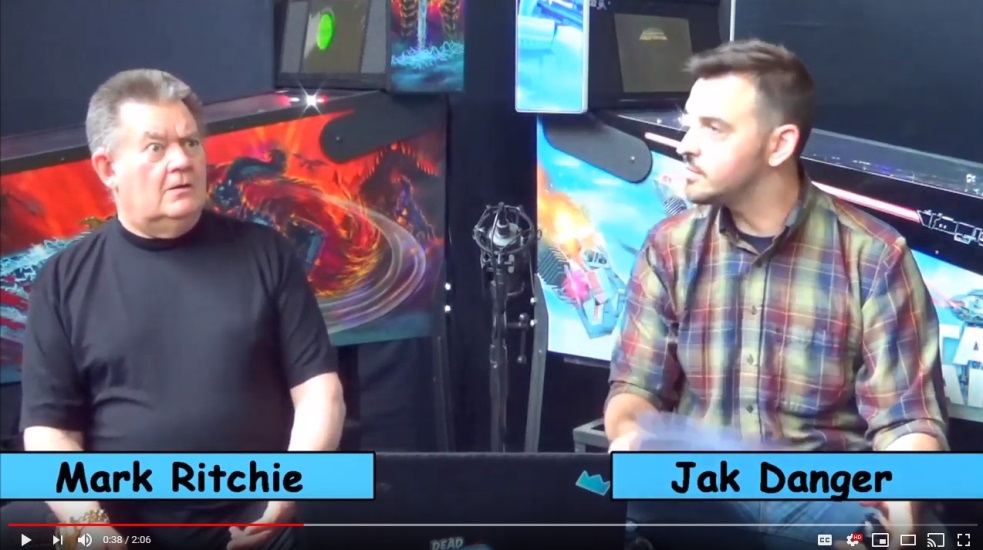 Check out highlights from the premiere episode of the exclusive new Stern Insider All-Access live event series, "Between Two Sterns" featuring your host, Jack Danger and our first guest, "The King" Steve Ritchie!  The full episode and future episodes of this live event series is only available to Stern Insiders with All-Access so don't miss out! https://sternpinball.com/stern-insider/
Taking Pinball to the Streets:
Over the exact same weekend, Stern Pinball participated in two massive street festivals.  One festival took place in Chicago at the Taste of Randolph Street festival with a McDonald's Pinball Palooza event!  On the other side of the planet in Guangzhou, China, pinball was brought to an entirely new generation of pinball players at the French Day celebration.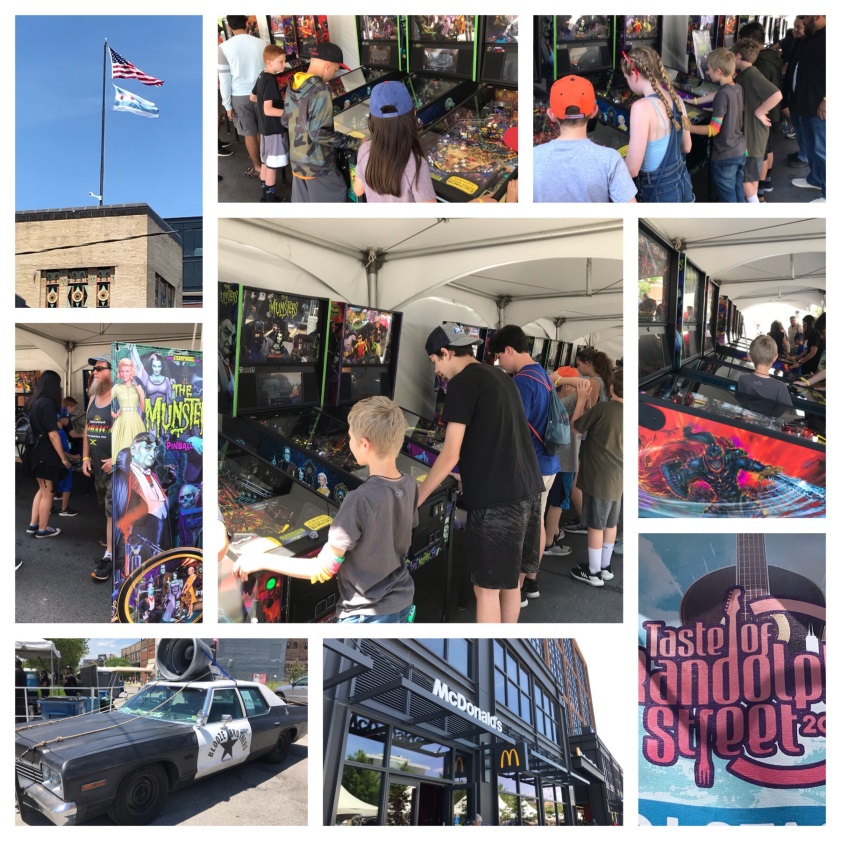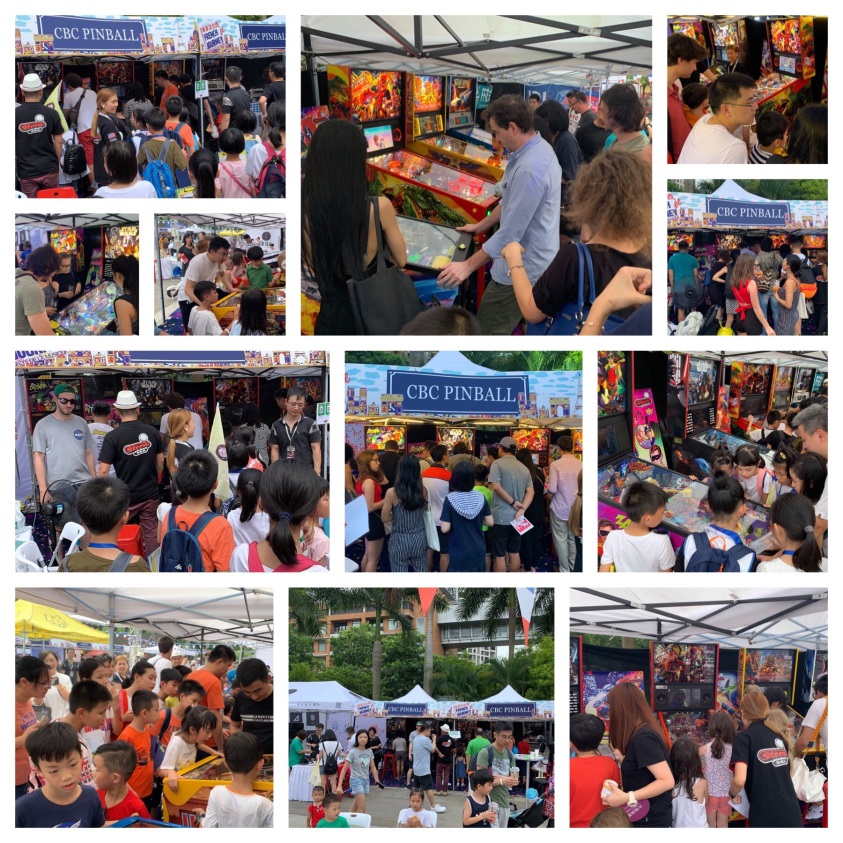 Stern Pro Circuit:
Congrats to all competitors at the Bat City Open and City Champ Stern Pro Circuit tournaments.  In the end, Trent Augenstein emerged victorious at the Bat City Open while Brian O'Neill won the City Champ tournament.  For full details on the Stern Pro Circuit presented by eBay, and to keep up with the current standings and schedule, please visit – https://sternpinball.com/stern-pro-circuit/
2019 Stern Pro Circuit Rankings – Top 10
1st
 Raymond Davidson
Everett, WA
2nd
 Steven Bowden
San Antonio, TX
3rd
 Colin MacAlpine
Austin, TX
4th
 Trent Augenstein
Delaware, OH
5th
 Lewis Bevans
Pittsburgh, PA
6th
 Jim Belsito
Murrieta, CA
7th
 Karl DeAngelo
Fontana, CA
8th
 Bowen Kerins
Salem, MA
9th
 Joe Lemire
Marlborough, MA
10th
 Colin Urban
Portland, OR

Upcoming Stern Pro Circuit Events:
Global Beatles Day:
What better way to celebrate Global Beatles Day than to play this one of a kind pinball machine, now available at the iconic Hammacher Schlemmer store in New York City.  A store that is well known for amazing items just added their best item yet!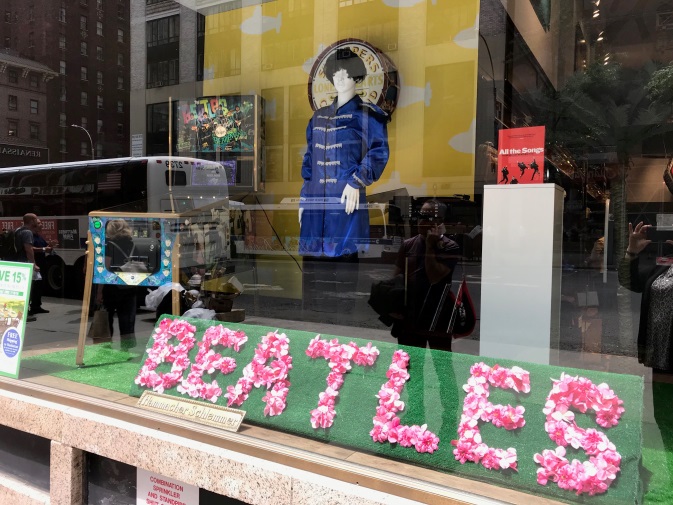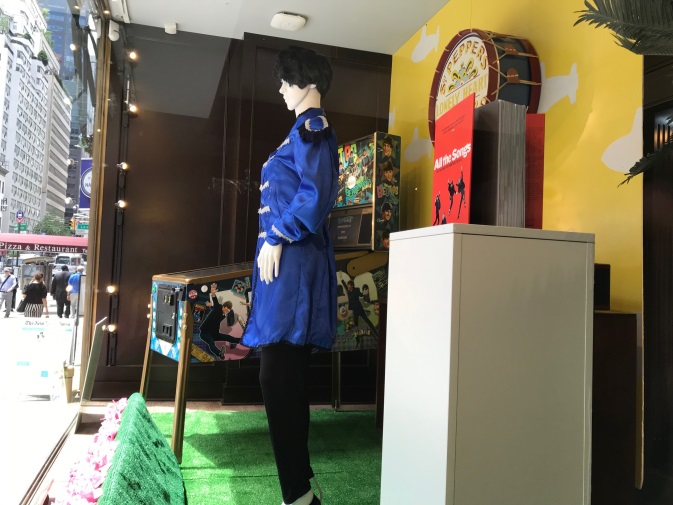 Southern-Fried Gaming Expo and #FindMike:
#FindMike – Mike Vinikour, Associate Game Developer at Stern Pinball will be at the Southern-Fried Gaming Expo all weekend hanging around in the Marco Specialties booth answering questions, teaching the rules to games and giving away Stern swag to fans who challenge him to games!  Thanks to our authorized Stern dealer Classic Game Rooms for providing the games!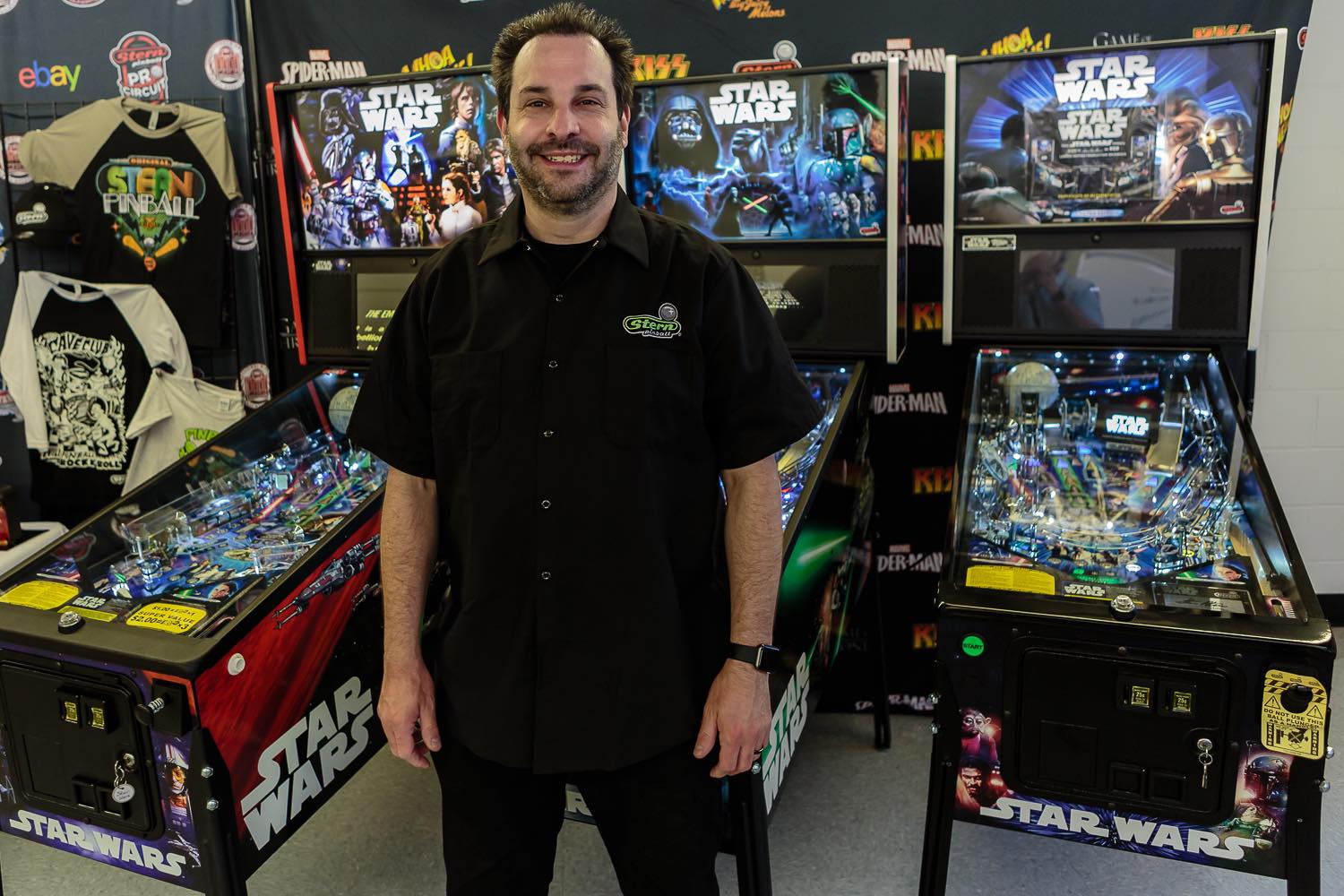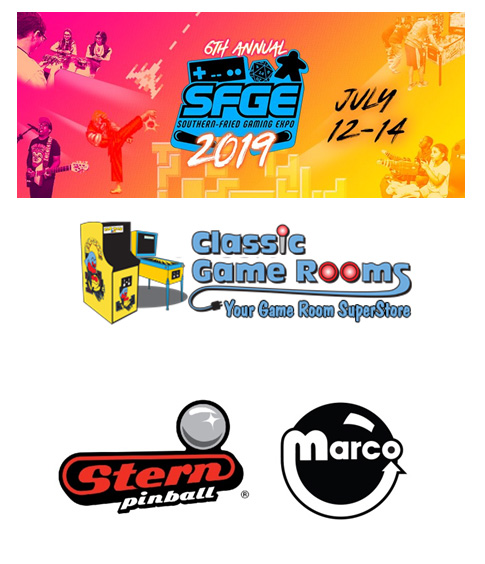 Status of Code:
We are continuously working to update and improve software for our machines.  There are always code updates and bug fixes in various stages of development; we will release them upon update completion.  Here are some of the latest updates and the status of things in the works.  As always, if you do encounter any bugs please feel free to provide information to bug.report@sternpinball.com:
Black Knight – For Premium and LE owners, make sure you have updated your game to the latest v0.97.0 code release from last month. This exciting code update contains a new RANSOM WIZARD MODE, featuring sounds, speech and display effects from Black Knight 2000!  In addition, there is a new "LAST CHANCE" feature, allowing players to resurrect and continue the action of their gaming experience with an enhanced SUPER CATAPULT MULTIBALL.  New Pro code will be coming soon.
Batman '66 – There is a new Batman update in the works.
Ghostbusters – We've recently allocated additional resources to the Ghostbusters update.
If you would like to join our mailing list for code updates, please send an e-mail to: Updates@sternpinball.com
Accessories:
Want to dress like a rock star?  Check out Ed Robertson of the Barenaked Ladies wearing Stern merch on tour.  Thanks for the love and representing the brand, Ed!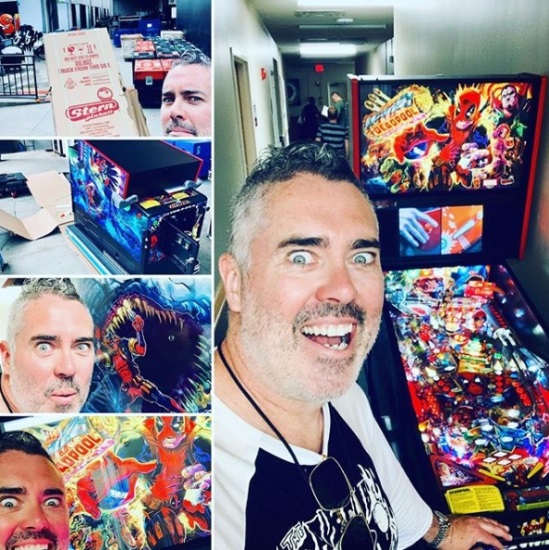 Check out our Stern Shop for all accessories, collectibles, clothing and more including this month's featured items, shooter knobs!

The Star Wars topper is still in production development and we'll make a formal announcement once it's available for purchase.  All Stern Pinball accessories are also available to purchase from your local authorized dealer – https://sternpinball.com/find-a-dealer/
Stern Spotlight – Danai:
Danai is an artist that has worked in the Interactive Entertainment industry for the past 12 years.  He has worked on such titles as Captain America – Super Solider, The Conduit (Wii), Marvel's Avengers Initiative, Ironman 2 (Sega), Ghost Recon, America's Army(360), and Dora and Diego. Danai has also contributed to several Stern Pinball titles such as Black Knight: Sword of Rage, Iron Maiden, Deadpool, The Munsters, WWE, Aerosmith, Guardians of the Galaxy, Star Wars and Batman '66. When he's not busy creating art for games, both digitally and traditionally, he likes to spend his time playing board games or enjoying a walk with his trusty Shiba Inu, Hachi.