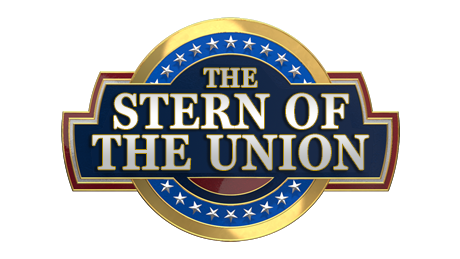 Back to All News
02/04/20
STERN OF THE UNION ADDRESS – FEBRUARY 2020
The Stern of the Union Address will be presented on the first Tuesday of every month (holiday and vacation excepted).  Without further ado my fellow pinheads:
Stranger Things Launch Parties:
The official Stranger Things Pinball Launch Party list has been set.  Parties will be taking place all over the world!  Check out the final list and location nearest you.  Come out for your chance to win an official Stranger Things Pinball Launch Party trophy and other prizes.  Launch parties are hosted in conjunction with the IFPA (International Flipper Pinball Association) and the Stern Army.  Official launch parties can only be held at official Stern Army locations!  For more information on joining the Stern Army please e-mail SternArmy@sternpinball.com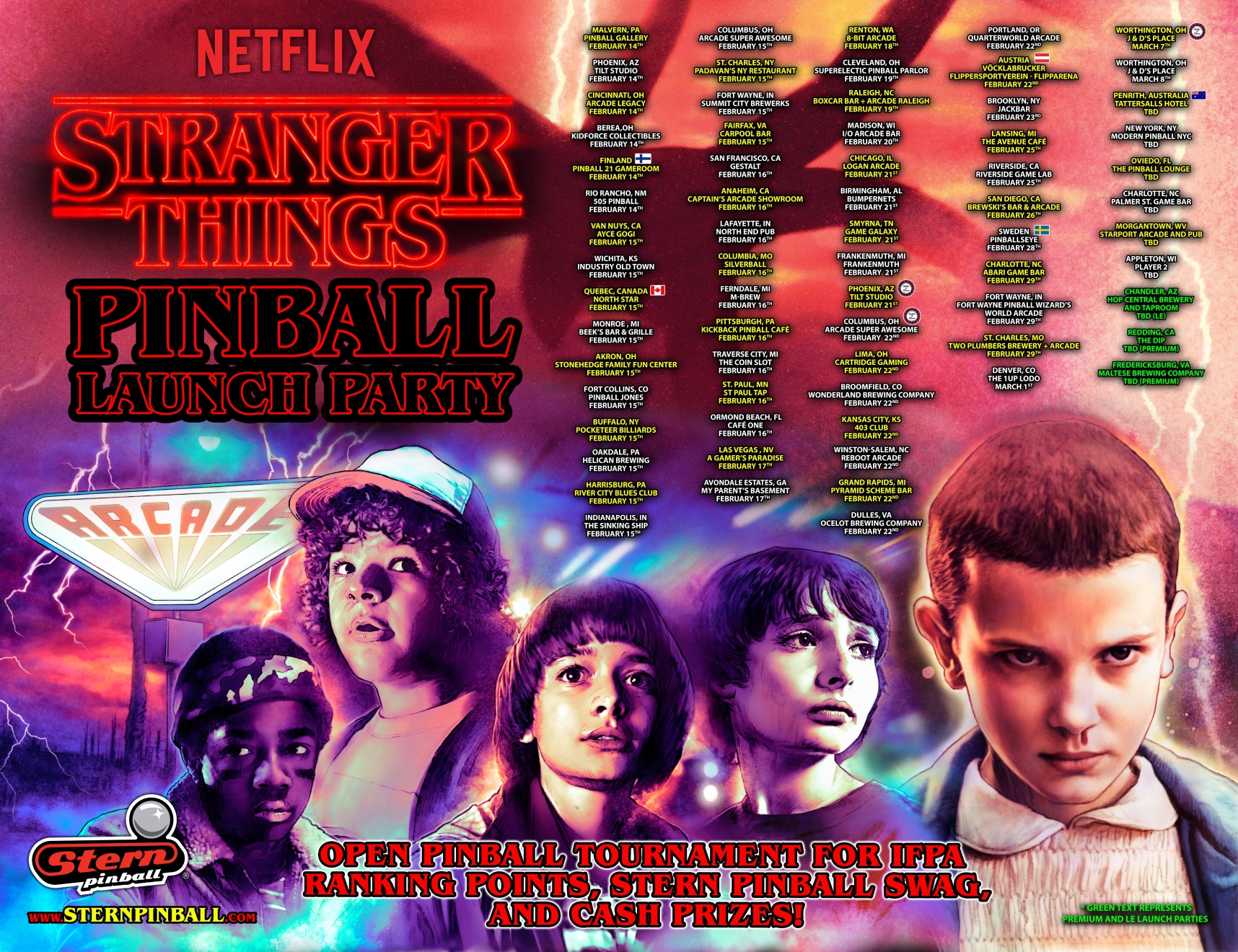 Consumer Electronics Show 2020:
Stern Pinball had great success at this year's Consumer Electronics Show (CES) in Las Vegas.  We unveiled Stranger Things and the response could not have been better.  Stern Pinball was featured on several "Best Of" lists from this year's show including Gizmodo, Wired, and Yahoo!  Here's a video recap of our iconic booth setup and highlights from CES 2020.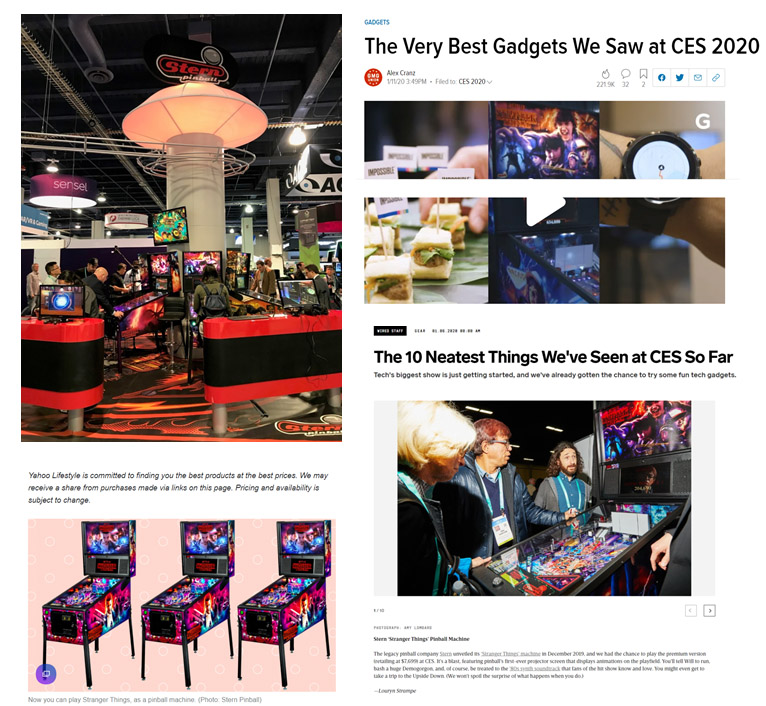 Stern Pinball at the Super Bowl:
In collaboration with Barstool Sports and through the help of our authorized dealer, The Pinball Dudes, Stern Pinball had quite the presence at this year's Super Bowl Party in Miami!  Check out a few pictures from this one-of-a-kind event sponsored by New Amsterdam Vodka.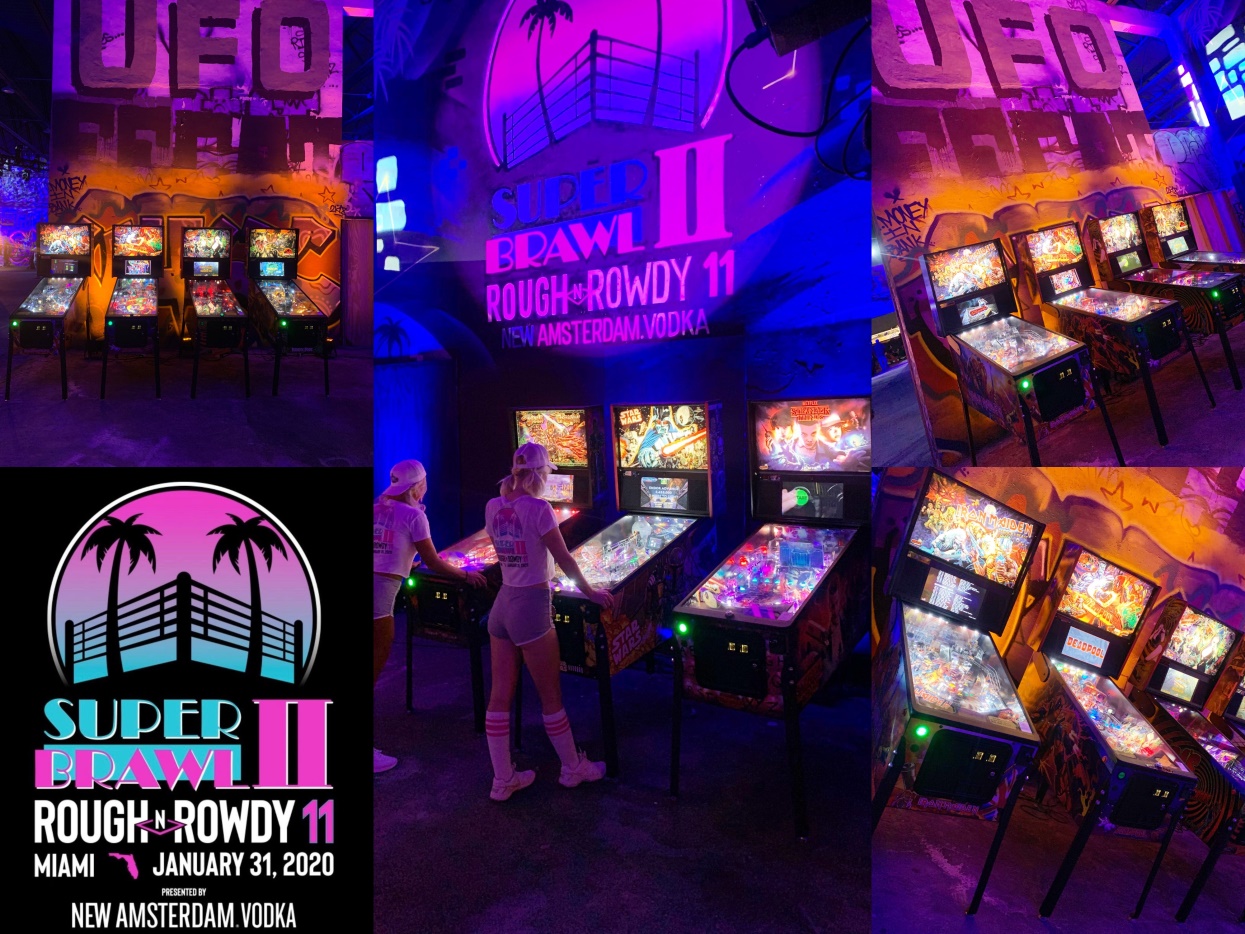 Rochester Institute of Technology, The Strong, and Stern Pinball:
Exciting things in the works with RIT and The Strong National Museum of Play!  Read more about their new interactive games and media course here.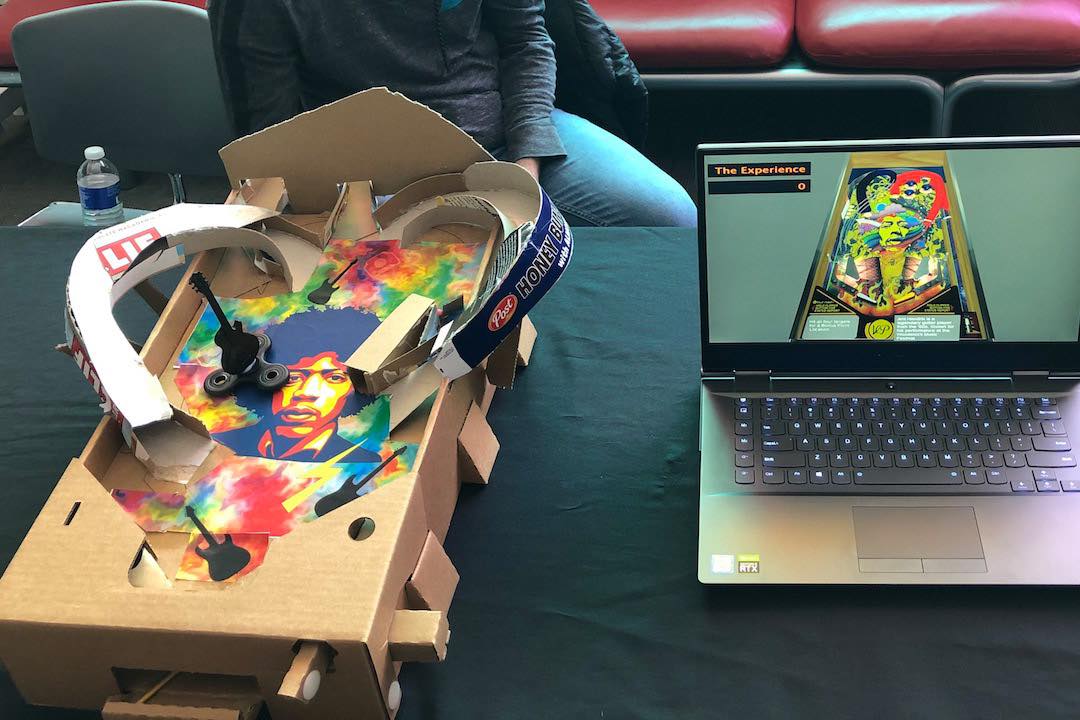 Stern Army Updates:
The Stern Army continues to grow with members spreading the gospel of pinball across the globe.  Here are our newest members and the pinball locations they support:
Private Michael Centini of Ohio (Vaporosity Retro Arcade)
Private Michael Hagan of Massachusetts (Versus Arcade Bar)
Private Pete Hellsten of California (The Flipper Room)
Private Jared Neible of Indiana (High Score Saloon)
Private John Monkus of Arizona (Pinpoint Fayetteville)
Private Ian Thorley of Colorado (CO Bar)
Congratulations to the following Stern Army members on their promotion from Specialist to Corporal:
Corporal Don Johnson of Ohio (Kidforce Collectibles, Full Blast Arcade, and Melt Bar and Grilled)
Corporal Jason Thomas of Colorado (J Bos Pizza and Ribs)
Corporal Tracy Lindbergh of Arizona (Tilt Studio)
Corporal Marvin Ortscheid of Ohio (Stonehedge Family Fun Center)
Corporal Sean Spindler of Wisconsin (Schwoegler's Entertainment Center, Pooley's Sports Bar and Event Center, and I/O Arcade Bar)
Corporal Mark Schulz of California (Harbor Town Pub, Waterfront Bar & Grill, and Home & Away)
Corporal Parker Thomas of Michigan (Marvin's Marvelous Mechanical Museum)
Corporal Dan Gutchess of Colorado (The 1up Lodo and Colfax)
Corporal Shane Nazari of California (On Tilt @ AYCE Gogi)
Corporal Jason Wilson of Tennessee (Game Galaxy)
Corporal Nick Greenup of Missouri (403 Club)
Congratulations to the following Stern Army members on their promotion from Private First Class to Specialist:
Specialist Dick Curtis of Texas (Pinballz Arcade and Buffalo Billiards)
Congratulations to the following Stern Army members on their promotion from Private to Private First Class:
Private First Class David Benke of South Carolina (The Break)
Private First Class Nate Luke of Indiana (The Sinking Ship)
Private First Class CC Castaneda of California (Captain's Arcade Showroom)
Private First Class James Todd of Australia (The Basement)
For more information and to join the Stern Army, please reach out to SternArmy@sternpinball.com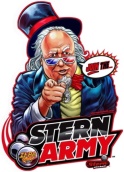 Stern Army Black Knight Ransom Championship Tournament:
Last chance to make your mark in the Black Knight Ransom Championship!  This global Stern Army high score tournament ends February 29, 2020, so make sure you find your local Stern Army event and start competing!  For full details and the current leaderboard on this exciting tournament visit – https://www.ifpapinball.com/blackknight/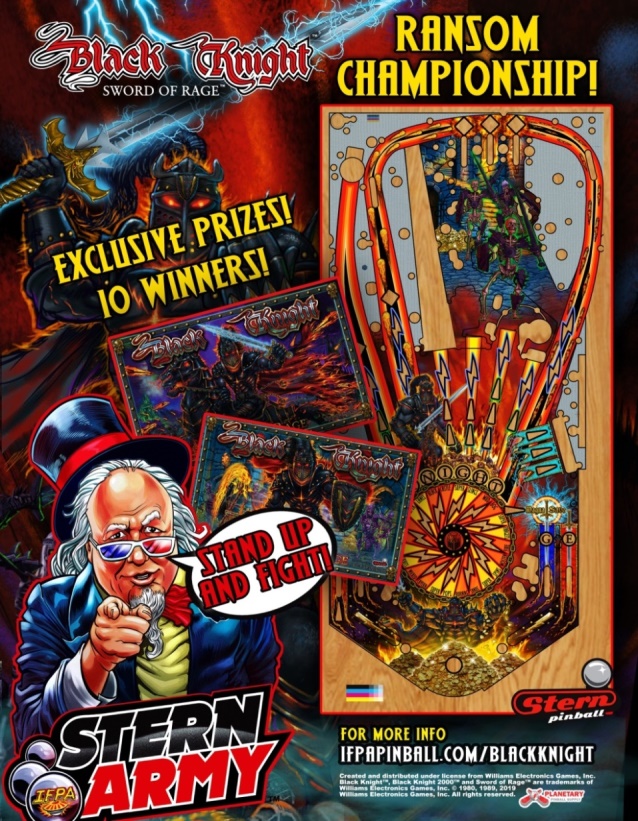 Stern Army invades Chicago Lucky Strike:
The Stern Army invaded Lucky Strike Chicago for Lucky Strike's very first Stern Army Pinball Party!  Check out a few pictures from this inaugural event.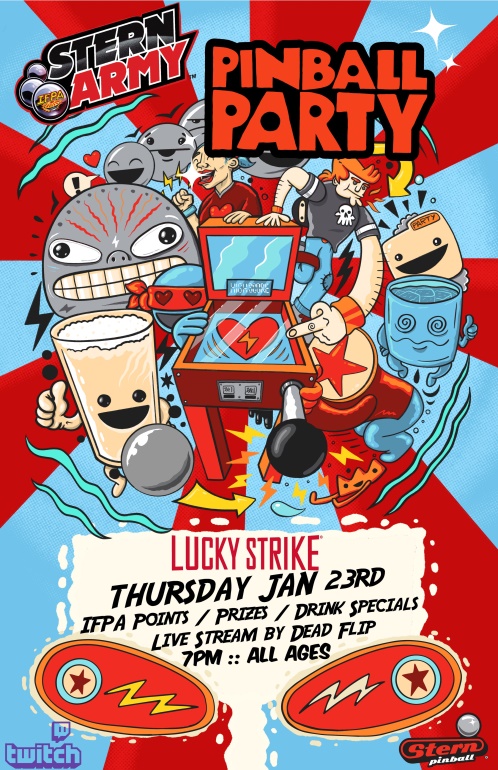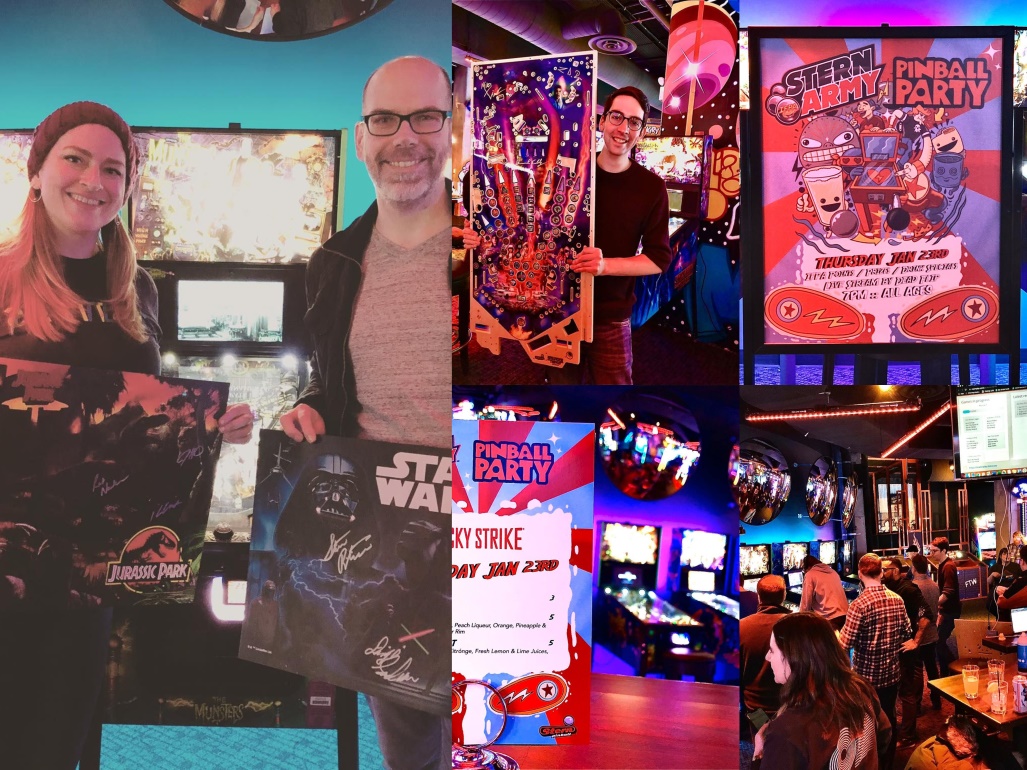 Stern Insider All-Access: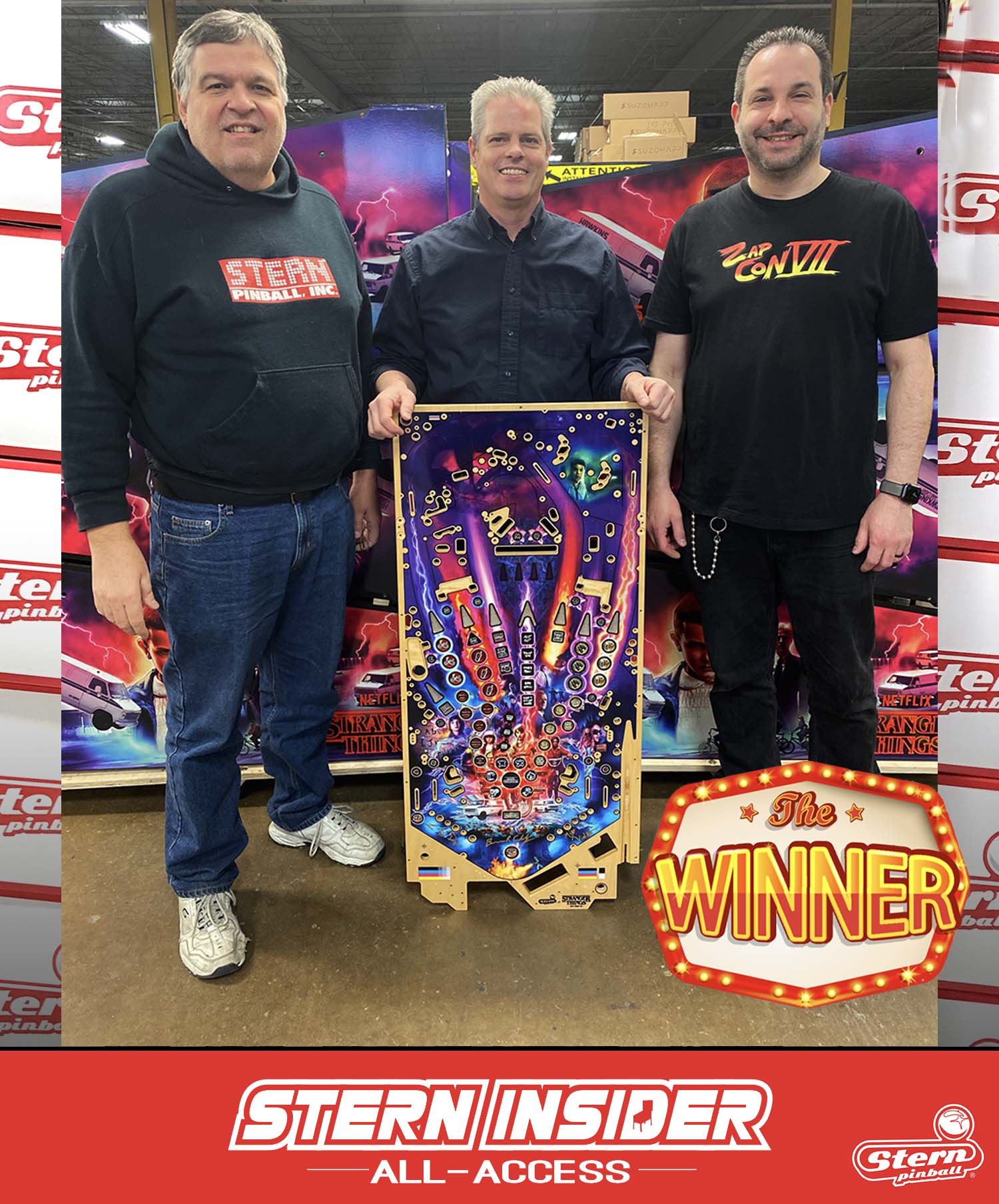 Congrats to Jordan from Arizona, January's Stern Insider All-Access winner!  Jordan received a Stranger Things playfield autographed by lead programmer Lonnie Ropp, associate game developer Mike Vinikour, and lead game designer Brian Eddy!  Do you have All-Access?  To register and become a Stern Insider, please visit https://sternpinball.com/stern-insider/
Sharpeshooting with the Pros:
Available only to All-Access Insiders, check out the first episode of Sharpeshooting with the Pros!  This episode highlights some tips and tricks on Jurassic Park and, spoiler alert, see a sneak peek at the final wizard mode, Escape Nublar!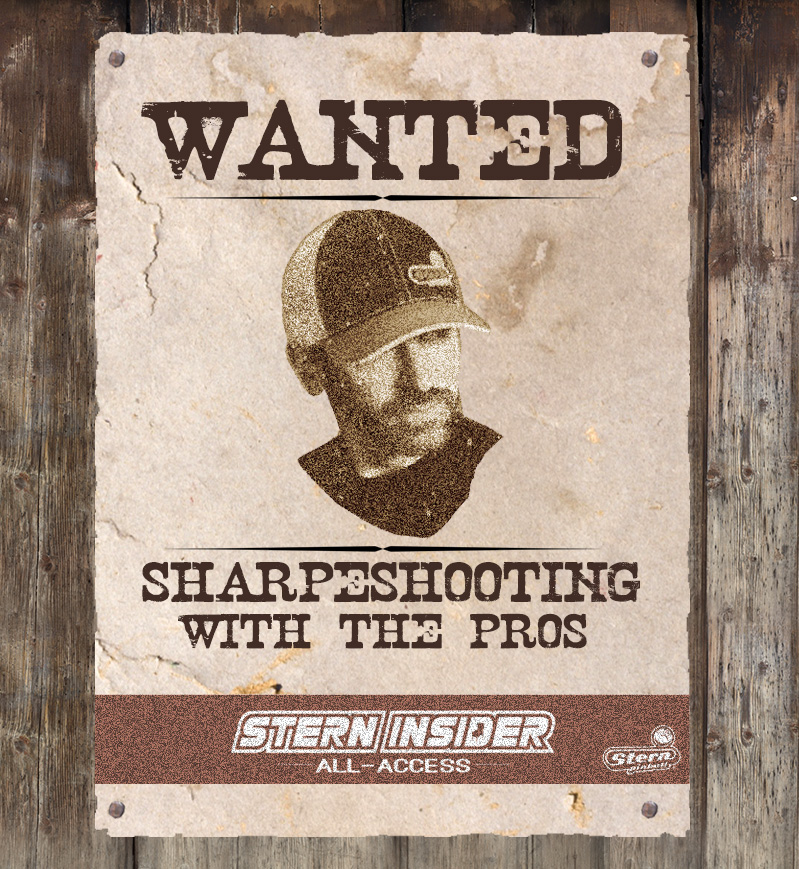 Stern Pro Circuit Championship:
It's time for the annual Stern Pro Circuit Championship Final, featuring the world's top 20 competitive pinball players competing for cash, prizes, and the title of Stern Pro Circuit Champion!  The Circuit Final grand champion will receive a brand new Stern Pinball machine, $5,000 and the iconic Stern Pro Circuit belt.  This year's event will be held at Lagunitas Brewing Company in Chicago, IL.  BUY TICKETS HERE for this event.  The $25 Saturday ticket price includes:
Over 60 pinball and classic arcade games on free play
A celebrity "Meet, Greet and Battle" area with special guests Jenni "JWOWW" Farley from Jersey Shore and Scott Ian from Anthrax
Several tournaments open to the public (more details coming soon)
Cool vendors
Arcade DJ
Giveaways
Access to watch the Stern Pro Circuit Championship Final in person!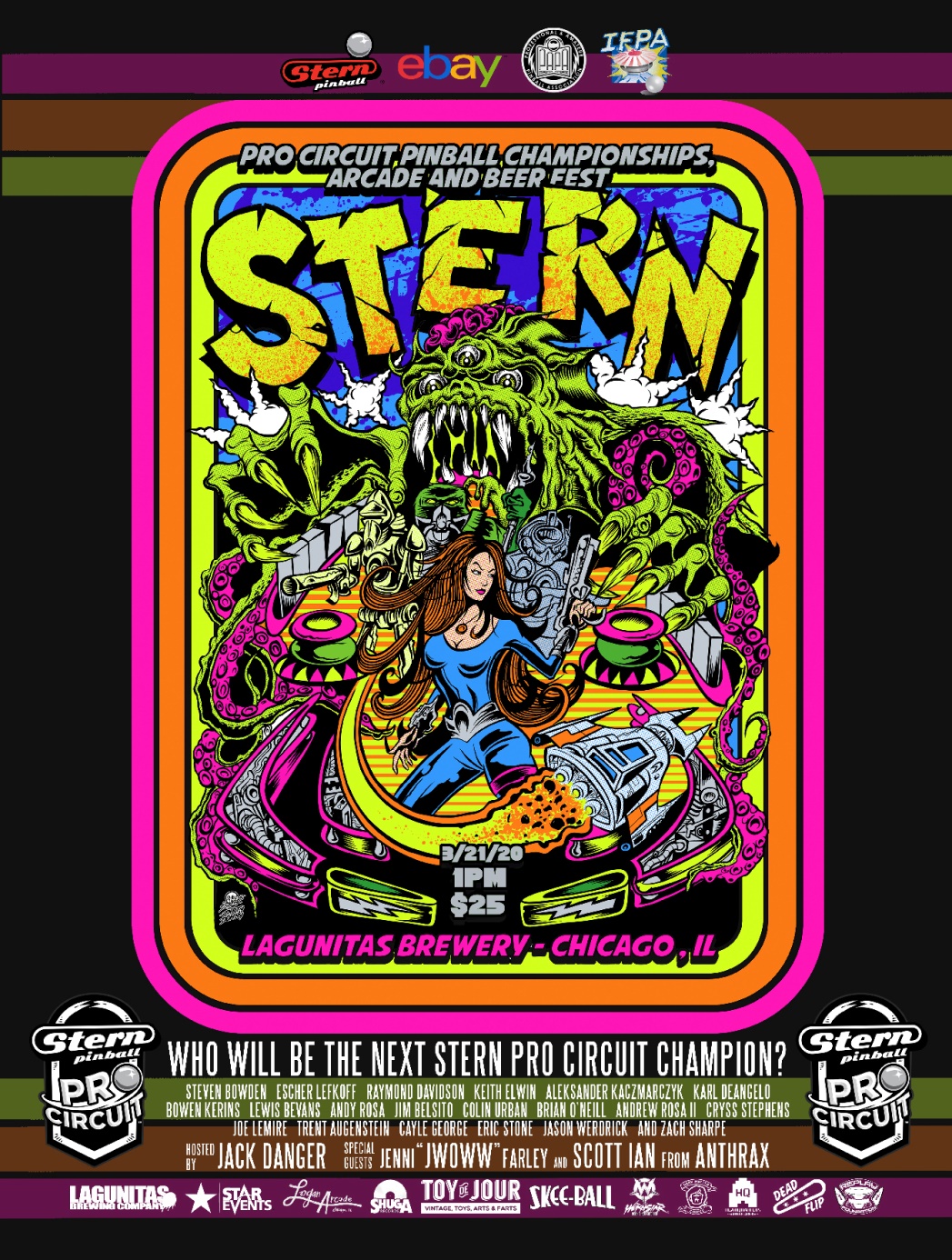 Let's meet your 20 finalists for the 2019-20 Stern Pro Circuit Championship!  Final details can be found here for this amazing pinball tournament event!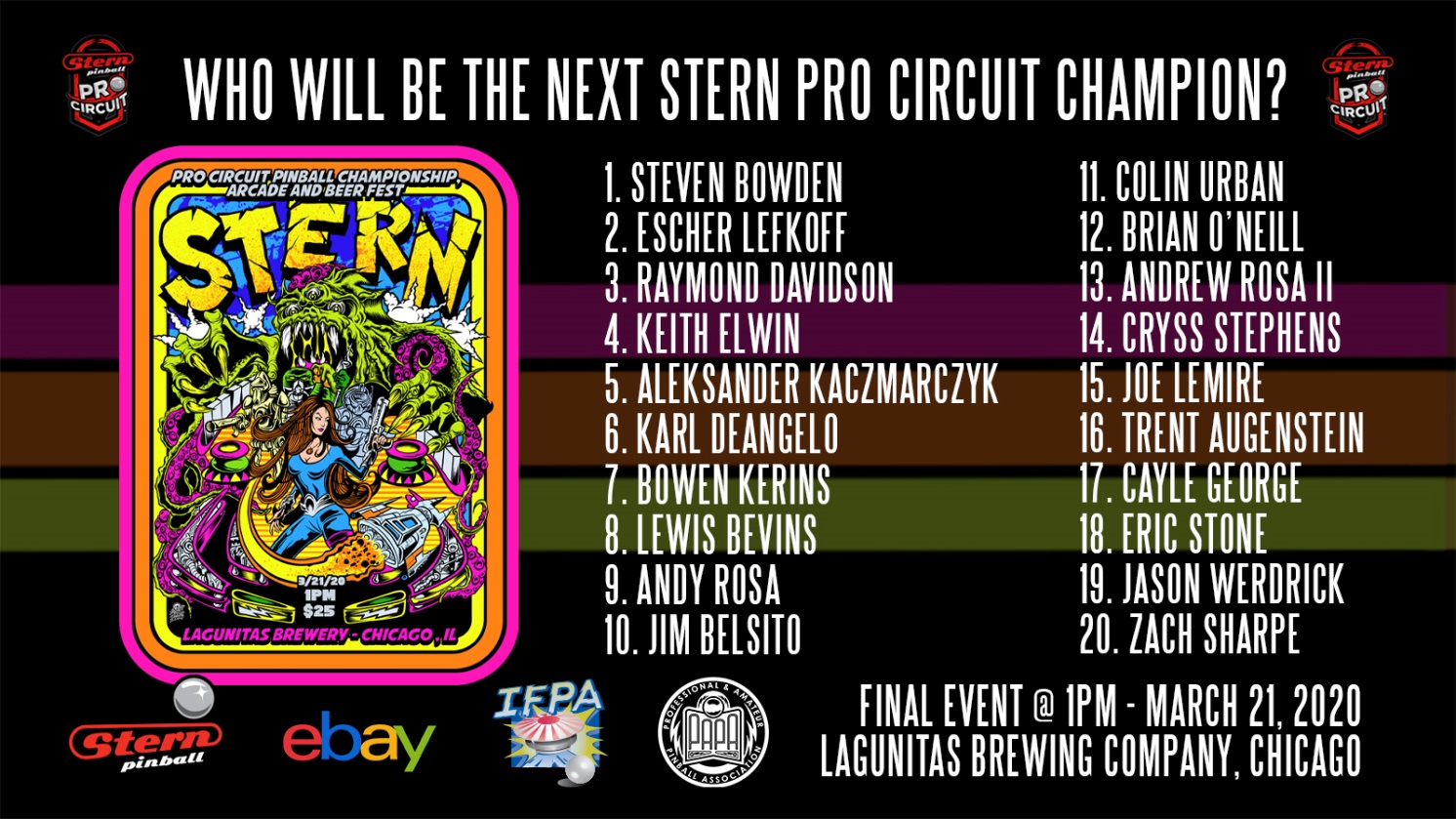 While these competitors prepare for their epic battles in March, let's look back on some of their journeys into qualifying for the finals through this recap video from the Stern Pro Circuit tournament held at the Chicago Pinball Expo.

While the 2019 season of the Stern Pro Circuit is coming to a conclusion, the official 2020 Stern Pro Circuit tour is already underway!  Congrats to all competitors at the first event of the 2020 Stern Pro Circuit season, THE OPEN IFPA World Championship.  In the end, Eric Stone (AKA "The Weatherman") emerged victorious.  For full details on the Stern Pro Circuit presented by eBay, and to keep up with the current standings and schedule, please visit – https://sternpinball.com/stern-pro-circuit/
Upcoming Stern Pro Circuit Events: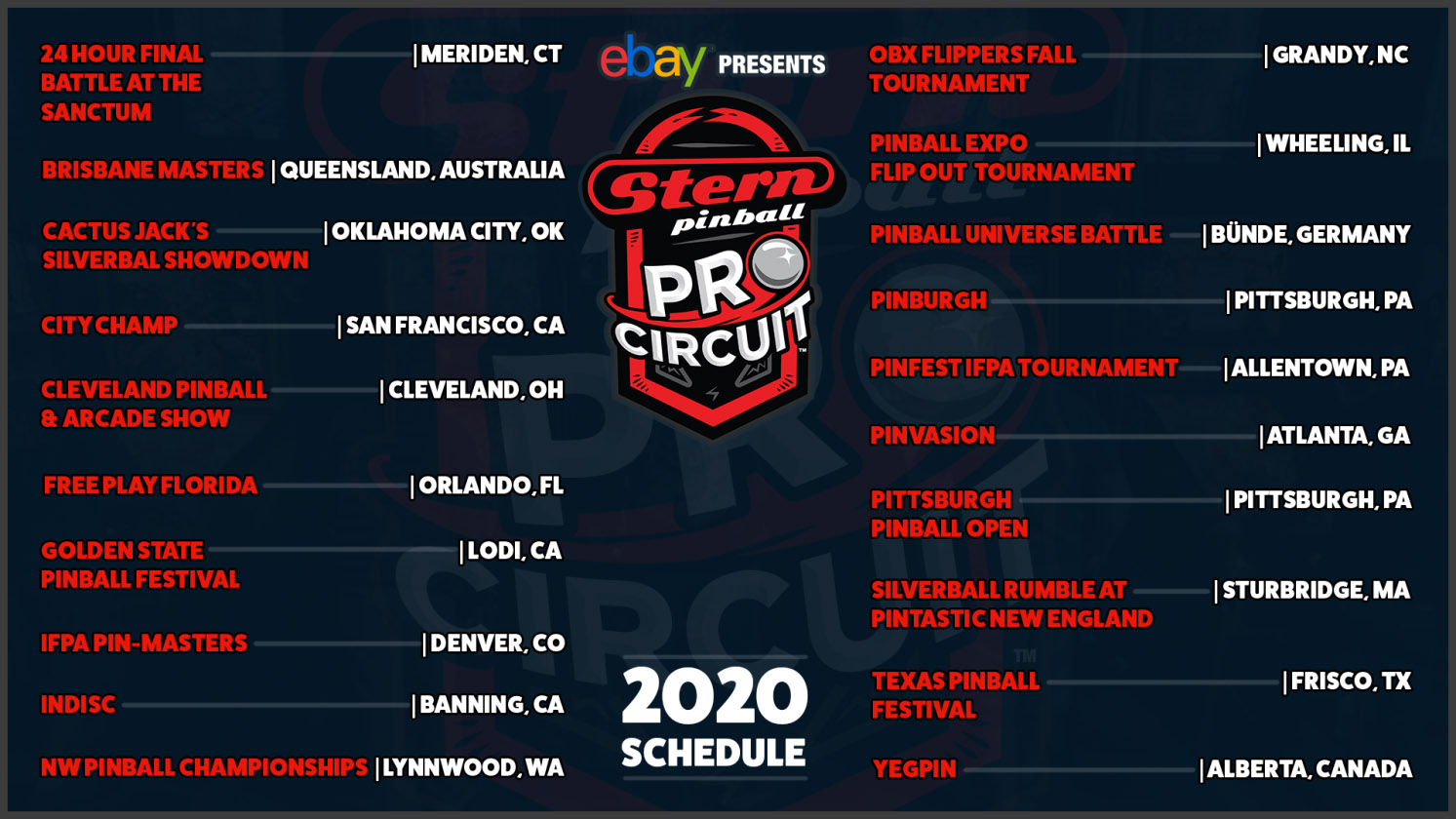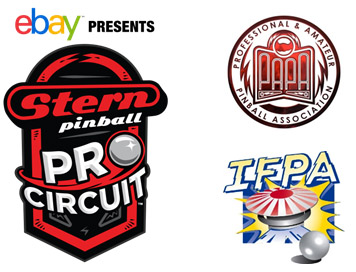 Status of Code:
We are continuously working to update and improve software for our machines.  There are always code updates and bug fixes in various stages of development; we will release them upon update completion.  Here are some of the latest updates and the status of things in the works.  If you would like to join our mailing list for code updates, please send an e-mail to Code.Updates@sternpinball.com.  If you do encounter any bugs please feel free to provide information to bug.report@sternpinball.com
Elvira – For all Elvira owners, please make sure you have updated your game to the most current code version (v0.89.0). Be on the lookout for a new code update this month.
Jurassic Park – For all Jurassic Park owners, please make sure you have updated your game to the most current code version (v0.97.0). Be on the lookout for a new code update later this month which will include the final wizard mode, Escape Nublar!
Stranger Things – For all Stranger Things Pro owners, please make sure you have updated your game to the most current code version (v0.81.0). With LEs currently in production, be on the lookout for a new code update later this month across all models.
Accessories:
Check out our Stern Shop for all accessories, collectibles, clothing and more including this month's featured item, the Black Knight Topper!  This interactive topper is currently in production and will be available for purchase soon!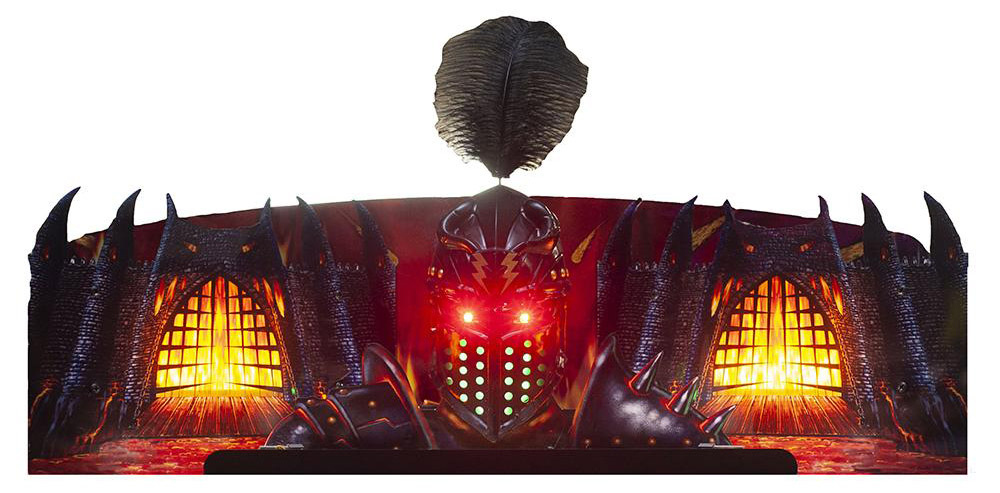 All Stern Pinball accessories are also available to purchase from your local authorized dealer – https://sternpinball.com/find-a-dealer/
Belles & Chimes in the News:
Some great media coverage featuring Stern Army Specialist Tracy Lindbergh and the Belles & Chimes organization.  Read the full article on Tracy here, and watch the video article on the growth of competitive pinball for women here!  Click here to learn more about the Belles & Chimes organization.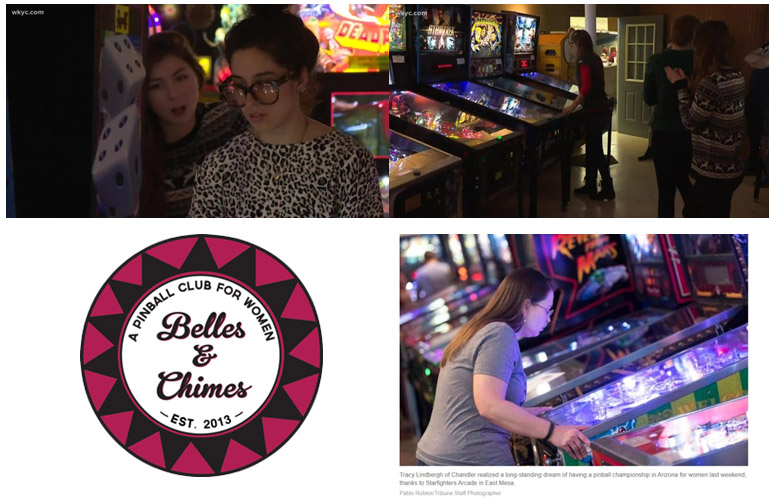 Stern Spotlight – Waison Cheng:
"Hi! My name is Waison and I'm a Game Designer and Developer here at Stern Pinball. For roughly 15 years I've worked in the game industry, starting with Nintendo GameBoy and DS games, then moving onto arcade/coin-op games, before finding my way to Stern Pinball in 2011.
My first few games were for children and young adults on the Nintendo Gameboy and DS systems. Afterwards, I helped develop Golden Tee Golf and other coin-op/slot machines. During all those stints, I've worked with a few people previously that I now currently work with at Stern. The game dev community is really small and tight-knit!
At Stern Pinball, my daily responsibilities include game programming, game planning, theme design and integration, and script writing. I work closely with designers, engineers, artists,  and other programmers to make the game feel as fun as possible. For my non-daily responsibilities, I help with promotions at trade shows and conventions as a booth manager and representative. Unofficially, I'm the company resource for all things geek culture!
Working at Stern Pinball has been a unique and interesting experience for me. Every project requires so many talented people with such diverse skill sets. It really is a work of passion here. The real joy beyond the fascinating people at Stern is interacting with the extended community. From all the people who produce and run pinball events to those in attendance, I admire the dedication and the exuberance from those I've come across as a whole.
If you've met me, it is infinitely likely that I'm the only Waison you've ever met or ever will meet. My interests lie in games of all types, including video games, board games, and sports.  Long, long ago, I was a former New York State High School Chess Champion and a former Pro-Gamer. I also have a 2nd-degree black belt in Tae Kwon Do and was an instructor for many years.  Occasionally I yell at high school robots to make them play games better. At all times I carry a bowling ball, ping pong paddle, and glow sticks in my car. I like to be prepared for all eventualities. Lastly, I am on a quest for the perfect bowl of Ramen and I welcome all suggestions!"