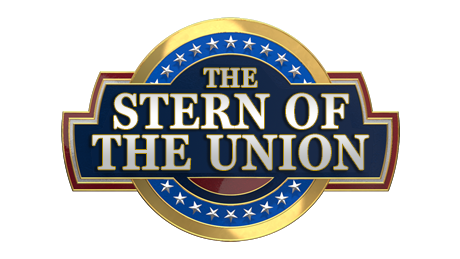 Back to All News
03/03/20
STERN OF THE UNION ADDRESS – MARCH 2020
The Stern of the Union Address will be presented on the first Tuesday of every month (holiday and vacation excepted).  Without further ado my fellow pinheads:
Stern Pro Circuit Championship:
It's not too late to secure your ticket to the annual Stern Pro Circuit Championship Final, featuring the world's top 20 competitive pinball players competing for cash, prizes, and the title of Stern Pro Circuit Champion!  The Circuit Final grand champion will receive a brand new Stern Pinball machine, $5,000 and the iconic Stern Pro Circuit belt.  This year's event will be held at Lagunitas Brewing Company in Chicago, IL.  BUY TICKETS HERE for this fun event and watch the Stern Pro Circuit Championship Final in person!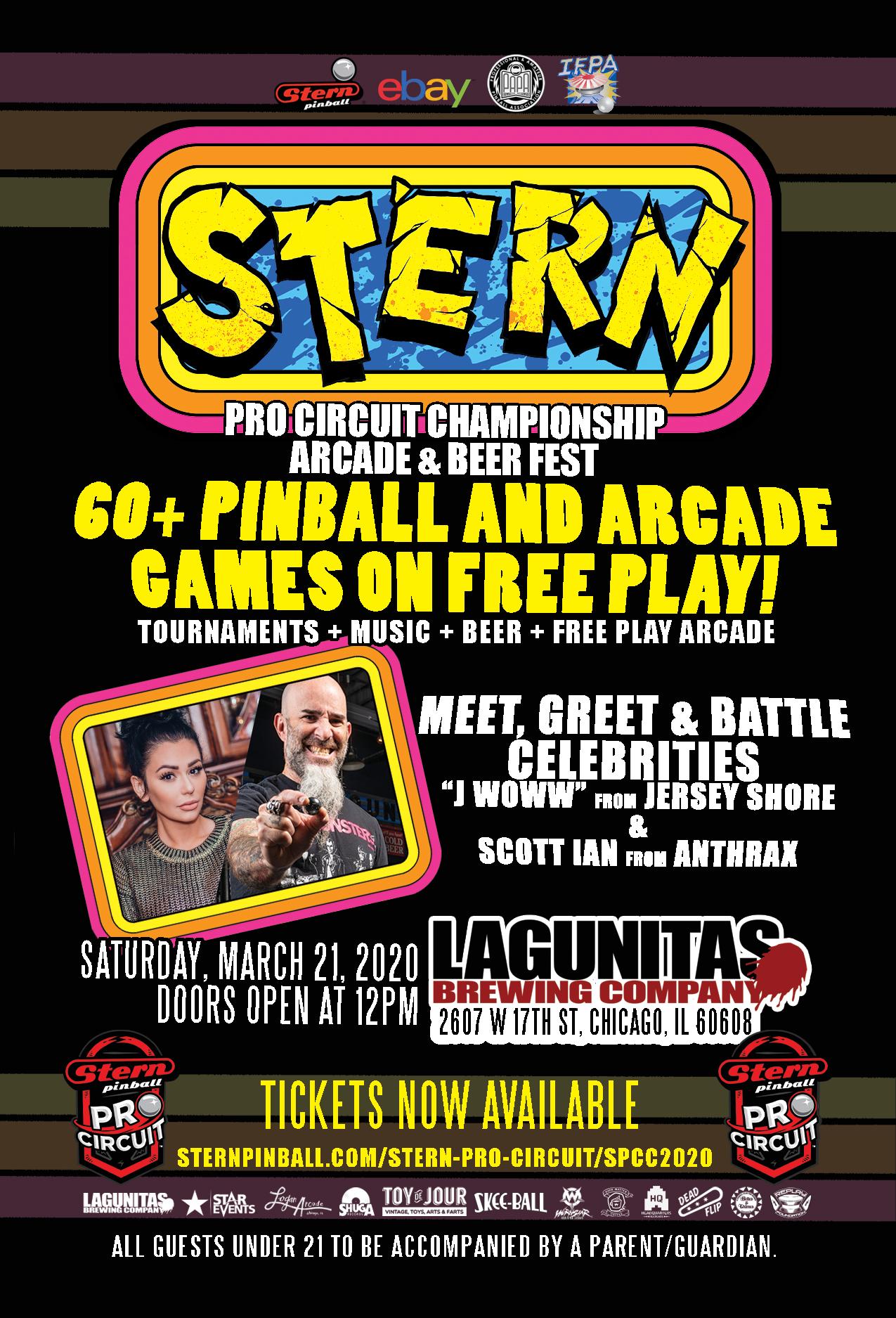 Steven Tyler Charity Auction:
Steven Tyler had his 3rd Annual Grammy Awards Viewing Party to benefit Janie's Fund.  Stern Pinball teamed with our authorized dealer CoinTaker to donate an Aerosmith pinball machine.  This machine auctioned for $85,000 with all proceeds going to Janie's Fund!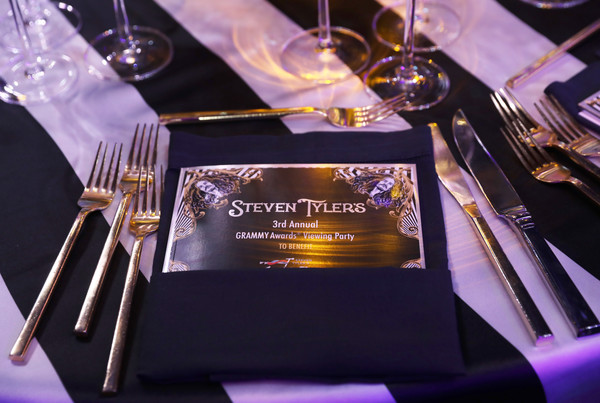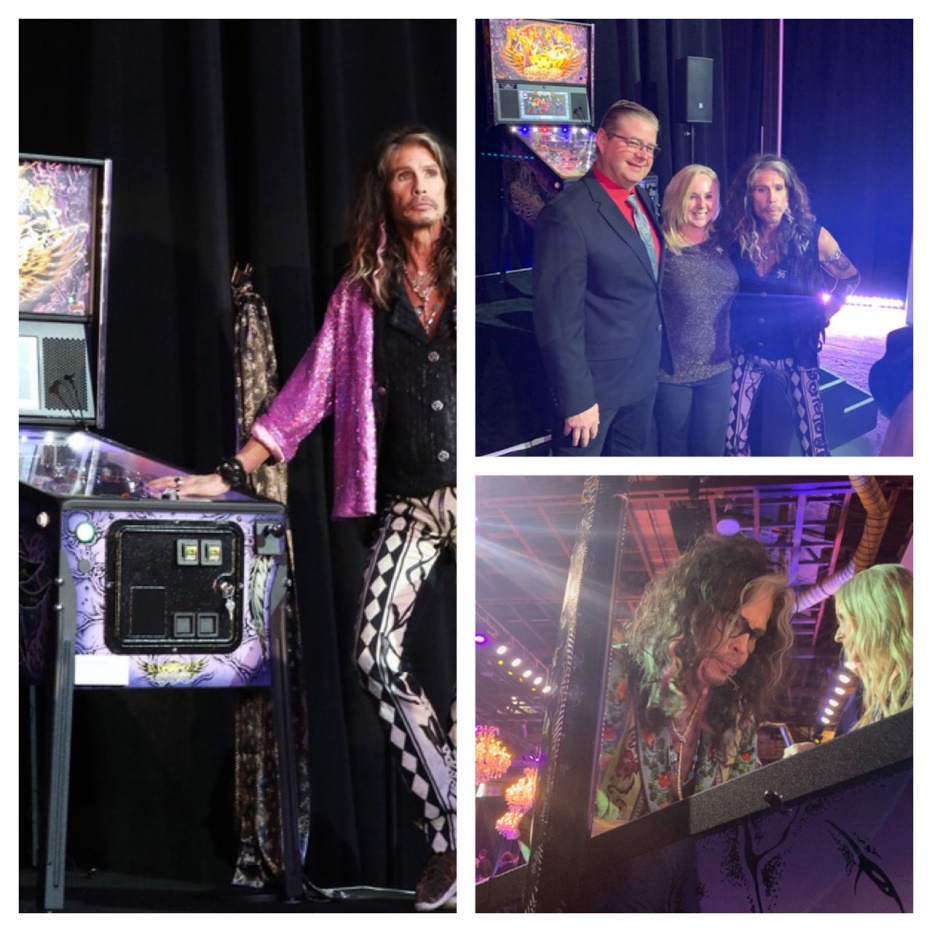 Heavy Metal Pinball:
Stern Pinball and Incendium have partnered to create a very special game for fans of Heavy Metal.  The game will be produced in very limited quantities and with more details being announced March 20th.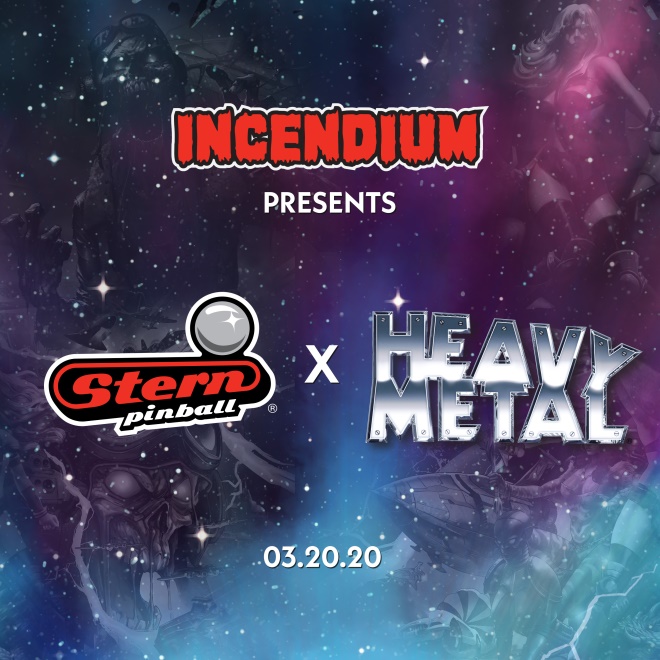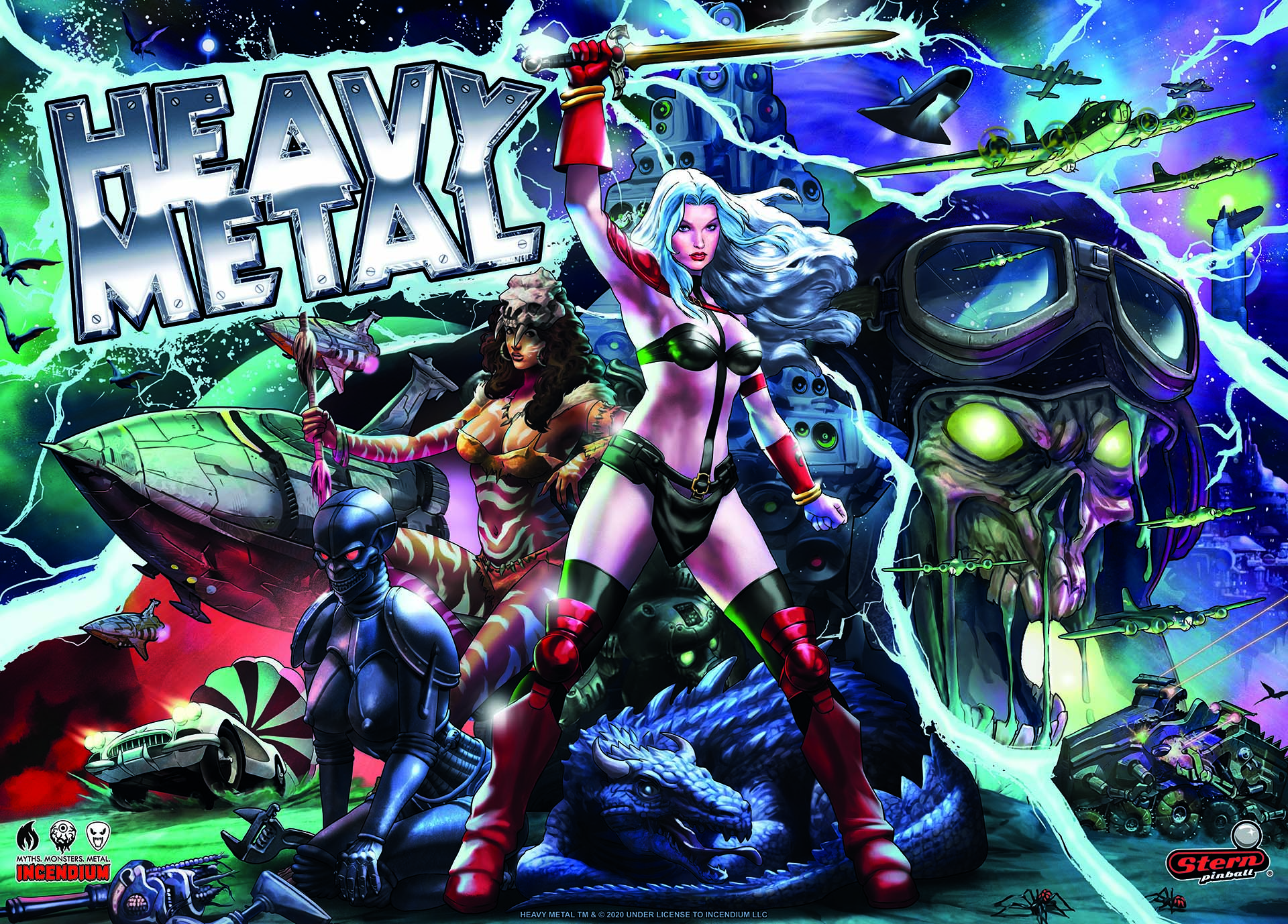 Stern Army Updates:
The Stern Army continues to grow with members spreading the gospel of pinball across the globe.  Here are our newest members and the pinball locations they support:
Private Vaughan Jones of Australia (Sneaky Baron Bar)
Private Darren Dorman of Oregon (Blairally Vintage Arcade)
Private Ian Matheson of Canada (Propeller Brewing Company)
Private Tony Murphy of Minnesota (Midtown Bar and Grill)
Private Don Michalik of Florida (iPinball)
Private Russell Linsky of Colorado (North Side Social)
Private Connor Stowe of Oregon (Next Level Pinball Shop & Museum)
Congratulations to the following Stern Army members on their promotion from Private First Class to Specialist:
Specialist Chris Badyk of Canada (Lamplighter Pub, Bimini Pub)
Specialist Joe Said of Maryland (Spinners)
Specialist Kyle Seller of Canada (Pub 340)
Specialist Hannah Holmberg Hatch of Seattle (The Ice Box)
Congratulations to the following Stern Army members on their promotion from Private to Private First Class:
Private First Class Hollie Sara Mills of Australia (Timezone Coolangatta)
For more information and to join the Stern Army, please reach out to SternArmy@sternpinball.com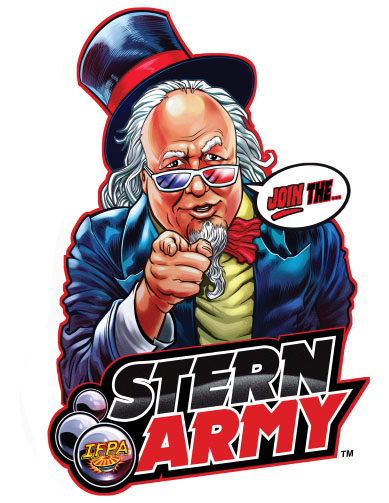 Stern Army Jurassic Park King of the Island Championship Tournament:
Stern Pinball and the International Flipper Pinball Association are teaming up to sponsor a global Stern Army High-Score Tournament on Jurassic Park Pro, Premium and LE pinball machines.  Players can enter by participating in any IFPA-sanctioned Stern Army events that include Jurassic Park in their tournament.  For full details on this exciting championship, visit – https://www.ifpapinball.com/koti/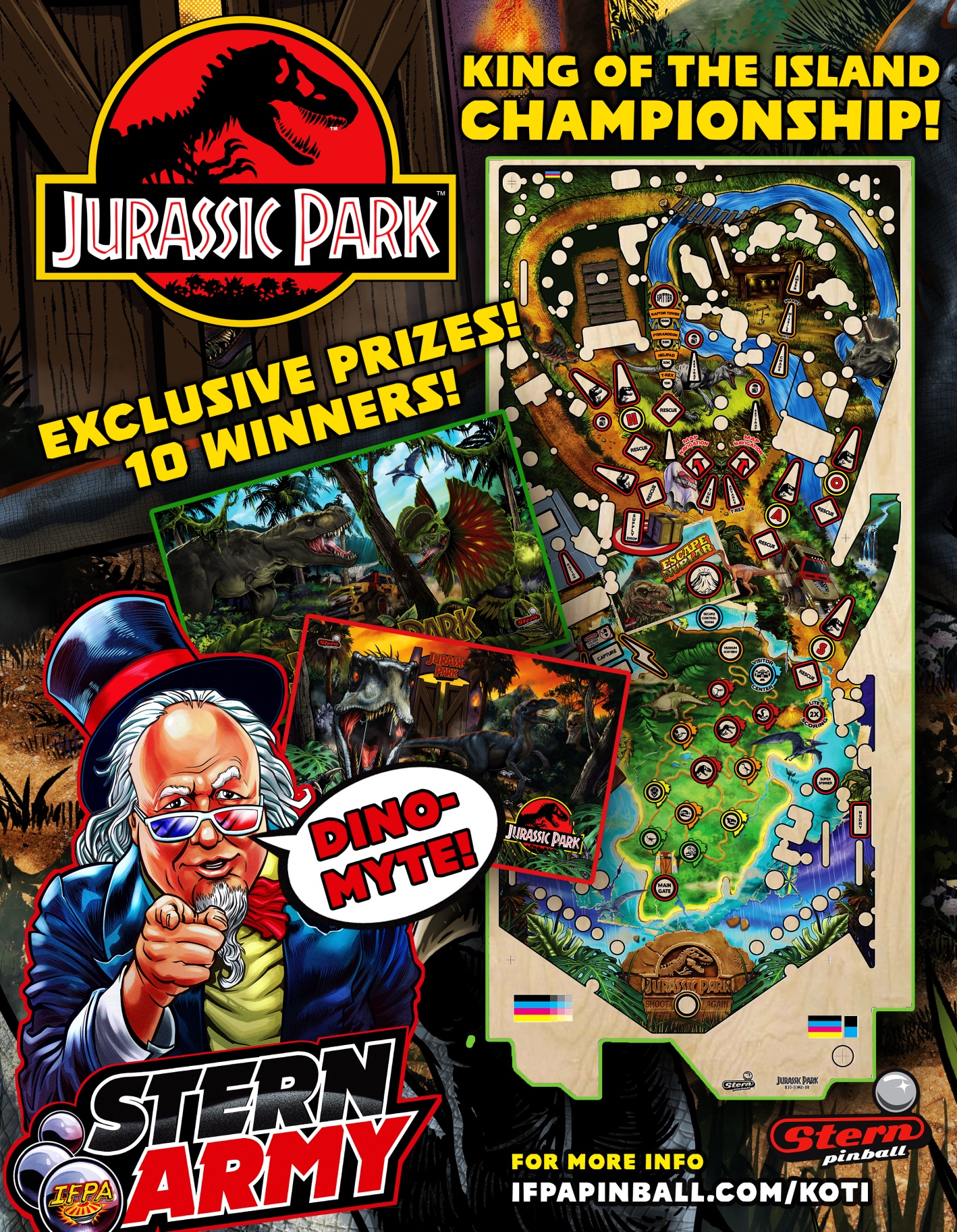 Stern Insider All-Access: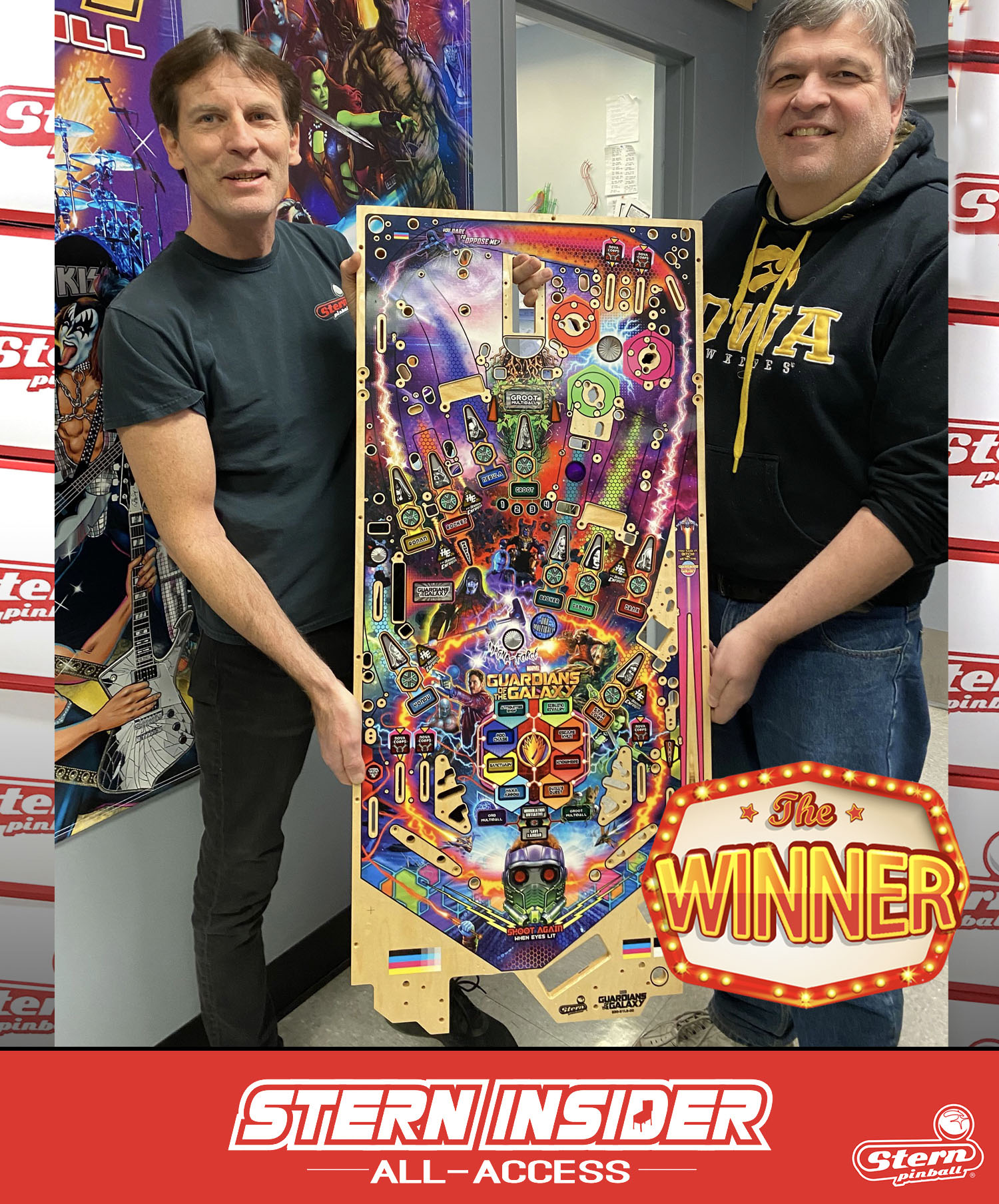 Congrats to Brett from New York, February's Stern Insider All-Access winner!  Brett received a Guardians of the Galaxy playfield autographed by lead designer John Borg and lead programmer Lonnie Ropp!  Do you have All-Access?  To register and become a Stern Insider, please visit https://sternpinball.com/stern-insider/
Escape Nublar All-Access Challenge: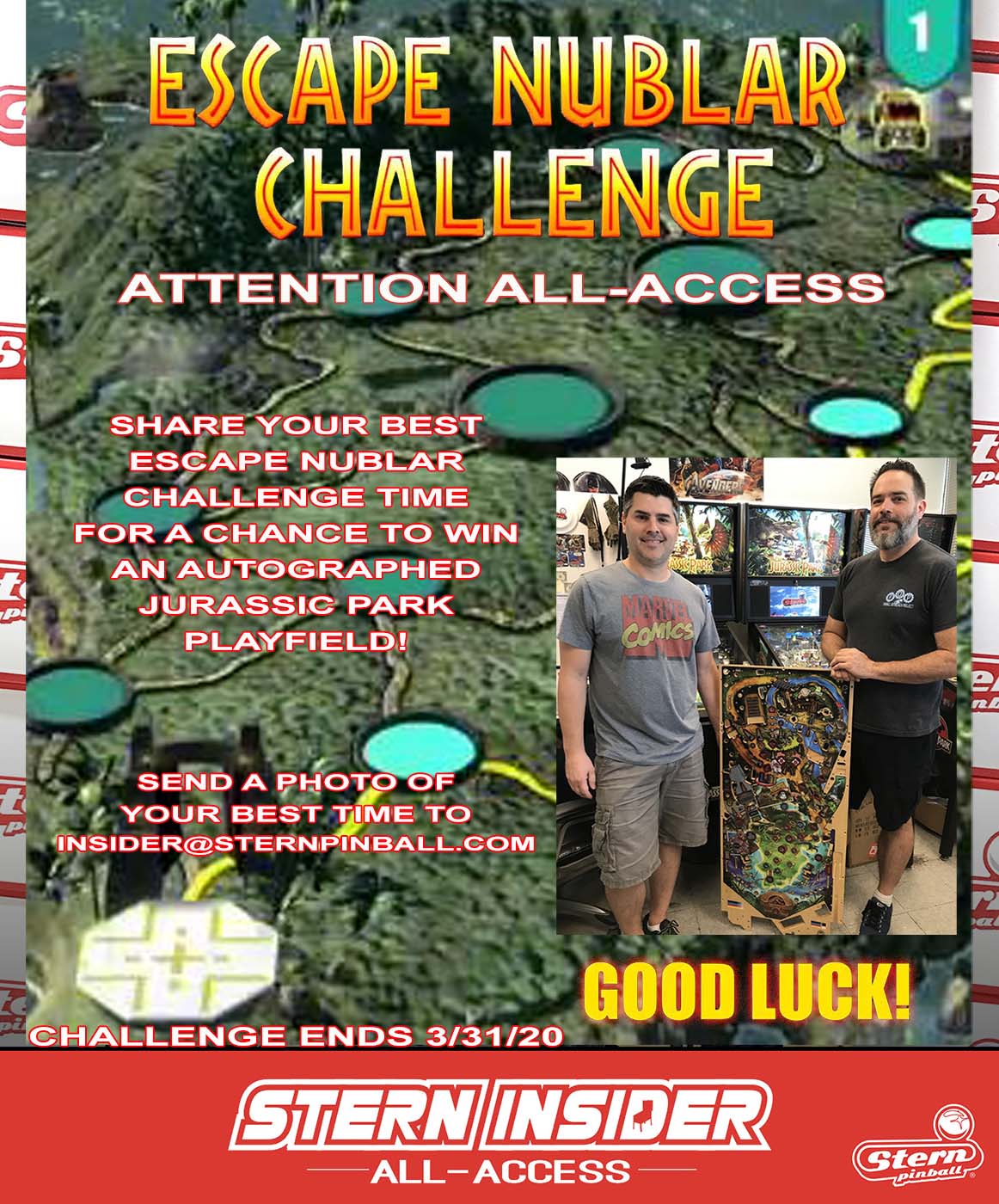 Available only to All-Access Insiders, share your best Escape Nublar Challenge Time for a chance to win an autographed Jurassic Park Playfield!  Challenge ends March 31st.  Do you have All-Access?  To register and become a Stern Insider, please visit https://sternpinball.com/stern-insider/
Stern Pro Circuit:
As we gear up for the 2020 Stern Pro Circuit Championship, here is a look behind the scenes at Stern Pinball, the pinball industry, and the history behind competitive pinball.  Also check out our SPCC Player Highlight videos featuring finalists Raymond Davidson, Escher Lefkoff, Eric Stone, and Zach Sharpe in addition to this news article featuring Colin Urban!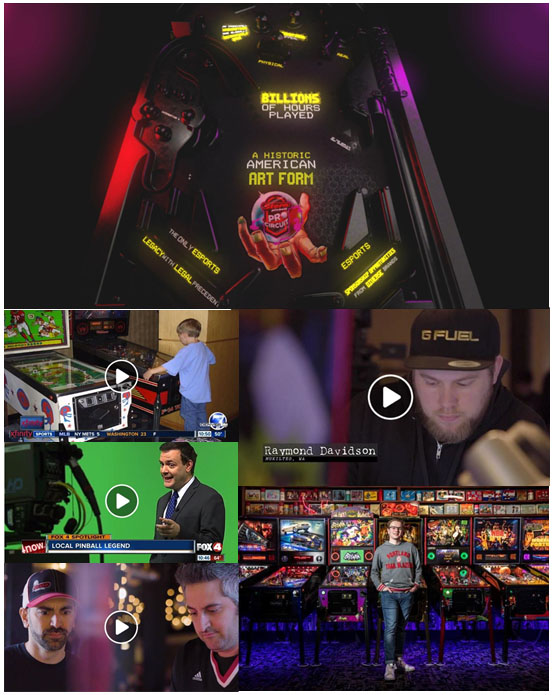 For full details on the Stern Pro Circuit presented by eBay, and to keep up with the current standings and schedule, please visit – https://sternpinball.com/stern-pro-circuit/
Upcoming Stern Pro Circuit Events: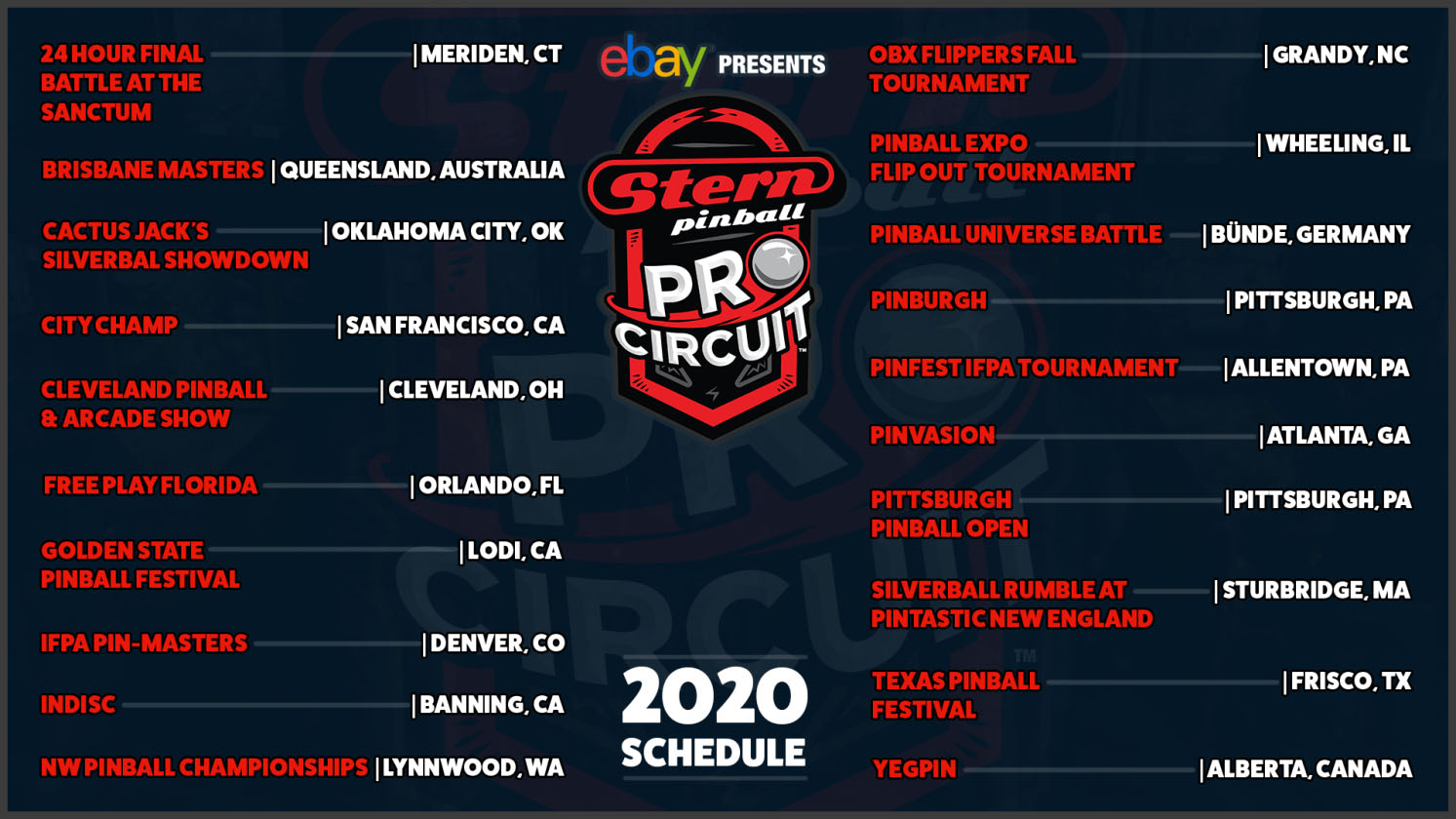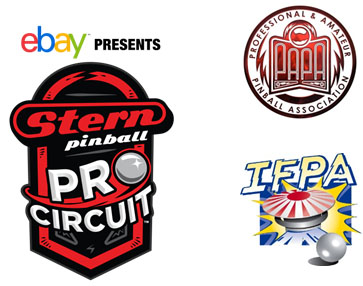 NBA All-Star Weekend:
Stern Pinball worked directly with Silent House Chicago in conjunction with the NBA All-Star Weekend held in Chicago last month.  We participated in a special fully-immersive music, entertainment and interactive sports experience featuring all of the newest Stern titles.  A captivated and diverse audience including former Chicago Bulls players, Carlos Boozer and Nate Robinson, thoroughly enjoyed the experience!  Attached are a few pictures from the event.
Scott Hamilton:
Everyone loves pinball including Olympic gold medal skater, Scott Hamilton!  Check out this article highlighting his personal collection that includes a Black & White Munsters Premium and Batman '66!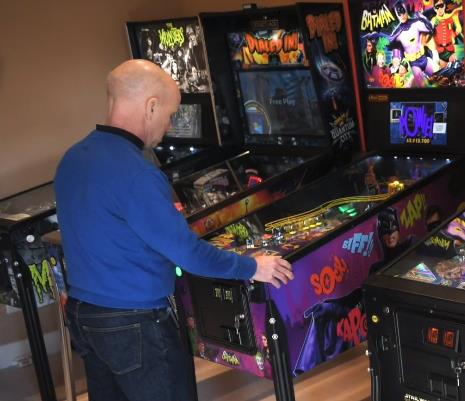 Stern Pinball at Toy Fair:
Following pinball's recent induction into the National Toy Hall of Fame, Stern Pinball attended Toy Fair in New York last month.  It provided an opportunity to showcase the ultimate fun of pinball to over 30,000 global professionals from over 100 countries in attendance, representing the $28B U.S. domestic toy market.  Stern showcased Star Wars, Jurassic Park and Stranger Things pinball machines to attendees.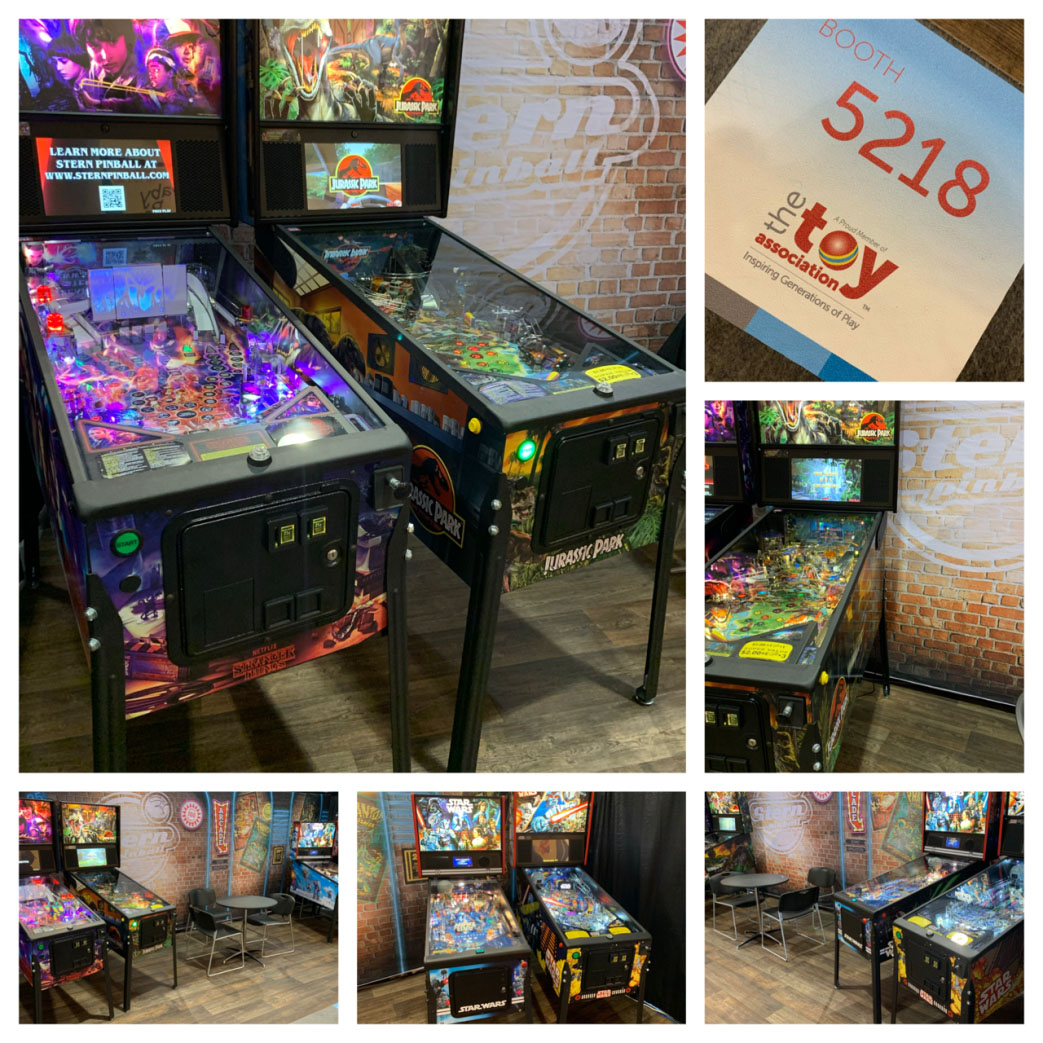 European Parts Distribution:
Stern Pinball announced the appointment of KMS as Stern Pinball, Inc.'s satellite distributor for parts, accessories, and merchandise in Europe.  This will complement our existing distributor network which will continue to sell and distribute parts, accessories, and merchandise.  With their computer software and hardware infrastructure in place, KMS has developed the official parts business website located at www.stern-spareparts.eu.
Please read the press release for additional details.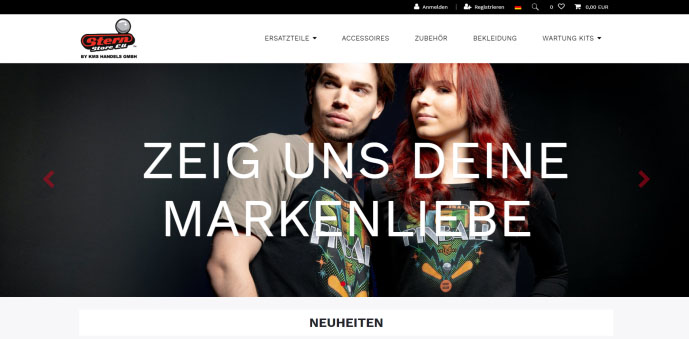 Status of Code:
We are continuously working to update and improve software for our machines.  There are always code updates and bug fixes in various stages of development; we will release them upon update completion.  Here are some of the latest updates and the status of things in the works.  If you would like to join our mailing list for code updates, please send an e-mail to Code.Updates@sternpinball.com.  If you do encounter any bugs please feel free to provide information to bug.report@sternpinball.com
Jurassic Park – For all Jurassic Park owners, please make sure you have updated your game to the most current code version (v1.00.0). This update features the final wizard mode: When Dinosaurs Ruled the Earth!  This wizard mode can only be achieved through standard gameplay and successfully escaping the penultimate wizard mode, Escape Nublar!  This code still includes the Escape Nublar mini challenge game option.  To activate, players will hold both flipper buttons during attract mode (with credits on the machine or free play enabled) and select "CHALLENGE". The Escape Nublar Challenge mini game has its own dedicated high score board!
Black Knight – For all Black Knight owners, please make sure you have updated your game to the most current code version (v1.01.0). This update contains full topper incorporated code, making our custom, one-of-a-kind animatronic Black Knight toppers interact like no other topper!  It also includes custom interactive speech available exclusively to machines installed with this topper.  This code also features an alternative soundtrack to the gameplay experience available as an adjustment. In addition this code also contains mode balancing, scoring improvements, bug fixes, enhancements and additional polish.
Elvira – For all Elvira owners, please make sure you have updated your game to the most current code version (v0.92.0) released last week. Be on the lookout for a new code update later this month.
Stranger Things – For all Stranger Things owners, please make sure you have updated your game to the most current code version (v0.86.0). Be on the lookout for a new code update later this month.
Accessories:
Check out our Stern Shop for all accessories, collectibles, clothing and more including this month's featured item, the Stranger Things UV Lighting Kit!  The kit further illuminates the Upside Down during dramatic gameplay events, immersing players further into the alternative dark world of Stranger Things!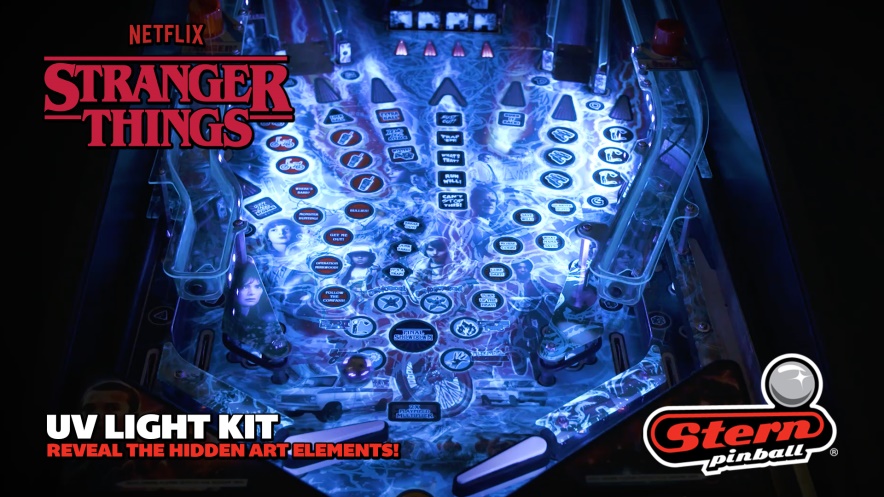 All Stern Pinball accessories are also available to purchase from your local authorized dealer – https://sternpinball.com/find-a-dealer/
Stranger Things at Texas Pinball Festival:
Marco Specialties, Fun! Billiards and Gameroom Superstore, and Stern Pinball will be presenting Stranger Things pinball at the Texas Pinball Festival 2020! Come by the booth and play Stranger Things (Pro and Premium models) all weekend long with game designer, Brian Eddy!  You might even get a chance to visit the Upside Down!  Sign up for Marco's mailing list at the booth and you'll receive FREE SHIPPING on your next Marco Pinball order.
In addition, Marco will be producing the 3rd Annual TWIPY Award Show with This Week in Pinball on Saturday, March 28th at 7PM at Texas Pinball Festival.  Let's celebrate the best of pinball together!

Belles & Chimes in the News:
Some great media coverage featuring the expansion of the Belles & Chimes organization in Austin, TX.  Read the full article here and click here to learn more about the Belles & Chimes organization.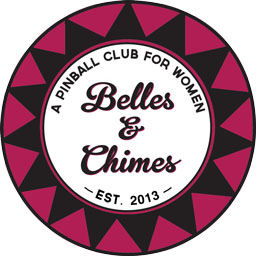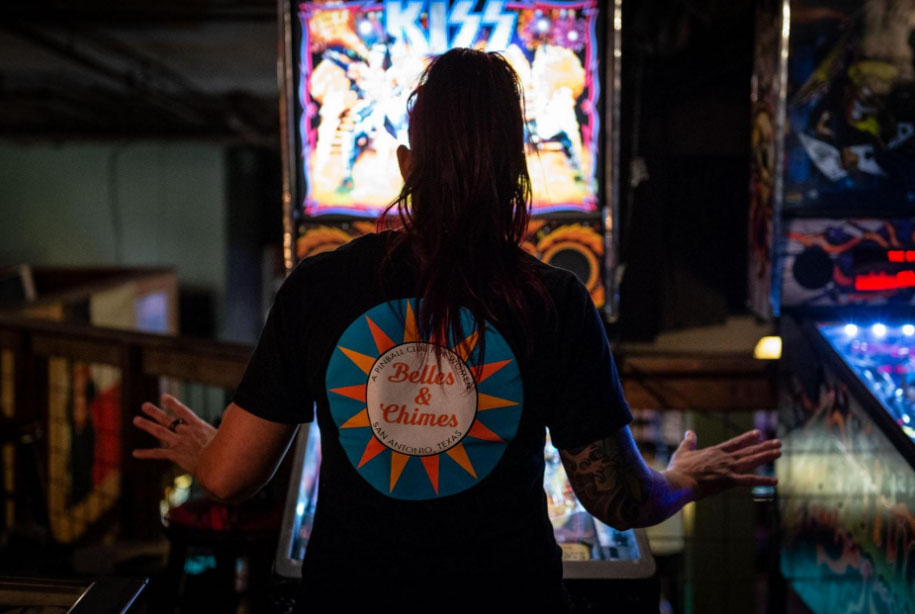 Stern Spotlight – Justin Frait:
"Hello! My name is Justin and I am a Graphic Designer and Production Artist in the Art Department at Stern Pinball. Before working at Stern Pinball, I was a Graphic Designer in the marketing department of a cutting tool company. I've been here at Stern since January of 2019 and wouldn't want it any other way!
When I started here at Stern Pinball I didn't know much about pinball at all, well that changed very quickly! I was amazed at everything that went into a pinball machine and was instantly hooked. I feel privileged to be able to use my talents and work in an industry such as this. Pinball has become a big part of what I do and I fell in love with the game right away.
My responsibilities here at Stern Pinball change daily. I work on all the marketing materials that are needed for a game launch (images for the website, game flyers, ads, etc.) and the launch party (banner, window cling, coasters, posters, trophy decals and other items). I am also heavily involved in the production art side of it as well (getting art sized for decals, plastics, cabinets, etc.).  I work with all types of different licenses and to realize that is truly amazing. My biggest accomplishment is having a big role in the Star Wars Pin Game. I work with many different people here, but it's the best company culture I have ever worked for. There are a lot of intelligent and talented people who make Stern Pinball such a great company!
Working here at Stern Pinball I can really call a dream job. Ever since I was young I loved drawing and art. Then going to school for design and ending up working here has been everything I have wished for. (Working around bright colors, fantastic art, awesome video, and great sound effects day in and day out, I don't think it could get much better.) Plus learning the game of pinball and becoming a better player has made me really respect it more as a beginner coming in!
When I am away from work you can usually find me hanging out and being with my 4.5 yr. old son, Emmett, and doing kid things. I believe that we can all grow older, but we should always be a kid at heart. I like to work out during the mornings, play softball, golf, bowl and fish in the summer and snow ski in the winter. Just being outside as much as possible and spending time with friends, family, my amazing girlfriend, and my dog Wyatt makes me happy!"