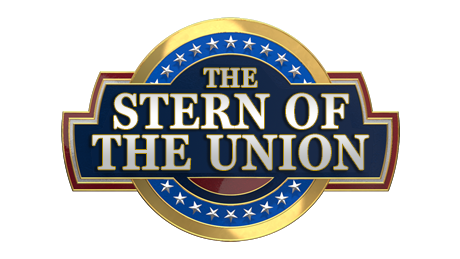 Back to All News
04/07/20
STERN OF THE UNION ADDRESS – APRIL 2020
The Stern of the Union Address will be presented on the first Tuesday of every month (holiday and vacation excepted).  Without further ado my fellow pinheads:
Pinball Fun During Uncertain Times:
The good health and safety of everyone in our global pinball community always takes precedence.  At times like these, a little pinball fun might brighten your spirits.
With public play temporarily curtailed, there are many other ways to have some pinball fun.
Follow our social media to see and hear about pinball experiences that will help keep you engaged with the community and maybe – just maybe – scratch a bit of your pinball itch.
If you're lucky enough to have a game at home, now's a great time to take care of any of those maintenance issues you've been putting off.  Check with your local dealer or distributor for assistance.  Stern's tech support team is also available at 1-800-KICKERS.
If you're interested in adding genuine Stern accessories, please contact your local dealer or distributor for assistance or visit the Stern Store.
Some local dealers are also offering rental programs. Check out this news story featuring Stern Army location Quarterworld out in Portland, Oregon!
Above all else, please stay healthy and let the pinball FUN continue!!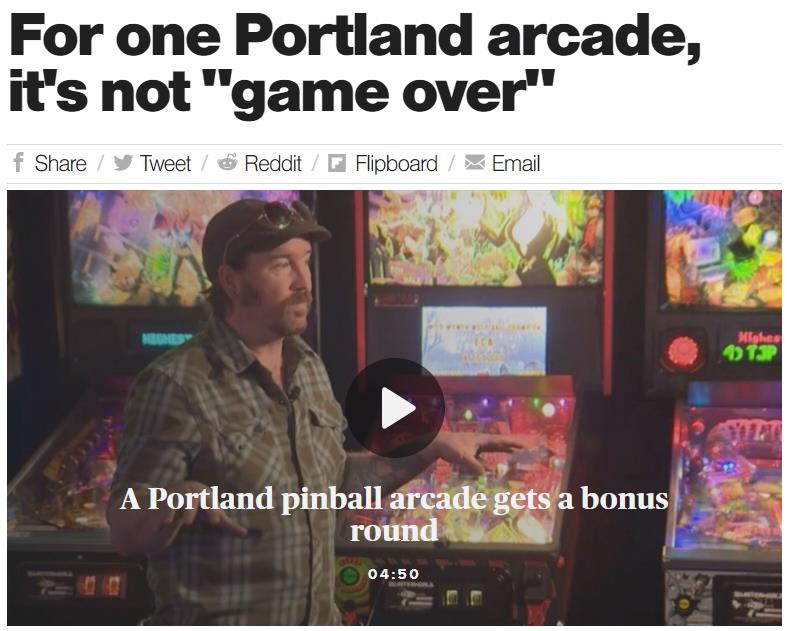 Stern Showdown:
The world might not be able to watch March Madness, spring training, or the Masters, but pinball fanatics around the world can participate and root on their favorite Stern pinball machine in the first ever Stern Showdown!  Make your voice and opinion heard by voting on your favorite Stern Pinball machines on Facebook, Twitter, and Instagram.  The ball is wild and this bracket is bound to provide upsets and surprises galore, but ultimately there will be only one…. Which game will prevail?! Create your own bracket before it's too late (brackets close April 7th at 12pm CST) and you could win some random Stern swag and bragging rights!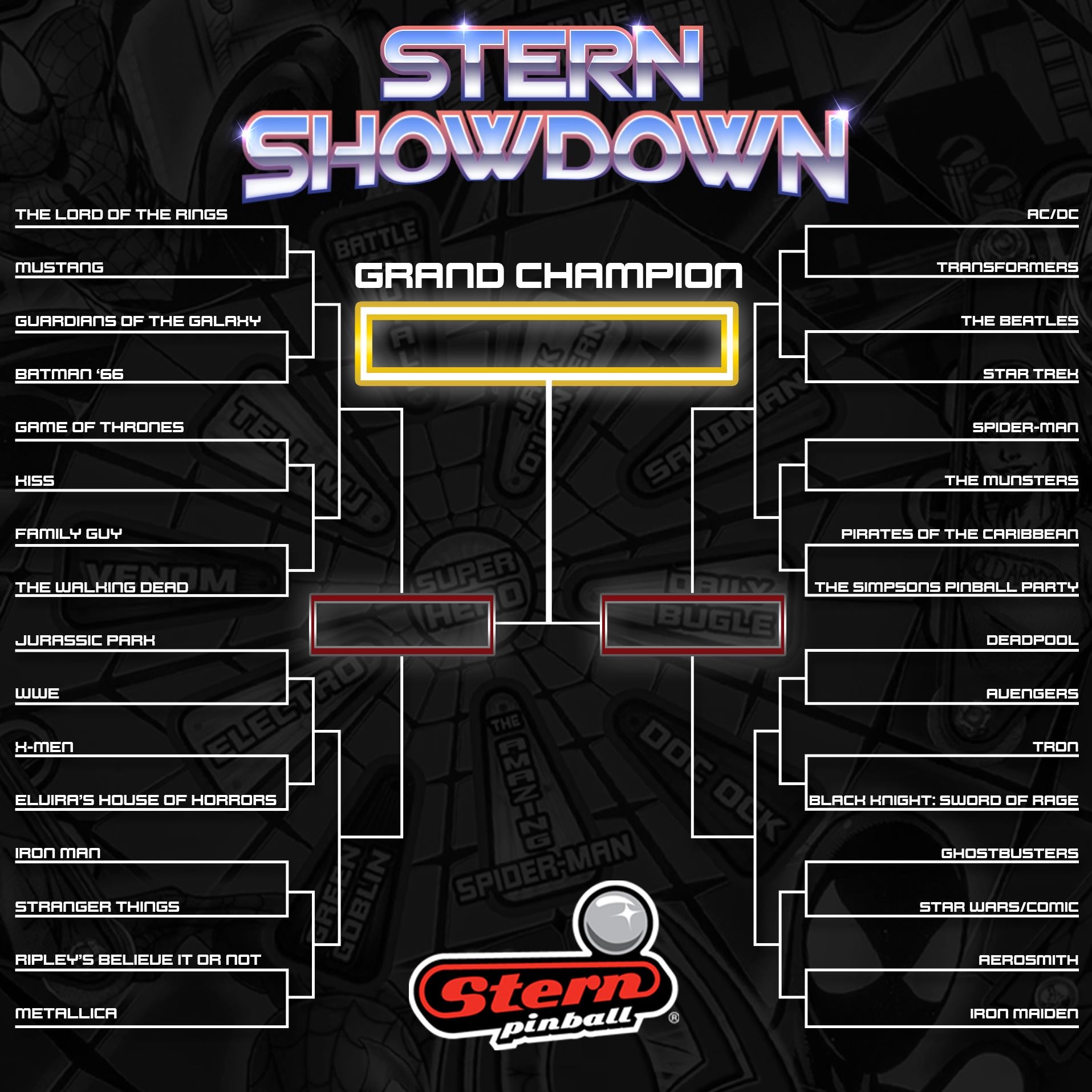 2019 Annual TWIPY Awards:
While the Texas Pinball Festival had to be cancelled this year, the annual TWIPY awards still carried on, live streamed for all.  Click here to watch a replay of the broadcast. Needless to say, Stern Pinball will have to clear up some space. Congrats to all winners and here's to bigger and better things in 2020!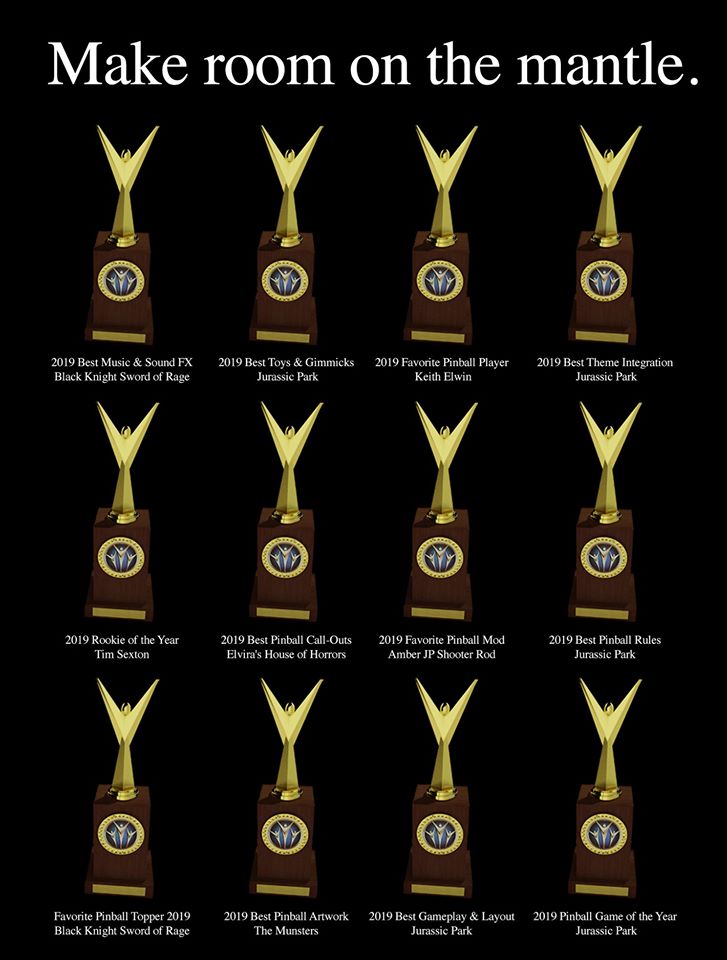 Gameroom of the Week:
Have an amazing gameroom to share with the world?  Leave a photo comment on any of our Facebook or Instagram posts and you may be our next winner!  Not on social media?  Not a problem!  You can submit your incredible gameroom directly to Insider@sternpinball.com for your chance of winning a Stern Swag Pack!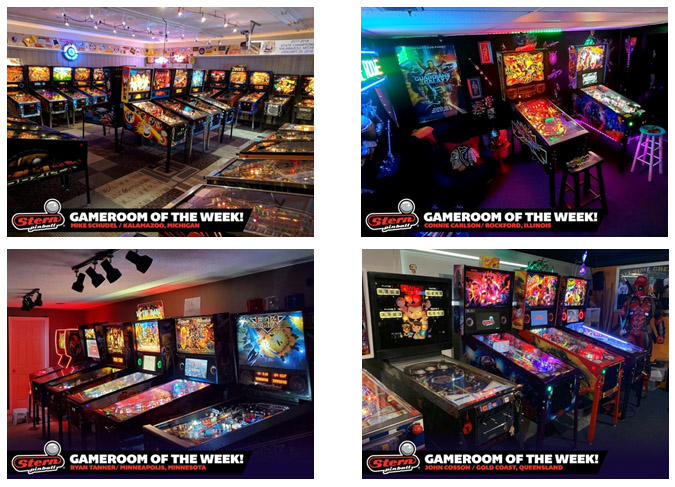 Stern Pinball Arcade:
Announcing the Stern Pinball Arcade Best Score Giveaway!  Each week we're highlighting a different game in the Stern Pinball Arcade with a chance to win table codes or even a Stern translite!

Weekly High Score Challenge:
Stay tuned for the weekly high score challenge on the latest Stern Pinball machines!  It's easy, post a photo of your personal best score as a comment on our Facebook posts or submit directly to Insider@sternpinball.com and a random lucky winner will win that game's translite!
Don't own or have access to the latest Stern Pinball machines, but want to watch the action?  Subscribe to Dead Flip Pinball on Twitch (https://www.twitch.tv/deadflip) and tune in as Jack Danger hosts a global streaming battle on a different Stern game each week!  Check out a replay of his global Iron Maiden streaming battle with 20 players competing in different cities around the world simultaneously!!

Stern Pinball Rental Program:
Stay entertained by staying inside with the latest Stern Pinball machines!  Just because your local bar or arcade might be temporarily unavailable, doesn't mean there aren't plenty of opportunities to still play the newest Stern games.  Contact your local authorized Stern dealer for more information on renting your very own Stern pinball machine!  https://sternpinball.com/find-a-dealer/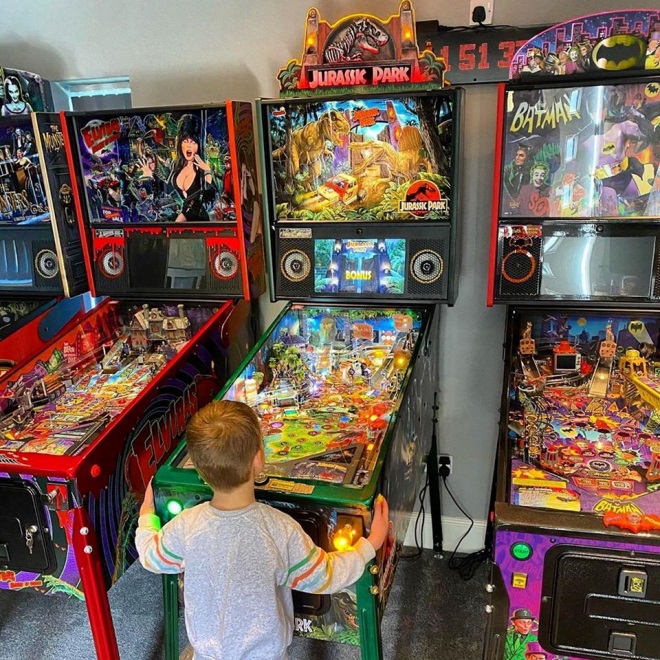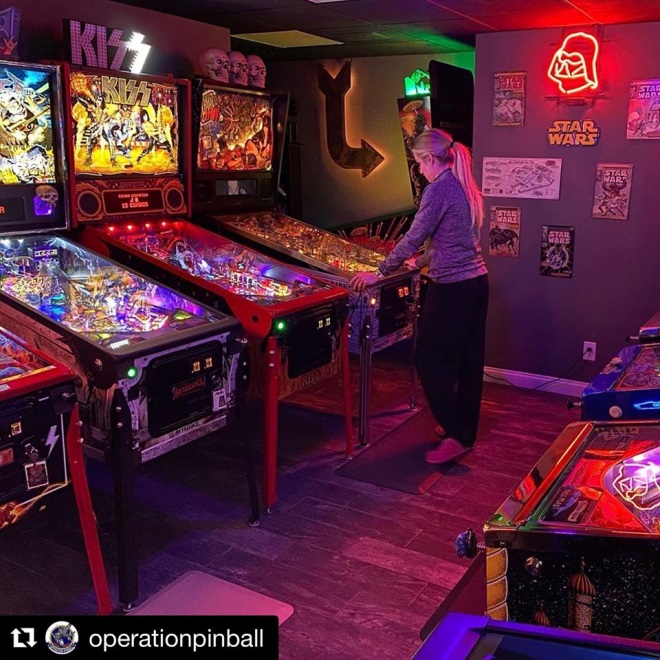 Stern Army Updates:
The Stern Army continues to grow with members spreading the gospel of pinball across the globe.  Here are our newest members and the pinball locations they support:
Private Dan Sexauer of Missouri (Up Down STL)
Private Evert Brochez of Belgium (Comic Sans)
Private Jeff Palmer of Michigan (Crazy Quarters Arcade)
Private Adam Holder of California (Coin Op Game Room)
Congratulations to the following Stern Army members on their promotion from Specialist to Corporal:
Corporal Kim Martinez of Ohio (Level 1)
Corporal Bill Disney of Pennsylvania (Pinball Gallery)
Corporal Chris Hebert of Idaho (Woodland Empire)
Congratulations to the following Stern Army members on their promotion from Private First Class to Specialist:
Specialist Rich Wickersham of Virginia (Carpool Bar and Mustang Sally Brewing Co.)
Specialist Tommy Skinner of Indiana (Main Street Amusements and North End Pub)
Specialist Ryan Recker of Indiana (Summit City Brewerks)
Specialist Michele Zebrowitz of Colorado (J Bo's Pizza and Ribs and Ska Brewing)
Specialist Ben Granger of Minnesota (Caffetto Coffee Shop)
Specialist Jim Belsito of California (Lake Alice Trading Co. and Mission Control)
Specialist Nikola Spasic of Ohio (Superelectric Pinball Parlor)
Specialist Arlen Smith of Canada (PinBar Inc.)
Specialist Jason Carroll of Canada (Pokey's Pinball Café)
Specialist Eric Morales of Washington (Another Castle Arcade)
Specialist Ryan Wanger of Colorado (Press Play)
Specialist Chris Henry of Florida (The Pinball Alley)
Specialist Aaron Goldberg of California (Brewski's Bar & Arcade)
Specialist Donny White of Florida (Little Shop of Games)
Specialist Chris Brunetti of Pennsylvania (Helicon Brewing)
Specialist Sean LaBrecque of Nevada (A Gamer's Paradise)
Specialist Adam Kiesler of Canada (North Star)
Congratulations to the following Stern Army members on their promotion from Private to Private First Class:
Private First Class Frank Williamson of Alabama (BumperNets)
Private First Class Jim Martin of Nevada (Press Start)
Private First Class Jeremy Floyd of Indiana (Floyd's Arcade and Pinball)
Private First Class Stefan Riedler of Austria (Vöcklabrucker FlipperSportVerein)
Private First Class Deanna Gerard of Minnesota (Opinion Brewery)
Private First Class Gerald Kirchner of California (Pinball Wizards)
Private First Class Shaun Amos of Canada (Theo Bill's Restaurant and Lounge)
Private First Class Dan Farrell of Virginia (Center of the Universe Brewing Co.)
Private First Class Nick Schademann of New Mexico (505 Pinball)
Private First Class Justin Charlswick of Michigan (Pinball Pete's)
For more information and to join the Stern Army, please reach out to SternArmy@sternpinball.com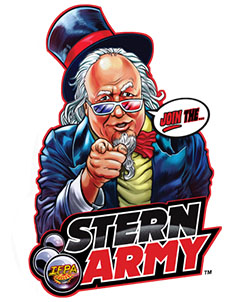 Stern Army Jurassic Park King of the Island Championship Tournament:
In light of ongoing restrictions and public health recommendations across the globe, Stern Pinball and the International Flipper Pinball Association (IFPA) will be postponing this global Stern Army High-Score Tournament on Jurassic Park Pro, Premium and LE pinball machines.  Once IFPA-sanctioning for pinball tournaments at Stern Army events is reinstated, we will relaunch this exciting championship. https://www.ifpapinball.com/koti/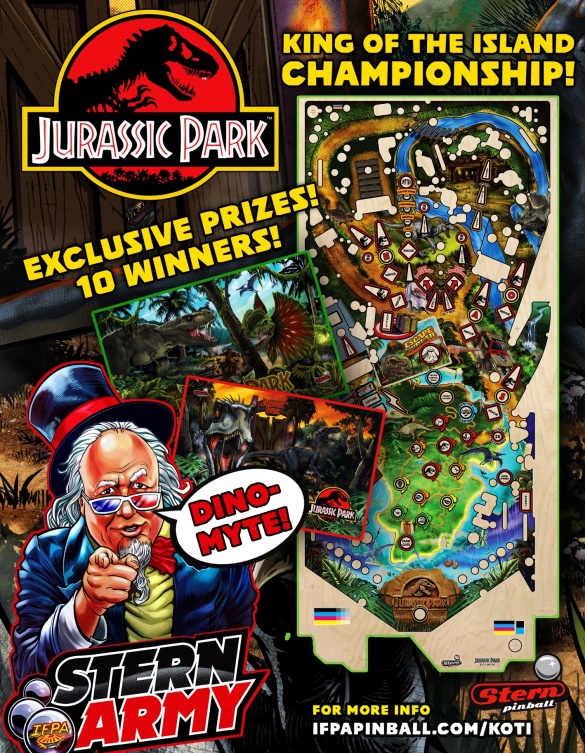 Stern Insider All-Access: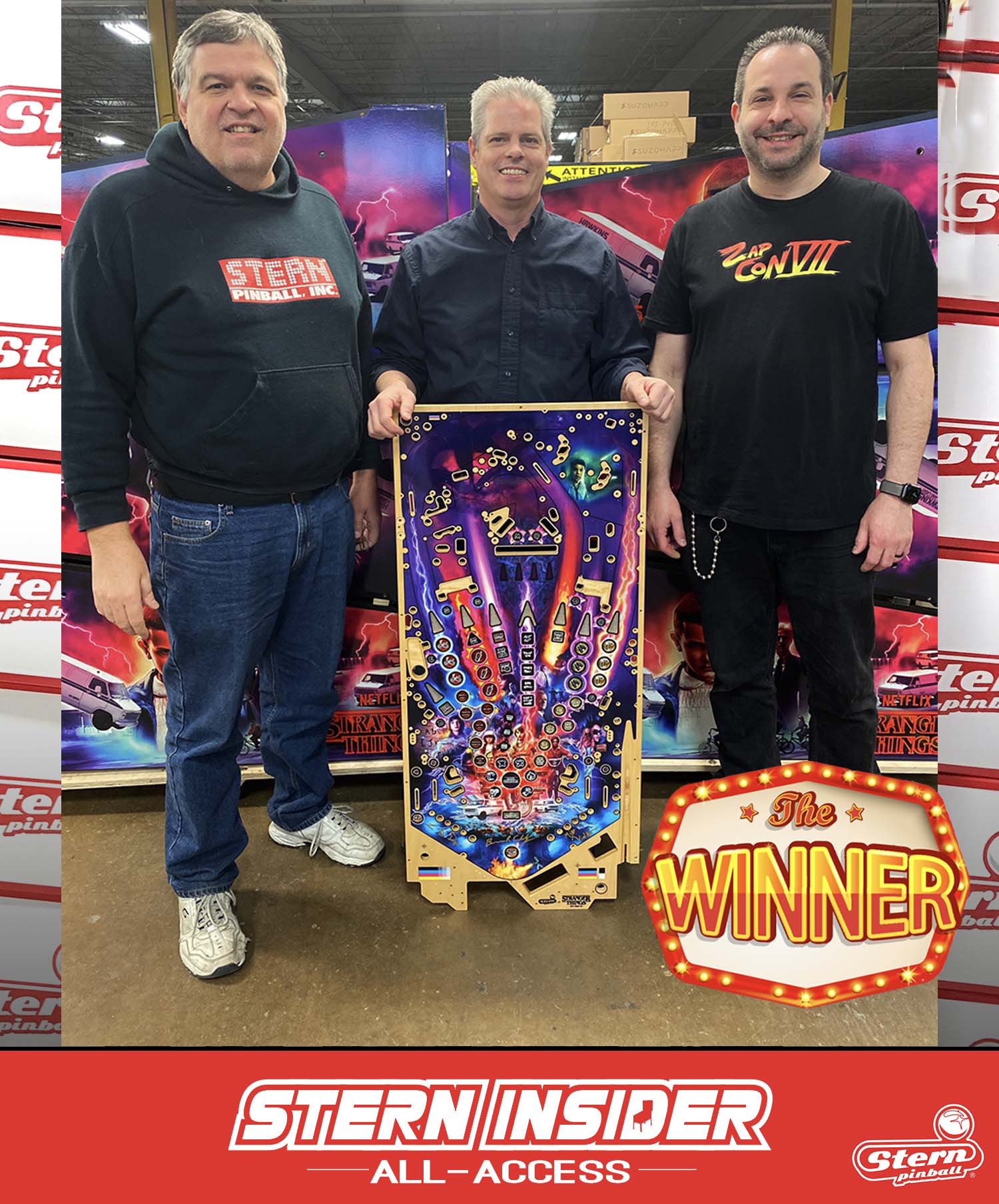 Congrats to Marlene from New Jersey, March's Stern Insider All-Access winner!  Marlene received a Stranger Things playfield autographed by lead programmer Lonnie Ropp, associate game developer Mike Vinikour, and lead game designer Brian Eddy!  Do you have All-Access?  To register and become a Stern Insider, please visit https://sternpinball.com/stern-insider/
Escape Nublar All-Access Challenge: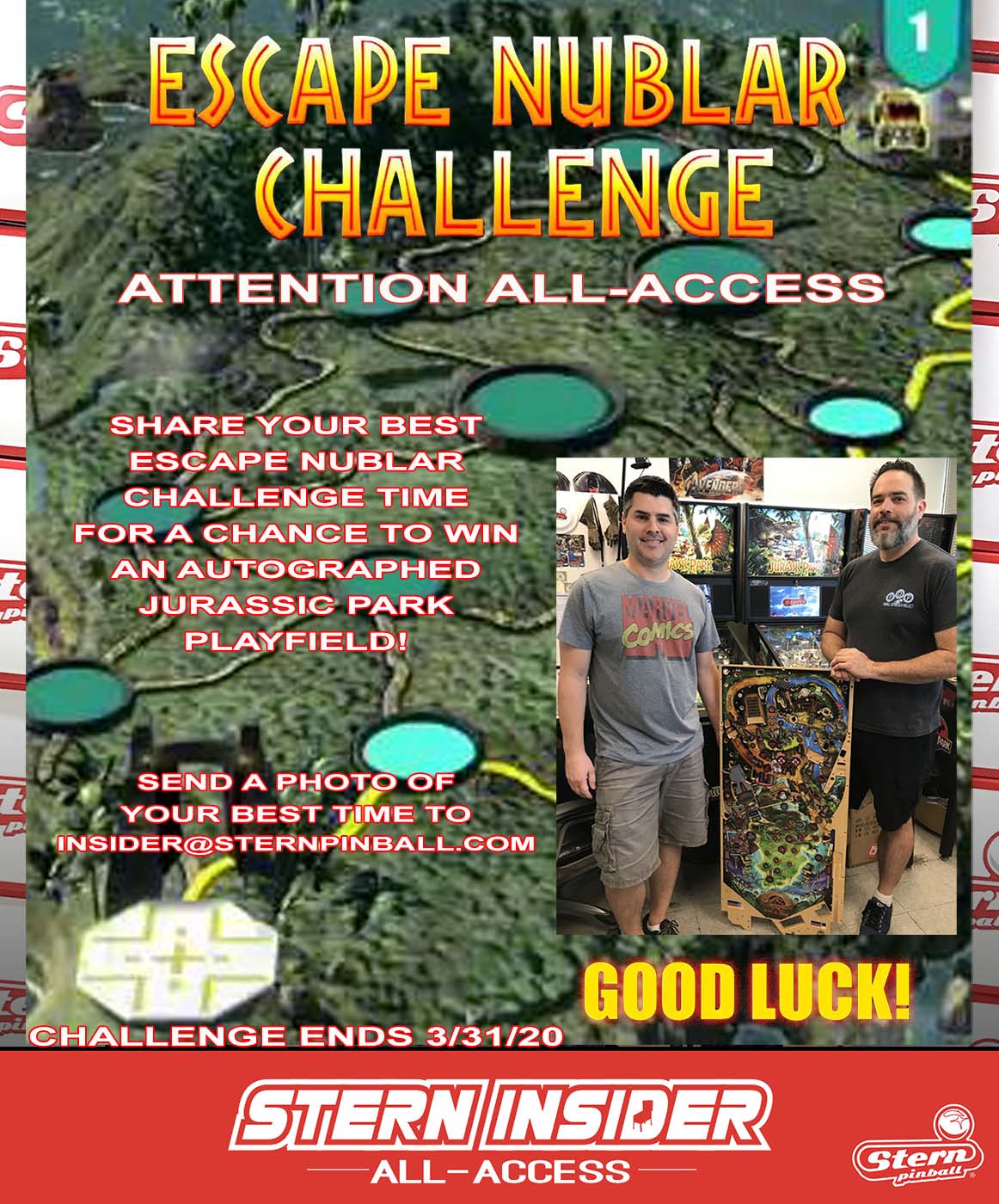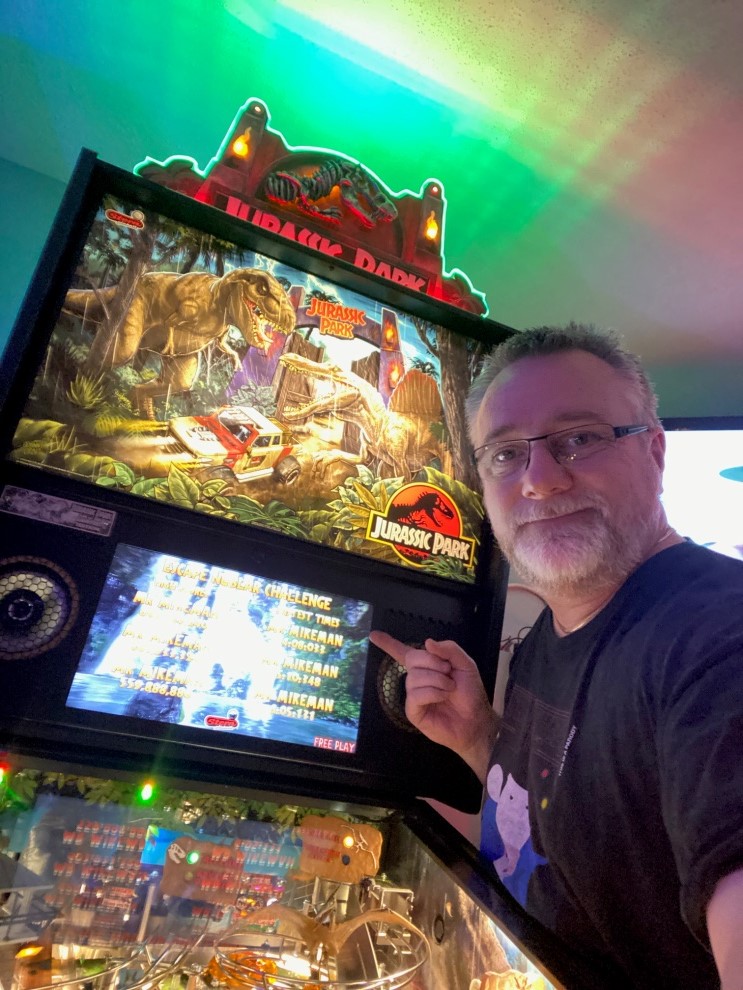 Congrats to Mike from Canada on winning the Escape Nublar Challenge, available only to All-Access Insiders.  He won an autographed Jurassic Park Playfield!  Do you have All-Access?  To register and become a Stern Insider, please visit https://sternpinball.com/stern-insider/
Stern Pro Circuit:
In light of ongoing restrictions and public health recommendations across the globe, some Stern Pro Circuit tournaments have been cancelled or postponed indefinitely for the current season.  Stay tuned for updates and details regarding both the 2020 Stern Pro Circuit season and the rescheduled date of the 2019-20 Stern Pro Circuit Championship final at https://sternpinball.com/stern-pro-circuit/

Stranger Things at Louisville Arcade Expo:
Check out the incredible Upside Down set-up Stern's authorized dealer Flip N Out Pinball created for Stranger Things pinball at last month's Louisville Arcade Expo!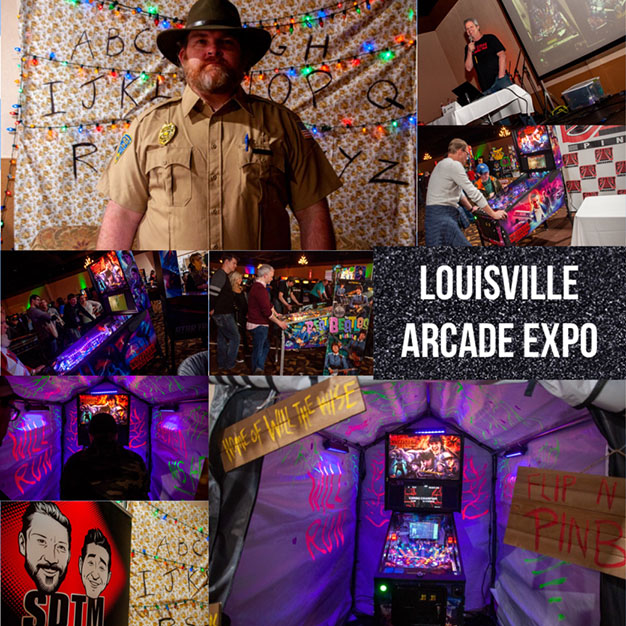 Status of Code:
We are continuously working to update and improve software for our machines.  There are always code updates and bug fixes in various stages of development; we will release them upon update completion.  Here are some of the latest updates and the status of things in the works.  If you would like to join our mailing list for code updates, please send an e-mail to Code.Updates@sternpinball.com.  If you do encounter any bugs please feel free to provide information to bug.report@sternpinball.com
Iron Man – For all Iron Man owners (Vault and Original editions), there was a surprise code release so please make sure you have updated your game to the most current code version (v1.85.0). This dynamic code update will bring your Iron Man pinball machine to another level.  It contains a new skill shot rule in addition to a Mark Suit mini bonus feature leading to the ultimate replayability in FUN!  This code also includes bug fixes, additional polish, and game enhancements.
Elvira – For all Elvira owners, please make sure you have updated your game to the most current code version (v0.93.0) released last month. Be on the lookout for a new code update later this month.
Stranger Things – For all Stranger Things owners, please make sure you have updated your game to the most current code version (v0.87.0). Be on the lookout for a new code update later this month.
Accessories:
Check out our Stern Shop for all accessories, collectibles, clothing and more including this month's featured items, the new Spring merchandise line!  Wear what you love while loving what you wear.  Now through the end of April, receive free domestic shipping on orders of $50 or more on all Stern merchandise and accessories!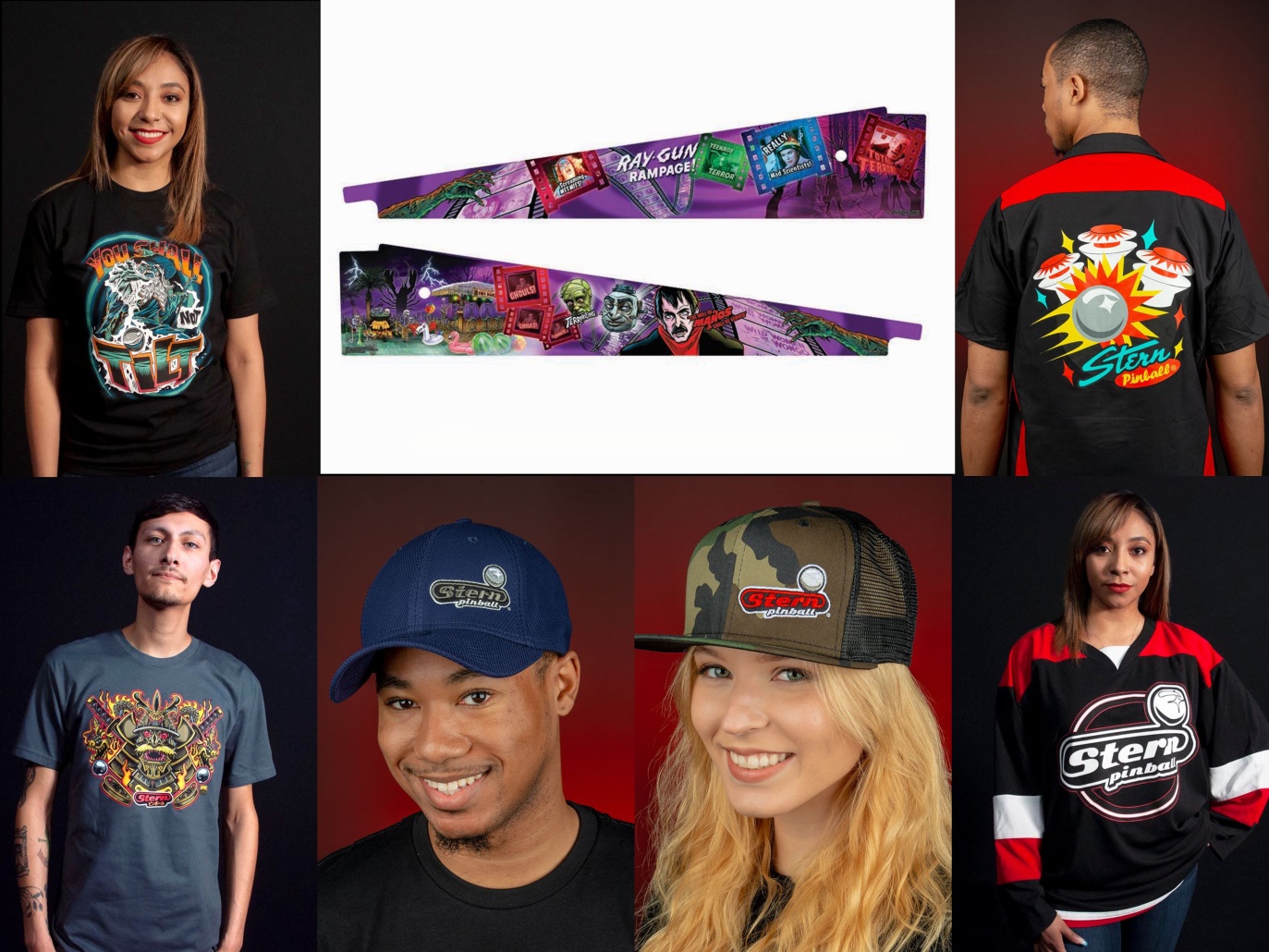 All Stern Pinball accessories are also available to purchase from your local authorized dealer – https://sternpinball.com/find-a-dealer/
Robotics Competition:
Stern Pinball engineers, Harrison Drake, Waison Cheng, and Elliot Eismin all volunteer as mentor-engineers for the FIRST School District 214 robotics team, Team 111 WildStang.  This district outside Chicago, Illinois covers the towns of Elk Grove, Arlington Heights, Mt. Prospect, Buffalo Grove and Rolling Meadows.  The team won the top technical award "Excellence in Engineering" for their unique and quick climbing system as well as their crumple zone floor ball intake!  To see the WildStang in action, check out this video!  Big congrats to Harrison, Waison, and Elliot!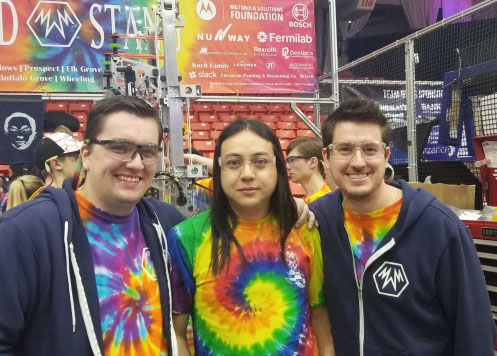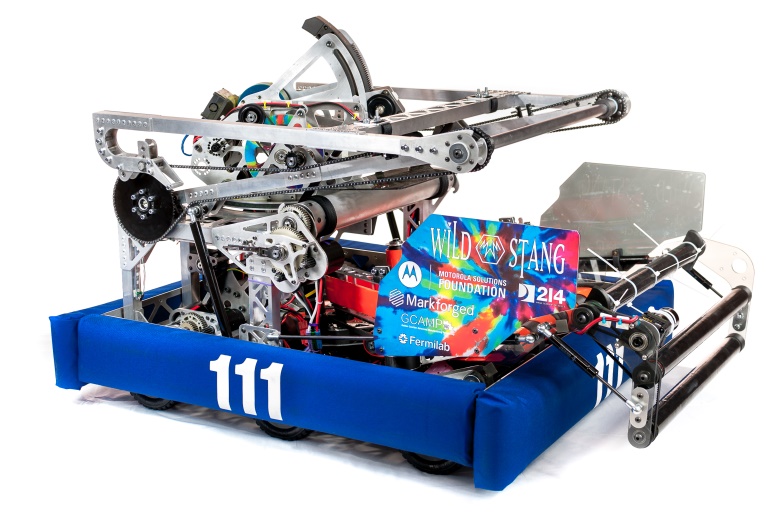 Belles & Chimes in the News:
Congrats to Belles & Chimes in San Antonio, Texas on winning the TWIPY for FAVORITE PINBALL LEAGUE!  Click here to learn more about the Belles & Chimes organization.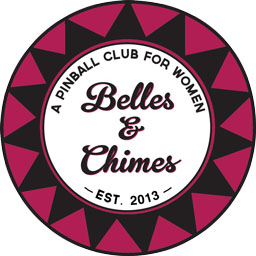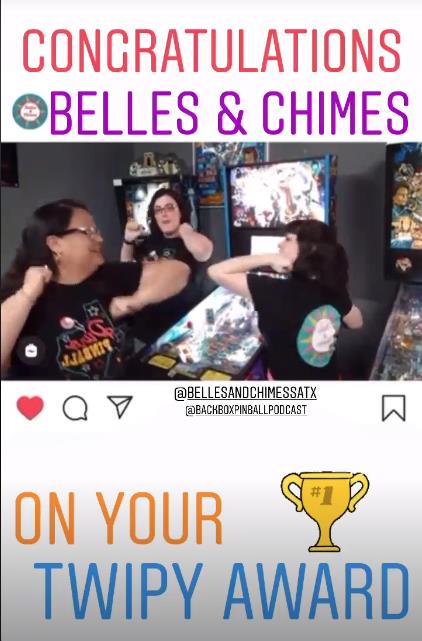 Stern Spotlight – Paul Chamnankit:
"Hi everyone! My name is Paul Chamnankit. I'm an Assistant Art Director here at Stern, joining the wonderful folks here since fall 2018. You can find me in the art department creating digital content for the LCD screen, supporting the direction of the art team, and optimizing production.
Prior to Stern, I was in the video game and advertising industry for over 15 years supporting companies and brands such as Midway Games, WB, Disney, Epic Games, Mortal Kombat, Injustice, Avengers, Intel, Cars.com, Mazda, Cricket, and Gamestop. From these projects and teams, I've gained a high level of appreciation of the work and coordination that's involved in making everything possible.
With pinball, the game is under glass, on the playfield, and my job is to enhance the player's experience by generating eye catching visuals and communications to the player and spectators via the LCD screen behind the backglass. The majority of the art I create is in 3d… 3d sets, props, characters, visual fx, plus motion graphics, animation, and cinematography. Coordinating with the designers, licensors, and art teams are all essential to ensure everything is cohesive, attractive, and of course super fun!
When I'm not creating art, I'm spending family time being a kid with my wife and 5 year old daughter. I love to cook, socialize, drink wine, and absolutely love to learn… especially personal development and topics like plasma, ether, subtle energy, and consciousness. Basically, if it's a topic that wasn't so much taught in school, I want to know about it!
It's an absolute blast working at Stern, and I gotta say, I'm having the best time in my career as an artist. The diversity of projects and excitement of the pinball industry and where we're heading as a company is all so cool! The pinball community and culture is like no other industry I've experienced, and I believe it's only going to get better. I'm grateful to be a part of fun!"