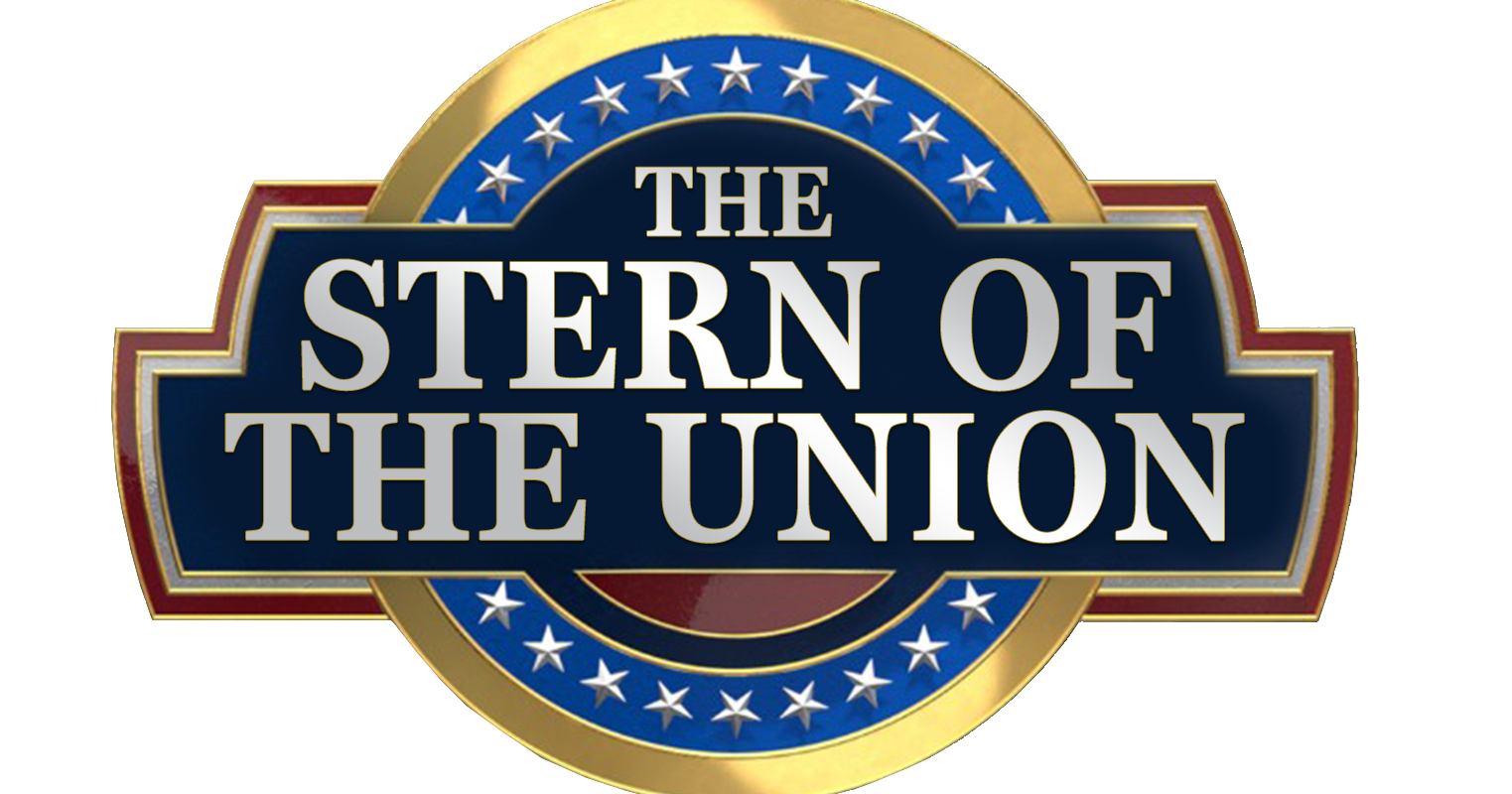 Back to All News
10/30/20
STERN OF THE UNION ADDRESS – NOVEMBER 2020
The Stern of the Union Address will be presented on the first Tuesday of every month (holiday and vacation excepted).  Without further ado my fellow pinheads:
Avengers: Infinity Quest:
Check out lead game designer, Keith Elwin, on the latest episode of Some Assembly Required: An Avengers Podcast.  Keith provides great insight into his process of designing pinball machines and his personal journey into researching and creating his latest game, Avengers: Infinity Quest.  Listen here!
Our Australian Distributor AMD also got in the national spotlight chatting about Avengers on the Triple M Night Shift radio show with Luke Bona.  Listen here!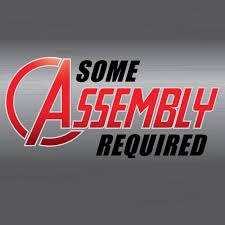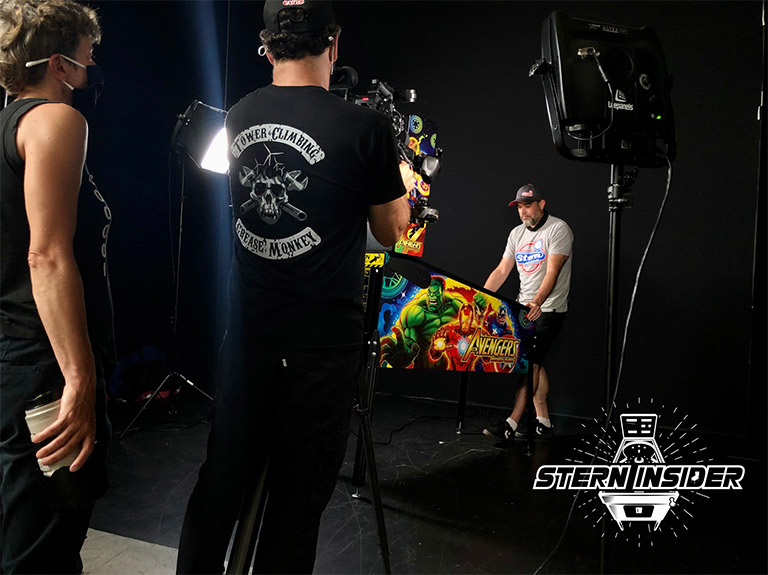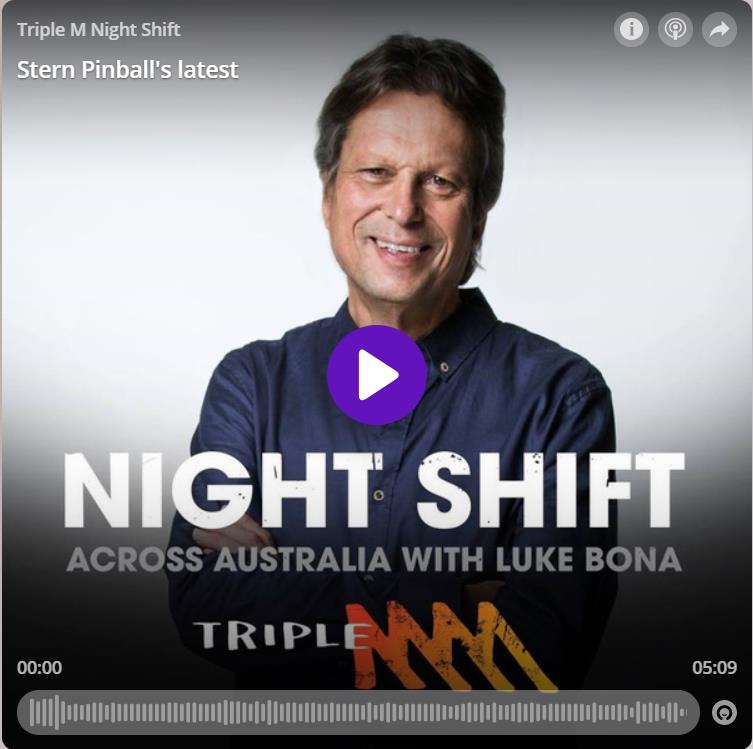 Stern Insider Pinball Podcast – The Raymond Files:
Available to All-Access Insiders, listen to several episodes of the Raymond Files!  Software Engineer and current #1 ranked pinball player in the world, Raymond Davidson, dives deep into the rules behind Avengers: Infinity Quest.  These episodes explore several topics such as SUPER MODES, THE GRID, THOR AND IRON MAN MULTIBALL, GEM QUESTS, HAWKEYE, CAPTAIN MARVEL, MYSTERY AWARDS, WIZARD MODES, and AVENGER AND GEM PERKS on these bonus episodes of the Stern Insider Pinball Podcast!
All episodes can be found here after logging into your Insider account –https://sternpinball.com/account/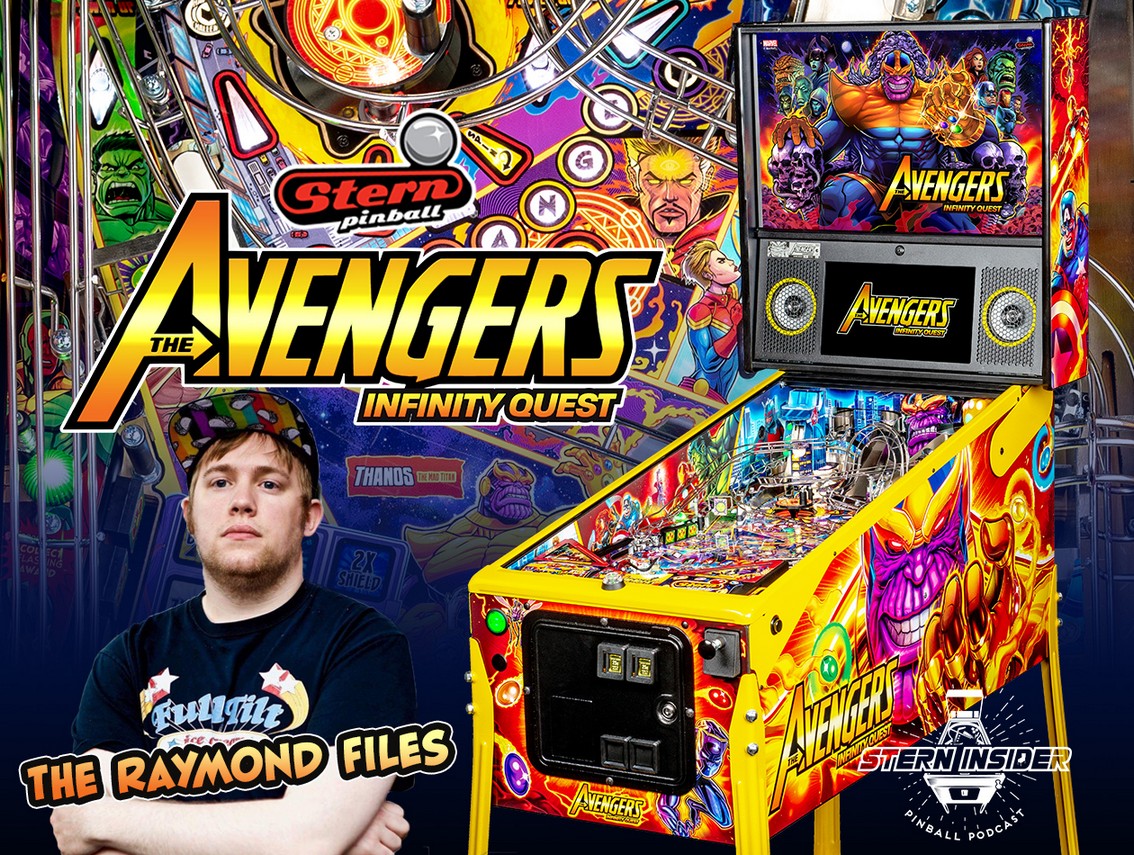 IGN Unboxing – Stranger Things Premium:
IGN unboxes a Stranger Things Premium machine featuring an industry first miniature projector, an interactive Demogorgon bash toy, and a magical Eleven telekinesis ball lock.  Check out this exclusive IGN feature video highlighting all of these innovative features from our hit game!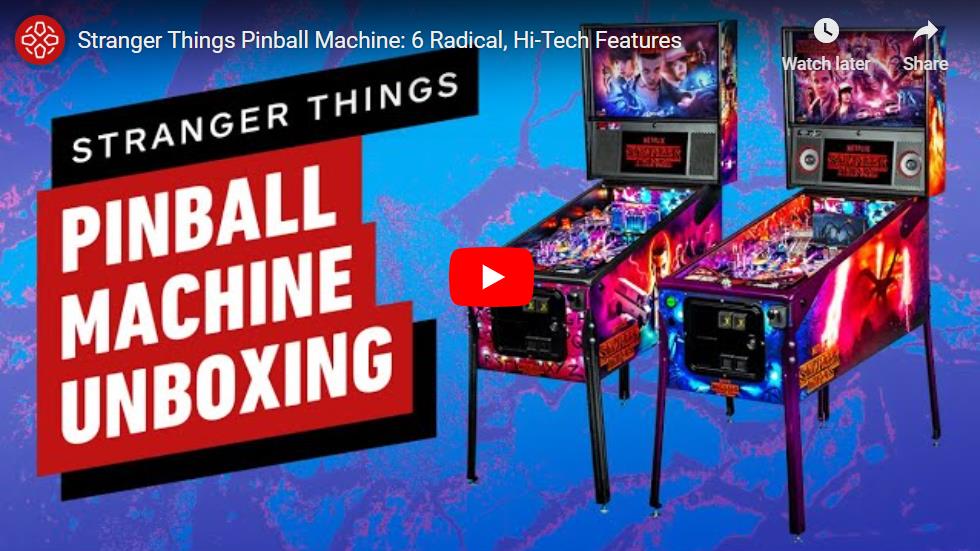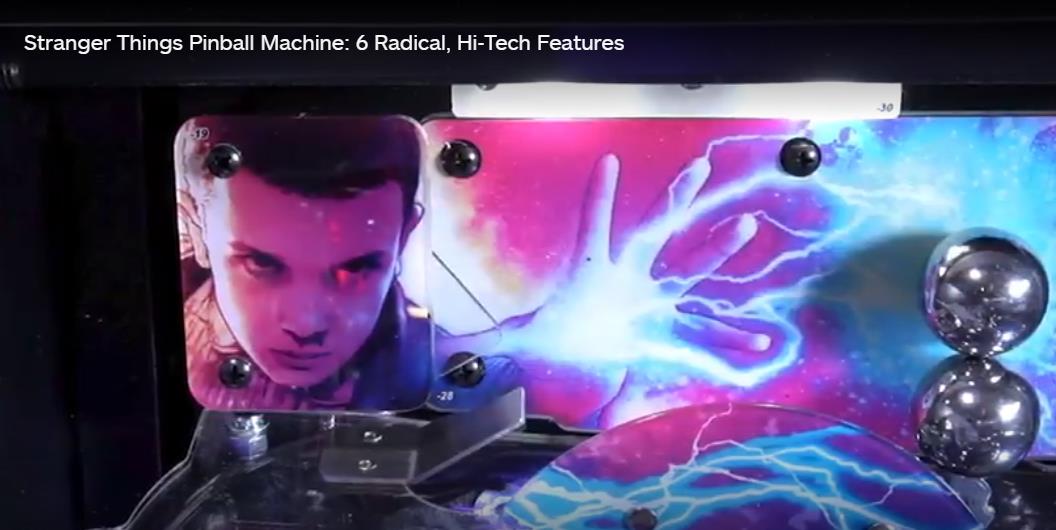 PlayStrongTM:
Do you have a PlayStrongTM pinball story to share with the world?  Send your inspirational message and pictures to Insider@sternpinball.com for a chance to be featured across Stern's social media channels in addition to winning exclusive Stern swag and merchandise!  Check out these incredible #PlayStrong stories featuring Ed Robertson of the Barenaked Ladies, Iron Maiden's Bruce Dickinson, KISS' Paul Stanley, and actor Thomas Middleditch!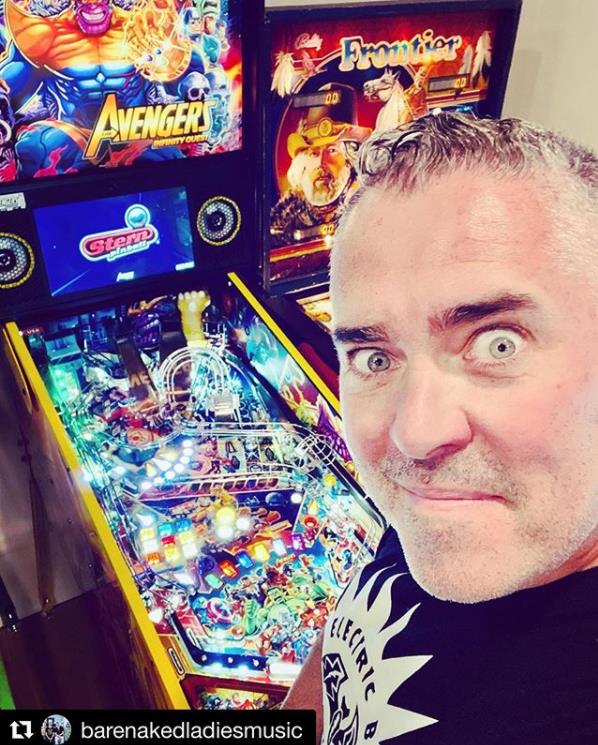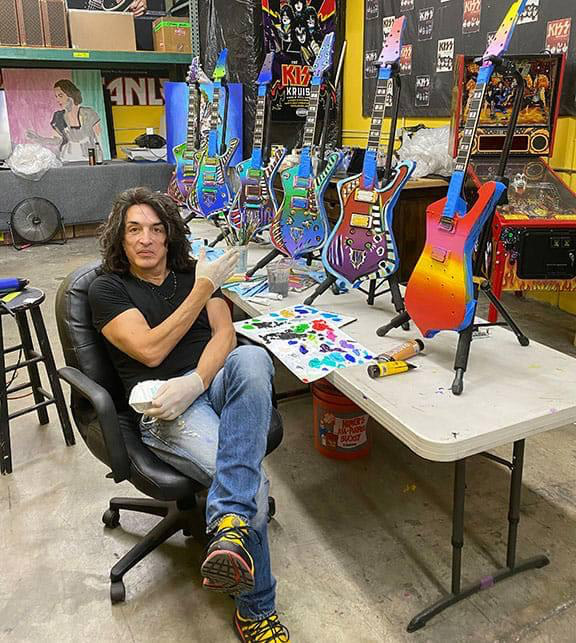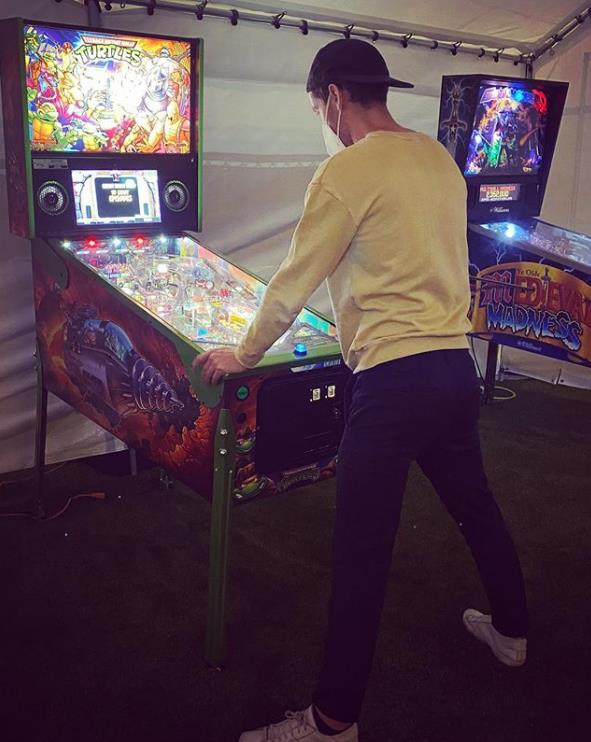 Dead Flip Pinball Streaming:
Make sure you are subscribed to Jack Danger's Dead Flip channel to watch some special streams including last month's streams of Elvira, Heavy Metal, and some Top Clips!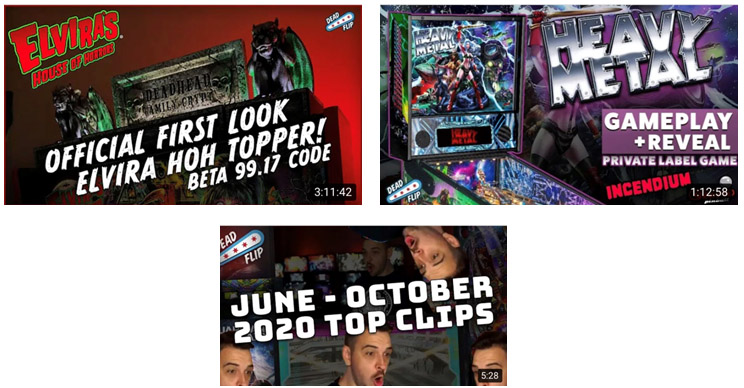 Gameroom of the Month:
Congrats to David Meunier of Belgium on being named the recipient of Gameroom of the Month!  Do you have a special home gameroom you want to share with the world?  Leave a photo comment on this Facebook post and you may be our next winner!  Not on social media?  Not a problem!  You can submit your incredible gameroom directly to Insider@sternpinball.com for your chance to win an exclusive Stern Swag Pack!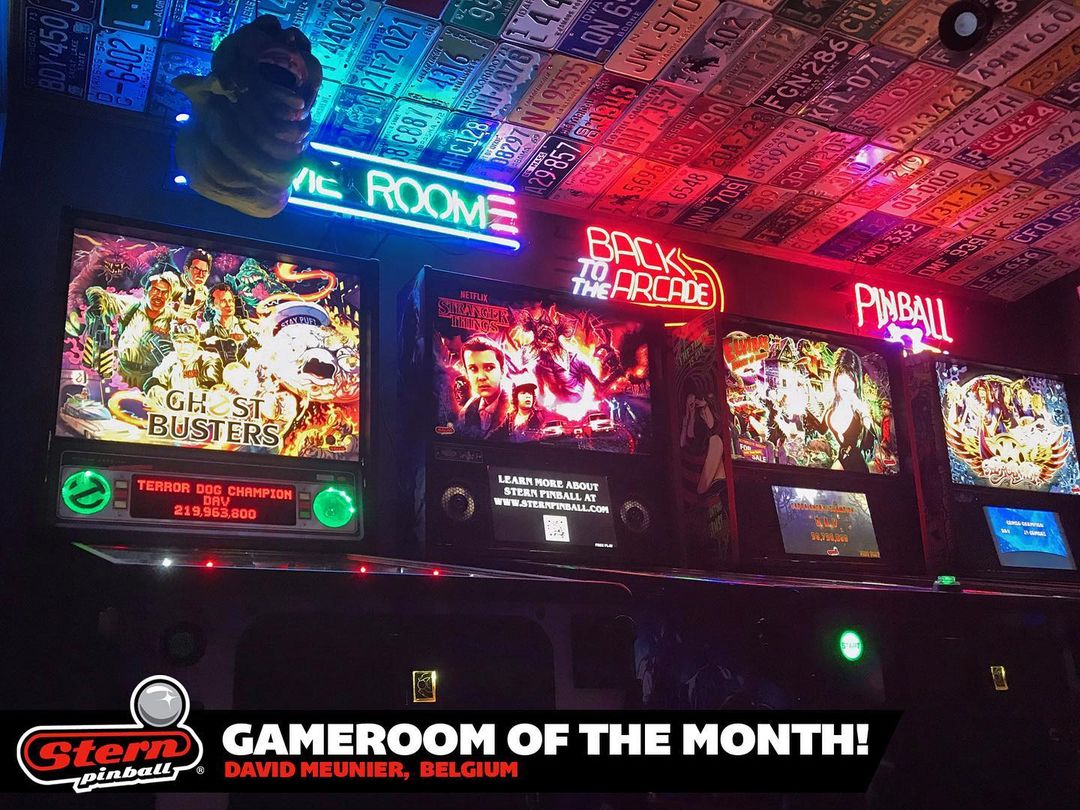 Pinball Rental Program:
Stay entertained by staying inside with the latest Stern Pinball machines!  Even if your local bar or arcade is temporarily unavailable, there are plenty of opportunities to play the newest Stern games.  Contact your local authorized Stern dealer for more information on renting your very own Stern pinball machine where available!  https://sternpinball.com/find-a-dealer/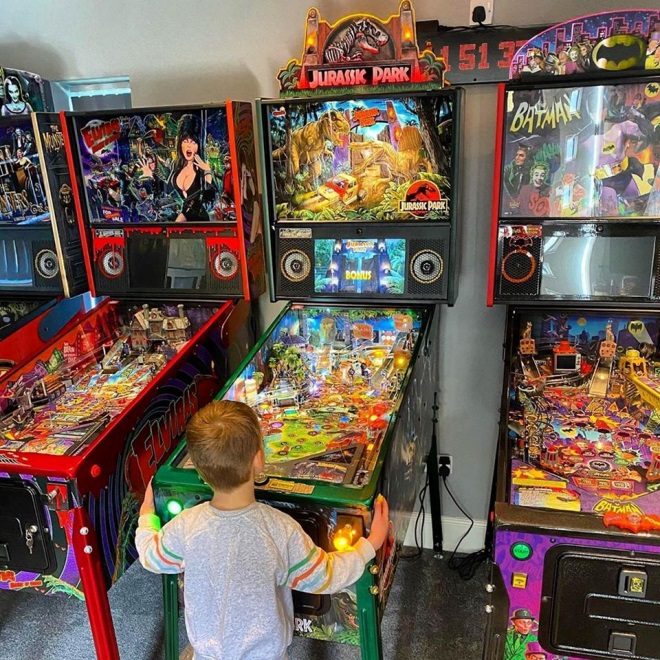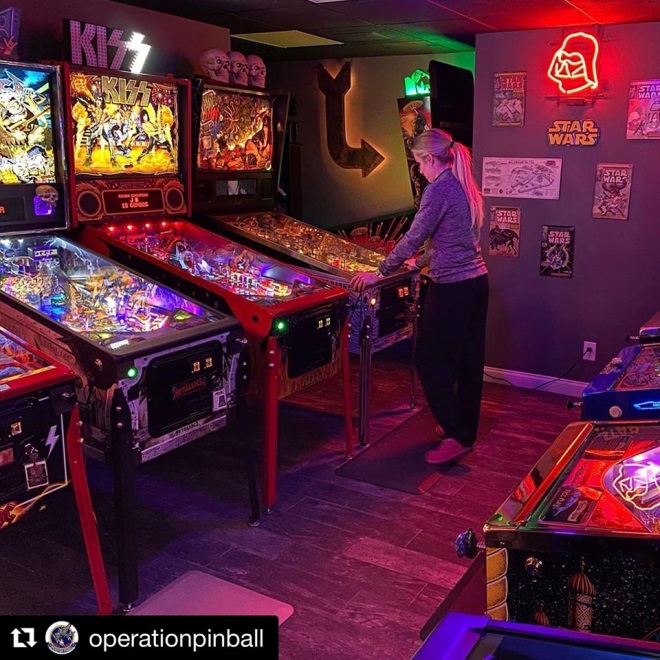 Stern Army Updates:
The Stern Army continues to grow with members spreading the gospel of pinball across the globe.  Here are our newest members and the pinball locations they support:
Private Jim Schmock of Wisconsin (Blue Moon Bar and Grill)
Private Michael Lepsch of Texas (Arcade 92)
Private Peter Barclay of Arkansas (Williwaw Social)
Private Gabriel Marroquin of Texas (HardKnocks Sports Grill)
Private Mikey McVey of Arizona (Hideaway Arcade)
Private Connie Carlson of Illinois (Tilted 10)
Congratulations to the following Stern Army members on their promotion from Corporal to Sergeant:
Sergeant Mitch Curtis of Massachusetts (Flat Top Johnny's)
Sergeant John Jundt of Minnesota (The Mermaid and St. Paul Tap)
Sergeant Jesse Backer of Ohio (Arcade Legacy)
Sergeant Gene X Hwang of California (Gestalt)
Sergeant Steve Keeler of New York (Rock Fantasy)
Sergeant Matt Walton of Oregon (Level Up Arcade)
Congratulations to the following Stern Army members on their promotion from Specialist to Corporal:
Corporal Bryan Broyles of Georgia (Portal Pinball Arcade)
Corporal Alex Harmon of Michigan (Blind Squirrel Tavern)
Corporal Brian Bannon of Missouri (Padavan's NY Restaurant)
Corporal Marcus Trevino of Texas (Versus Gameplay, Nickelrama Arcade and BOS Pinball Lounge)
Congratulations to the following Stern Army members on their promotion from Private First Class to Specialist:
Specialist Christopher Doyle of Texas (What's Brewing?)
Specialist Lyndon Carter of Australia (Australian Pinball Museum)
Specialist Ryan Cazz of Australia (Pinball Paradise and Moon Dog World)
Specialist John Cosson of Australia (The Ivory Tavern)
Congratulations to the following Stern Army members on their promotion from Private to Private First Class:
Private First Class Tom Menge of Illinois (Cool Music Stop Bar and Grill)
Private First Class Mark Farina, Jr. of Arizona (H.O.P. Central Brewery and Taproom)
Private First Class Laura Fraley of Virginia (Richmond Pinball Collective)
For more information and to join the Stern Army, please reach out to SternArmy@sternpinball.com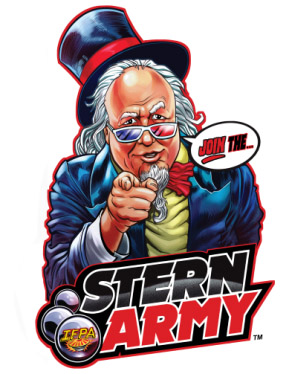 Stern Insider All-Access: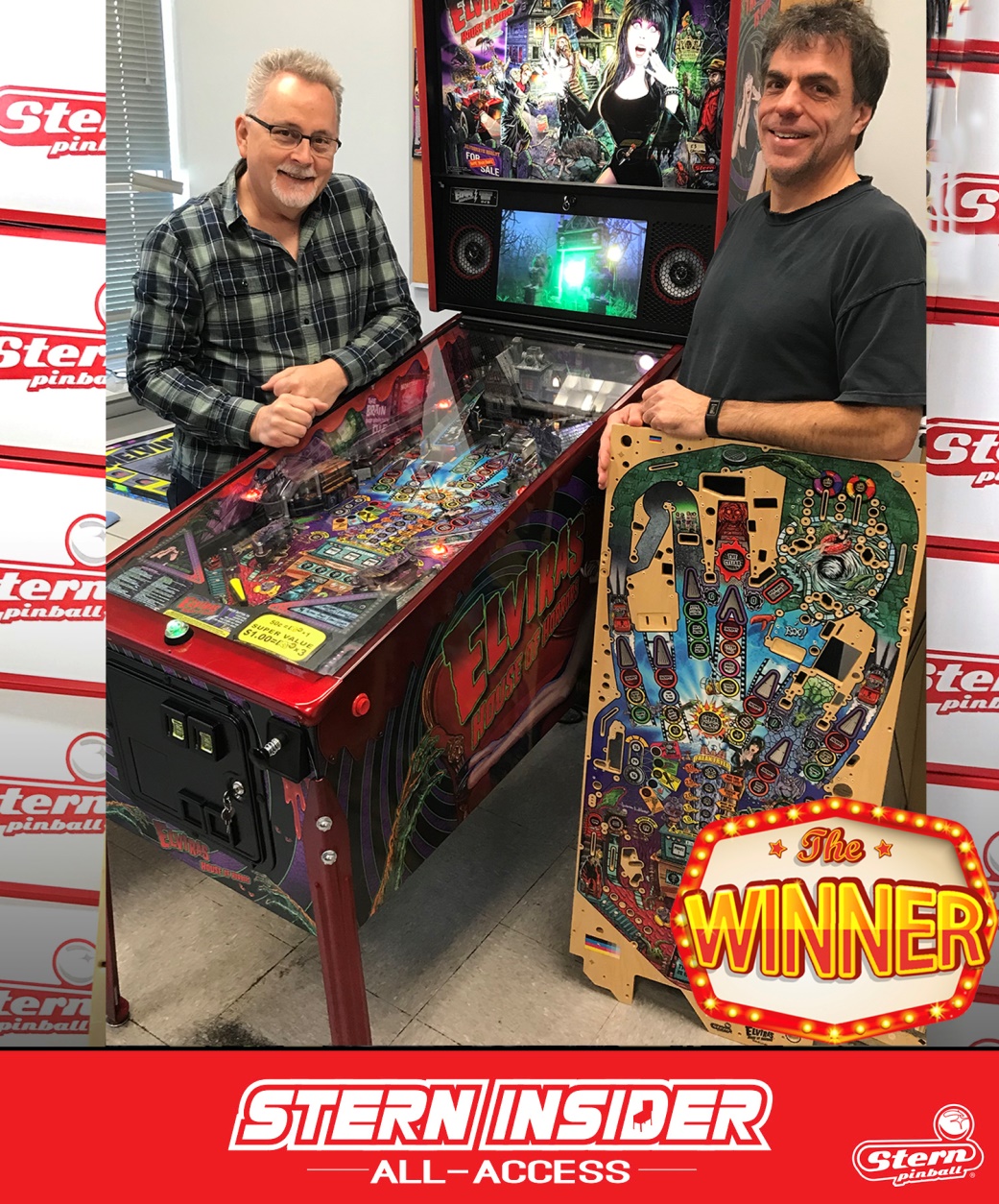 Congrats to Markus from Deutschland, October's Stern Insider All-Access winner!  Markus received an Elvira's House of Horrors playfield autographed by lead game artist Greg Freres and lead game programmer Lyman Sheats!  Do you have All-Access?  To register and become a Stern Insider, please visit https://sternpinball.com/stern-insider/
IFPA Challenge Rankings (ICR):
In order to provide a competitive alternative in the current climate, the International Flipper Pinball Association (IFPA) announced the implementation of the IFPA Challenge Rankings (ICR) for all players leading to the inaugural IFPA Challenge Rankings Championship!  For full details, standings and prize information, please click here to learn more and connect with other players around the world!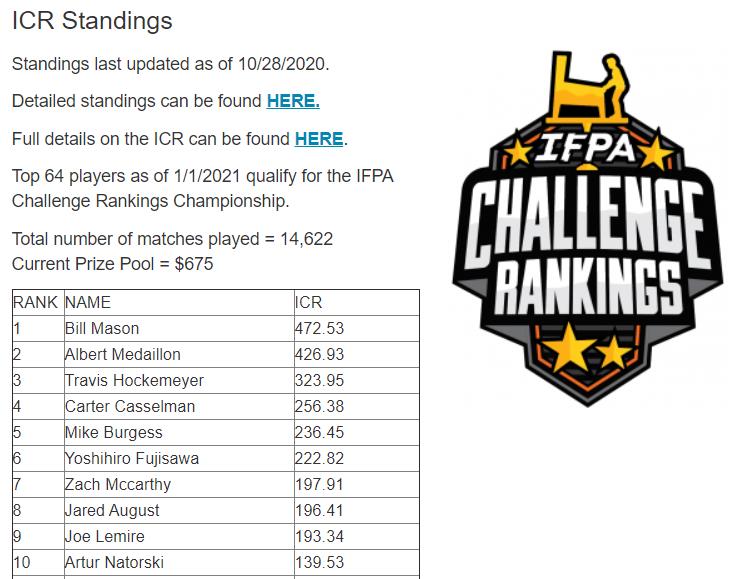 Status of Code:
We are continuously working to update and improve software for our machines.  There are always code updates and bug fixes in various stages of development; we will release them upon update completion.  Here are some of the latest updates and the status of things in the works.  If you would like to join our mailing list for code updates, please send an e-mail to Code.Updates@sternpinball.com.  If you do encounter any bugs please feel free to provide information to bug.report@sternpinball.com
Avengers: Infinity Quest – For all Avengers owners, please make sure you are up to date with the most current code version (v0.92.0). Be on the lookout for a new code update later this month.
TMNT – For all TMNT owners, please make sure you are up to date with the most current code version (v1.23.0) released this week.
Elvira – For all Elvira owners, please make sure you have updated your game to the most current code version (v1.00.0). This code contains numerous game enhancements, topper integration, additional polish, game adjustments and bug fixes.
Stranger Things – For all Stranger Things owners, please make sure you have updated your game to the most current code version (v0.99.1). Be on the lookout for a new code update next month.
Jurassic Park – For all Jurassic Park owners, please make sure you are up to date with the most current code version (v1.03.0) released last week. This update includes system updates as well as the DJ Mixer feature!
Stern Pinball Virtual Experience:
Take an incredible behind the scenes look inside the Stern Pinball factory, showcasing how we hand assemble and produce the greatest pinball machines in the world!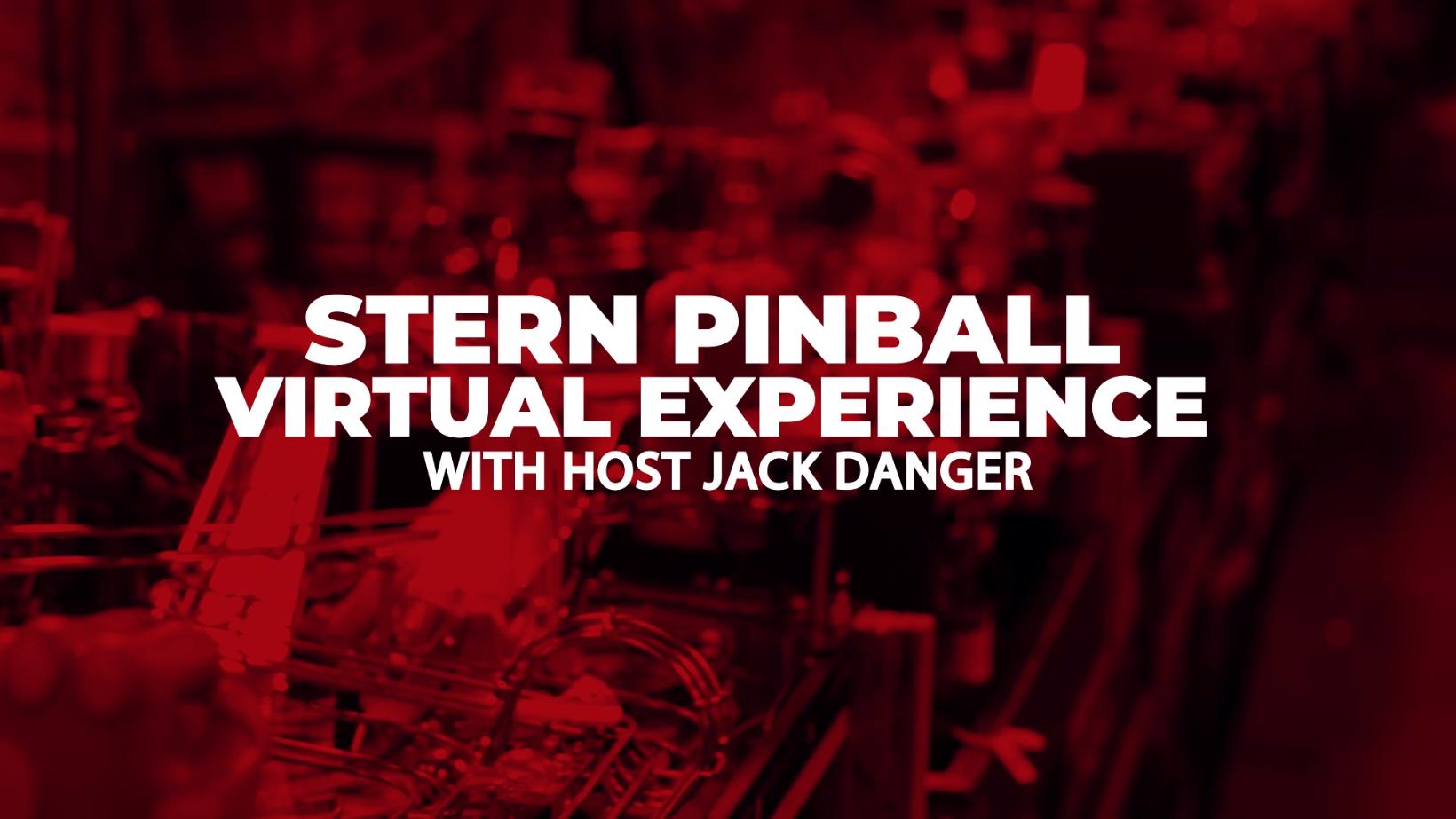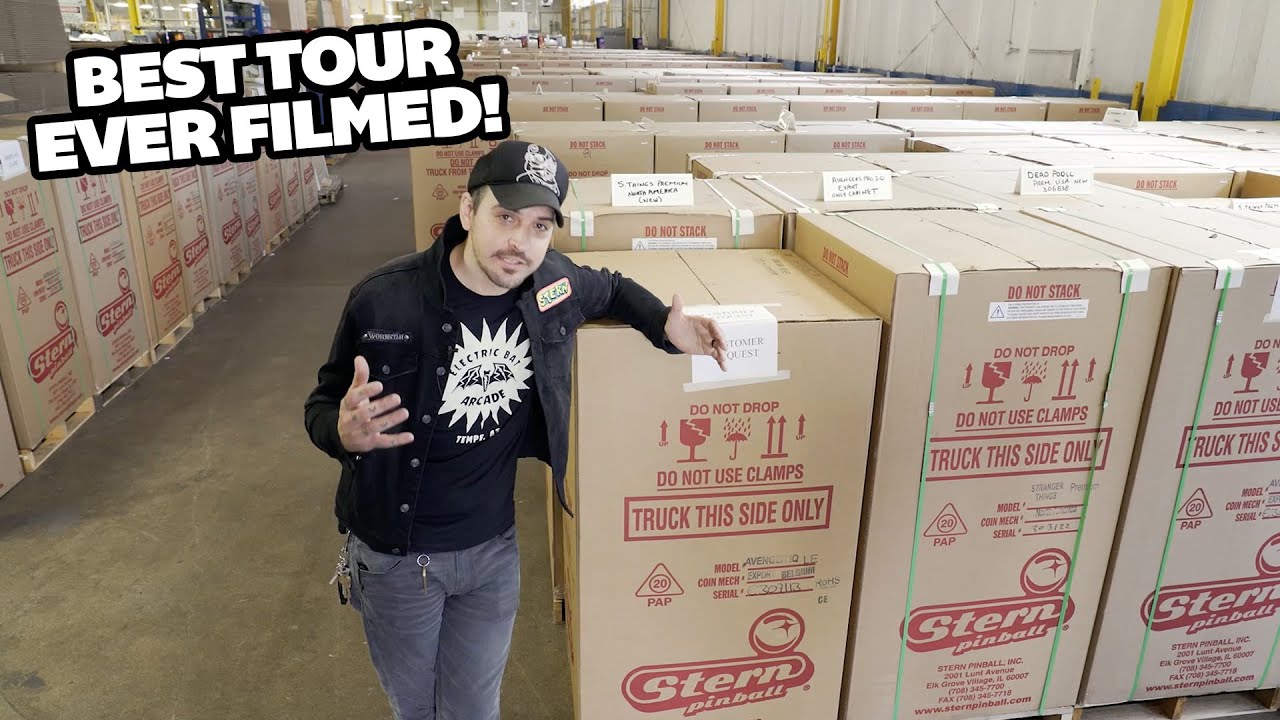 Gary Stern Inducts Chas Siddiqi and Tommy Grant into Pinball Expo Hall of Fame:
There is no one more iconic and influential across the pinball landscape than Chairman and CEO of Stern Pinball, Inc., Gary Stern. Home to many Hall-of-Fame game designers and programmers, Stern Pinball continues to lead the industry in innovation and design, serving digital, consumer, commercial, and corporate markets around the globe.
There are many unsung heroes behind the scenes throughout Stern Pinball's history. It was an honor for Gary to personally induct both Shazade (Chas) Siddiqi and Tommy Grant into the Hall of Fame at this year's Pinball Expo, held virtually October 14-17th.
Shazade (Chas) Siddiqi, a man well-known to the pinball community for his commitment to quality and service to his friends and customers, wore many hats throughout his storied pinball career. He started at Data East Pinball (predecessor to Stern Pinball) on the factory assembly line in 1992, working his way up to a position as a final tester. Through his hard work and attention to technical detail, Chas's talent was recognized. He was transferred and promoted into the Technical Service department where his patience with customers truly shined.
Chas's work extended above and beyond his roles and responsibilities, providing personal service schools with distributors to great acclaim. When times were tough for the entire industry during the 2008 economic recession, that didn't stop Chas from rolling up his sleeves and doing whatever was asked of him to help keep the pinball ship afloat. He transferred back into the factory as a final tester until Stern recovered. Chas ultimately landed back in the Technical Service department where he again excelled.
"Chas was the definition of a true team player, an unsung hero in this industry. It's bittersweet to be able to induct him personally into the Hall of Fame, forever enshrined in the history of Pinball," said Gary. "He will forever be remembered here at Stern and now officially everywhere through the Pinball Hall of Fame."
Gary Stern also personally inducted another legend, Tommy A. Grant, into the Hall of Fame. In 1932 in the very beginning of pinball, and what became "flipper games", Tommy's father Thomas Grant formed Advertising Posters. Led later by Tommy, Ad Posters created much of the game art on all types of games. Its staff of artists created virtually all pinball art though decades of style changes. Tommy's Ad Posters and his later company, Technical Advertising Graphics, TAG for short (also Tommy's initials), screened backglasses, playfields and plastics on virtually every pinball for decades, including many of Gary's games.
Many art exhibits have displayed the different genres of pinball art, slices of Americana. Charles Bell and Wayne Thiebaud are among famous artists whose works have been inspired by iconic Ad Posters pinball designs. Their work has sold for millions of dollars at Sotheby's auctions.
"In 1947 when my father Sam became a partner in the Williams pinball company, he worked and collaborated with Tommy's father. It was fun for Tommy and I, like our fathers, to work to make great games together, in our youth and many years thereafter," Gary stated. "It was an honor to induct my friend Tommy Grant into the Pinball Hall of Fame."
Congratulations to both Chas and Tommy for this prestigious honor!
If you missed this year's show, be sure to watch a replay of all of the events here! https://www.twitch.tv/pinballexpo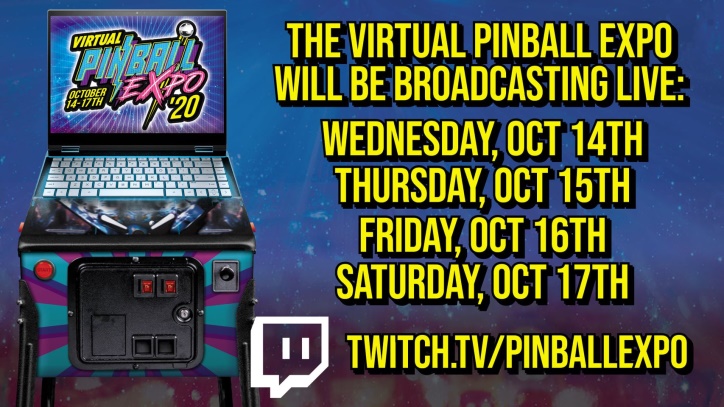 Gary Stern on WGN Radio:
Gary Stern joined WGN Radio's Dave Plier to talk about Chicago's rich gaming history, the Virtual Pinball Expo, Stern's latest smash hit game Avengers: Infinity Quest, and much more.  Listen to this exclusive interview here!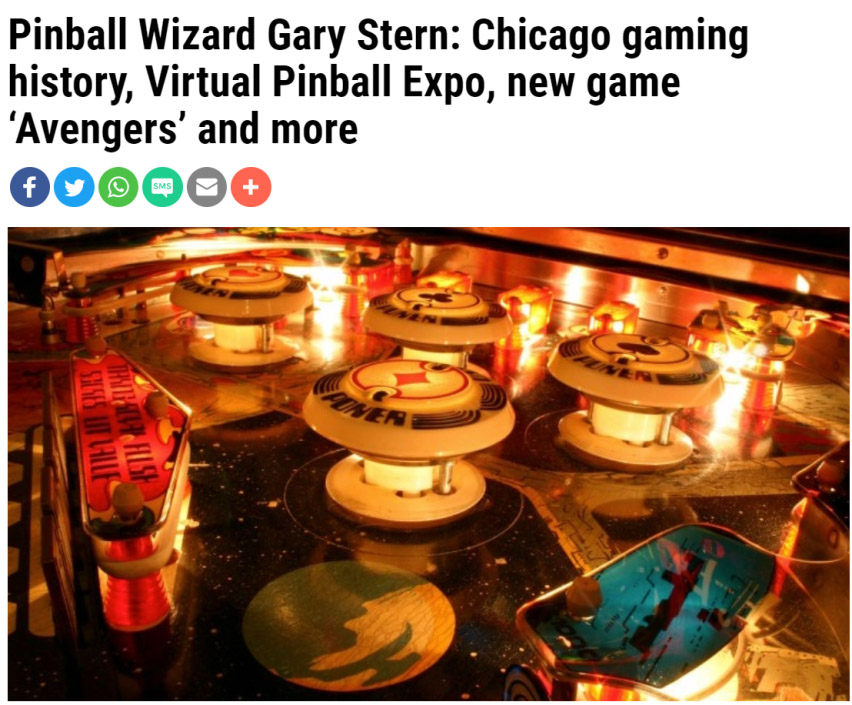 Beatles Pinball for Charity:
Approximately 2 years ago, in collaboration with Ka-Pow Pinball, Stern Pinball announced the availability of a one-of-a-kind Beatles pinball machine. Only 1964 units were produced in recognition of the year in which the world forever changed when Ed Sullivan introduced America to four young mop-topped musicians from Liverpool, England.
With his generosity , and working directly with Richard Weitz of William Morris Endeavor (WME) fame, Ka-Pow's Joe Kaminkow donated a Beatles Gold pinball machine which sold for $30,000 at a recent Broadway Cares charity fundraiser! In its 17 iterations so far, the Weitzs and their Quarantunes fundraisers have raised $6.7 million for nonprofits nationwide including the Equal Justice Initiative, United Way Los Angeles and more!
Besides endless amounts of pinball fun, the lucky recipient of this special Beatles pinball machine will receive a personal Pinball 101 Zoom lesson from former #1 ranked pinball player and current Director of Marketing at Stern Pinball, Zach Sharpe. Something money can't buy!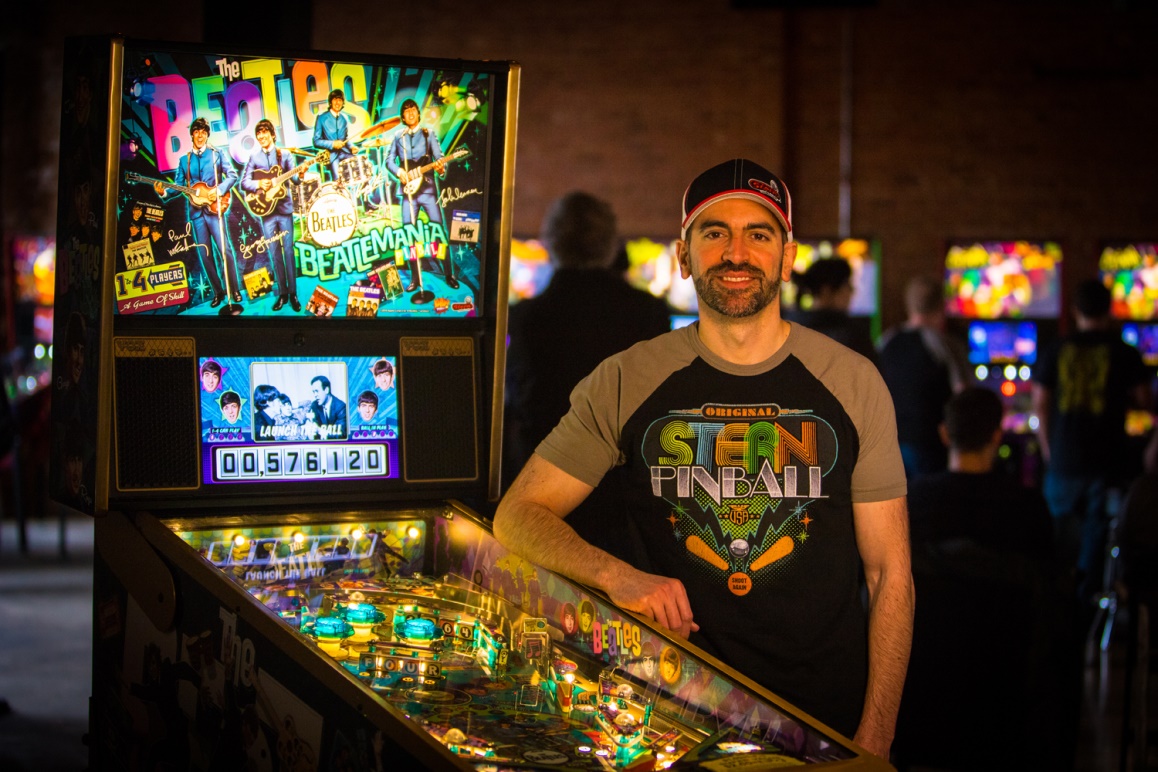 George Gomez on the Retronauts:
George Gomez recently joined the Retronauts podcast to discuss the critical creative role he played in bringing classic arcade works like Spy Hunter and Tron to market and designing their iconic cabinets.  Listen to the episode here!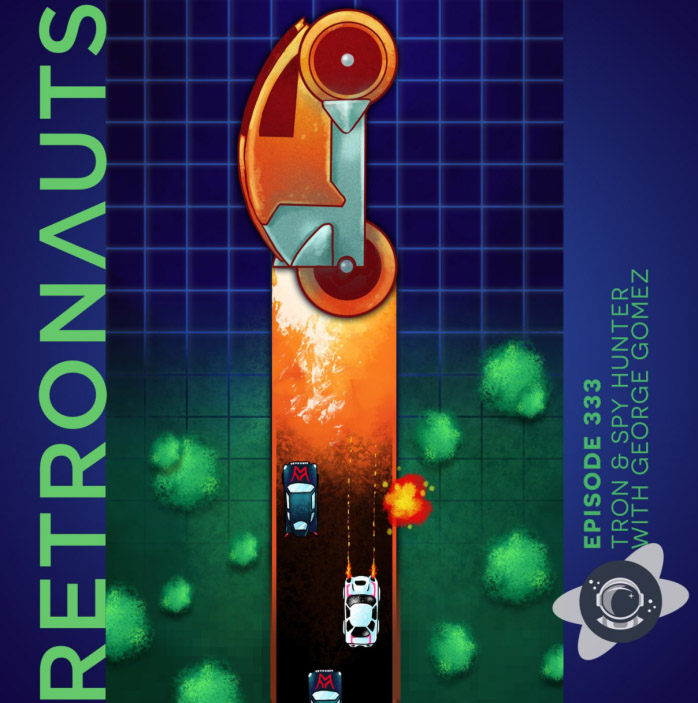 Pinball Popularity:
People quarantined at home are looking to entertain their families, and pinball is a terrific way to do that.  The current challenge as a company is now to scale up manufacturing in order to work off backlogs and meet the ever growing demand for our one-of-a-kind product as pinball's popularity spikes higher than ever!  Check out the exclusive Fox Business article here!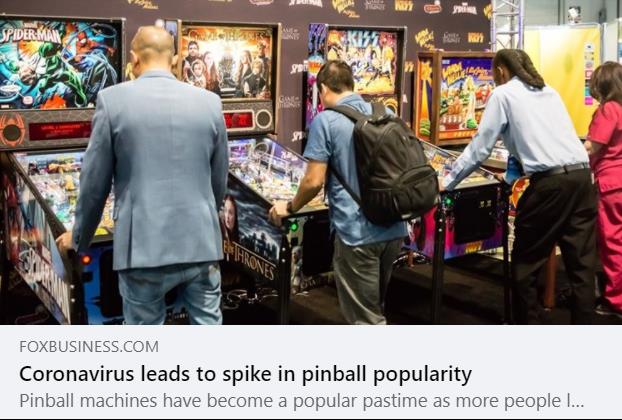 Stern Insider All-Access Exclusive Merch:
ONLY A FEW LEFT SO ORDER QUICKLY!  Stern Pinball is now offering LIMITED EDITION merchandise ONLY AVAILABLE to Stern Insider All-Access members.  This 3D poster is exclusive to Stern Insider All-Access Members only!  Designed for Stern Pinball by Brad Albright, each poster is printed on archival Giclee premium matte medium weight paper, measures 16″ x 20″ (ready-to-frame size), individually numbered and comes with 3D glasses for your viewing pleasure.
Limited to 50 pieces
Individually numbered and signed by artist Brad Albright
16″ x 20″ Giclee premium matte print
Includes 3D glasses
Designed and printed by Brad Albright
Brad Albright is a Dallas-based illustrator, poster designer and gallery artist best known for his modern approach to 'OldSchool 3D' anaglyphic art.
Not an All-Access Member?  Sign up HERE!
Accessories:
Check out our Stern Shop for all accessories, collectibles, clothing and more including this month's featured items — the limited and exclusive Stern Pro Circuit commemorative merch line (zip-up hoodie, trucker cap, t-shirt, raglan shirt, poster, patch, and even trading cards!)  Free domestic shipping on orders of $50 or more on all Stern merchandise and accessories.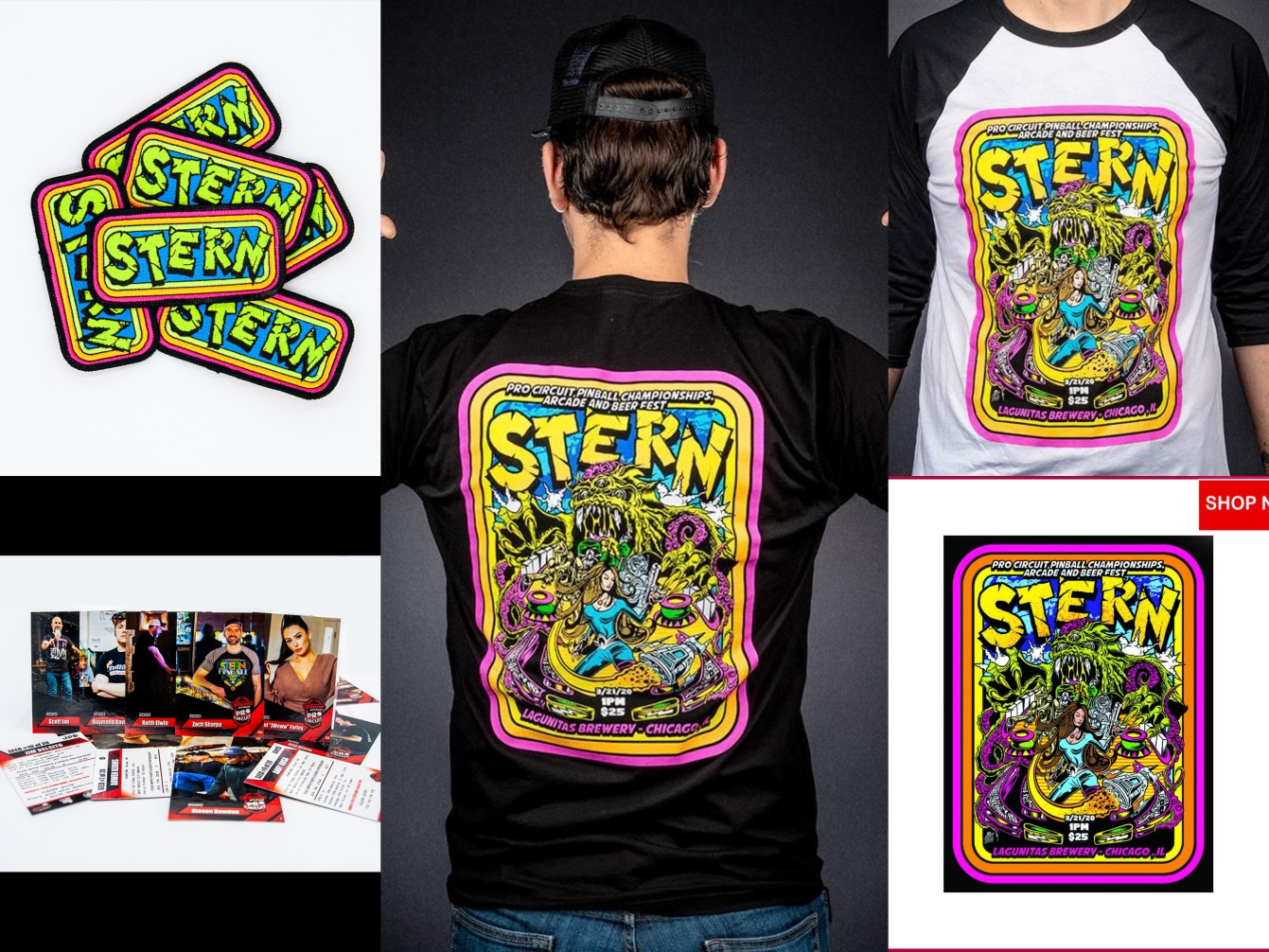 All Stern Pinball accessories are also available to purchase from your local authorized dealer – https://sternpinball.com/find-a-dealer/
Stern Pinball Enhances Sales Team:
Stern Pinball has announced the hiring of Edward (Eddie) Yates in the role of Help Desk Customer Service Technical Support Engineer.  Stern added Eddie to strengthen its Service Department as pinball sales continue to grow at a rapid pace.  Read the full press release with additional details here, and please join us in welcoming Eddie to the Stern team!
Stern Spotlight – Eddie Yates:
"Hey there! My name is Eddie Yates and I am new to the Stern Family! I joined the Tech Services department in October 2020. Prior to joining Stern Pinball, I worked at Abt Electronics as an appliance repair technician for 7 years. Overall, I've been in customer service and in the technical industry for over ten years.
Although I'm new to Stern, I've been able to apply my technical knowledge to help new and existing customers. It has been a fun experience to help those from casual gamers to seasoned pros with their games. Who wouldn't want to be around a bunch of pinball "nerds" all day? I am so glad that I've been able to join Stern, and even though I've only been here a short time, I already feel like I'm home.
At Stern, I'm responsible for diagnosing and advising on the repair of pinball games. In my department, we reach out to all branches of the company. We work with programing, engineering, marketing, sales, as well as manufacturing. The greatest thing about being in the tech services department is how quickly I've been able to assimilate with all aspects of the company. I couldn't be happier than to be working with Pat and Pablo, and I've already learned so much from them.
I feel blessed that I've been able to join Stern Pinball. I have been able to employ not only my technical skills, but also my customer service abilities, which I feel has helped me fit in right away. I have always been the type of person who can just start a conversation with anyone and understand their point of view, which I feel is critical to working with customers. You really have to be able to relate to people so you can understand what their needs are and how to meet them.
I've always been interested in gaming. As a matter of fact, my father Doug Yates actually worked at Williams Electronics back in the 80s. He was responsible for creating a prototype for a game called "Rat Race" which is popular on the underground circuit, as it never went into full production. My grandmother was also a gamer; she was fascinated by the idea of being able to control what was on the TV screen. When Super Mario Bros 3 was released, she beat the game in only 3 days! I still actively play Xbox at home, and my current favorite games are Borderlands 3 and World War Z. I'm also a record collector, and I do a podcast called "True Chicago Sports Fans" where we tackle all aspects of Chicago Sports! If you're a sports fan, don't forget to check us out!"