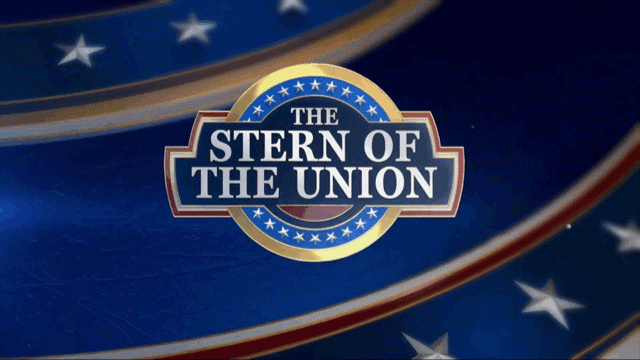 Back to All News
06/01/21
STERN OF THE UNION ADDRESS – JUNE 2021
The Stern of the Union Address will be presented on the first Tuesday of every month (holiday and vacation excepted).  Without further ado my fellow pinheads:
The Mandalorian:
Mandalorian mania has taken over the world, breaking streaming records and ratings with Emmy awards to boot.  Stern Pinball's latest smash hit game is amplifying its popularity in one of the most visible game launches to date, partnering directly with Star Wars and Lucasfilm to announce its arrival across all of their official platforms.  Check out the official exclusive reveal article featured on StarWars.com which was highlighted on Facebook and Twitter in addition to their "This Week in Star Wars" YouTube series, introducing Mandalorian pinball to their entire fan base of 90+ million dedicated and rabid fans.
There's been an overwhelming onslaught of press and media exposure notably from Gizmodo, HYPEBEAST, Nerdist, Kotaku, That Hashtag Show, Laughing Place, Comicbook, Movieweb, ByteSide, Autoevolution, SuperHeroHype, The Pop Insider, Paste Magazine, 9 to 5 Toys, TVOvermind, Ausretrogamer, and a deep dive by This Week in Pinball to name a few.  It also never hurts when you have cast from the show such as Ming-Na Wen, Katee Sackhoff, and stunt performer Caitlin Dechelle all trying to secure their very own machines!
Visit the official Mandalorian game page for full details on this action-packed pinball experience including the official game trailer, Pro model game features, Premium/LE model game features, and accessories trailer!  You can also check out the reveal stream on Dead Flip with the game team here!­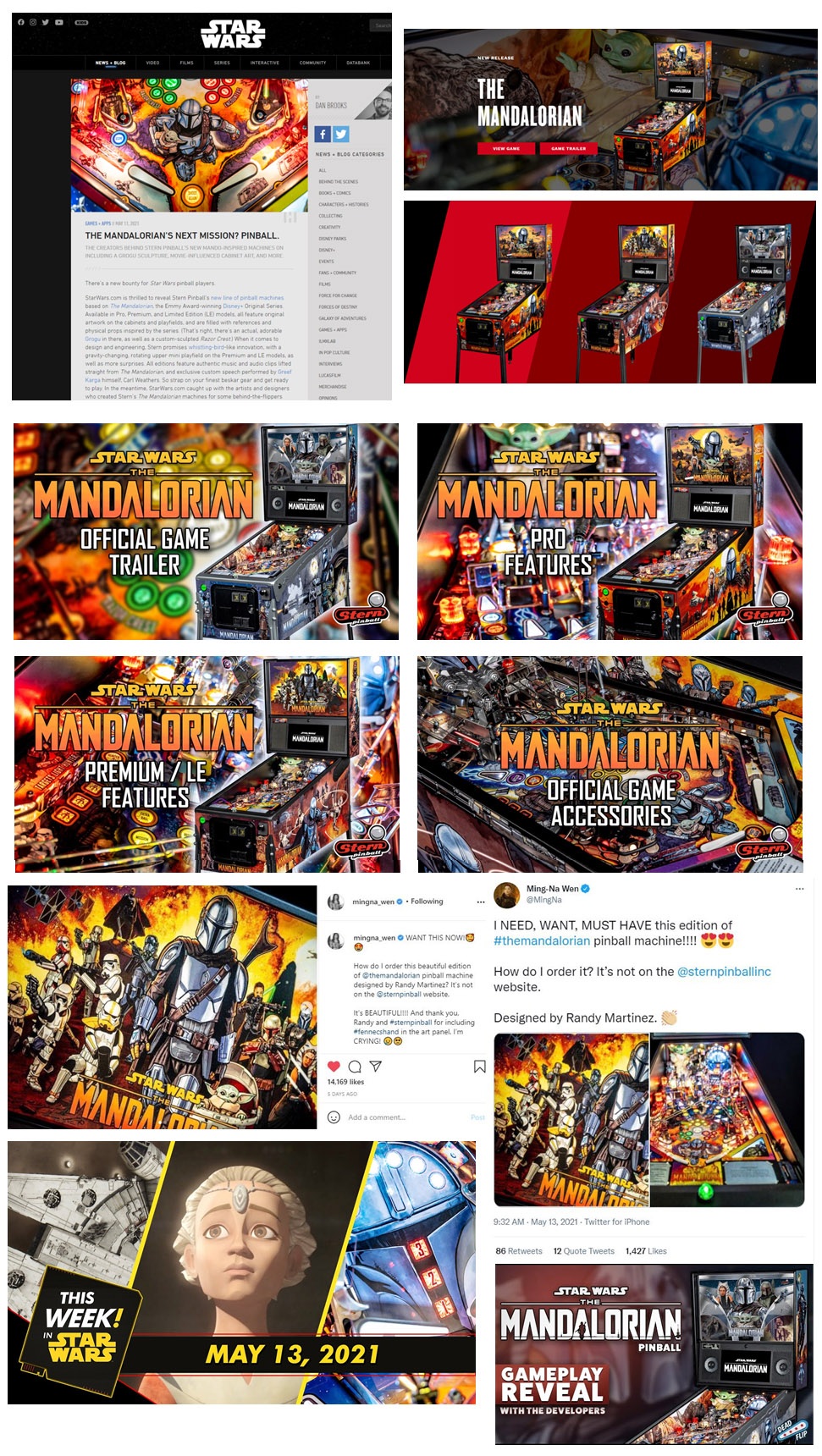 Stern Insider Mandalorian LE and Stern Insider Pinball Podcast:
Available only for Stern All-Access Insiders, there were a very limited number of LE Mandalorian pinball machines available to purchase directly on the Stern Store. Missed out on this perk and don't have All-Access? Register and become a Stern Insider today!
Available now for all Stern Insiders (Basic and All-Access), listen to two panel discussions with the Mandalorian team on the Stern Insider Pinball Podcast! Episode 11 – Part 1 features lead game designer Brian Eddy, lead game developer Dwight Sullivan, and lead mechanical engineer Tom Kopera. Episode 11 – Part 2 features lead artist Randy Martinez, lead sound designer Jerry Thompson, computer graphics art director Chuck Ernst, storyboard artist and animator Tom Kyzivat, and technical artists David Liskovec and Olivia Jensen as they discuss their collaborative approach in bringing this galaxy far, far away to life in pinball form!  All episodes can be listened to here – https://sternpinball.com/account/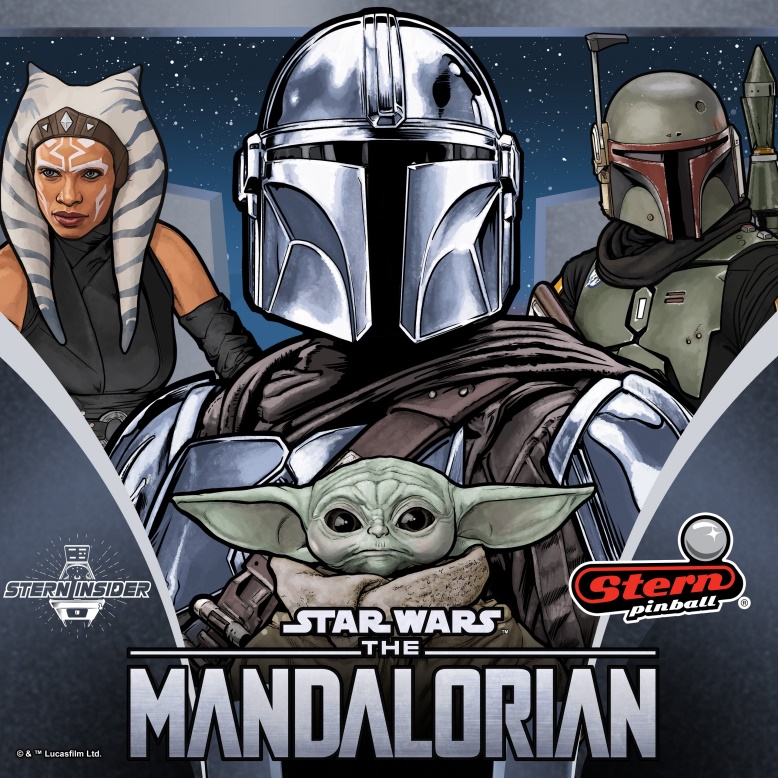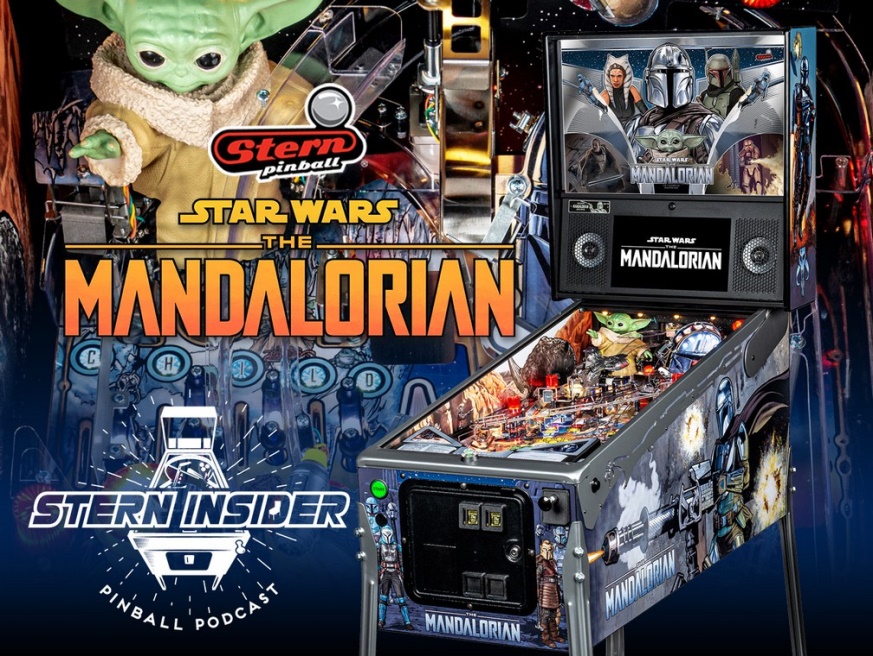 Led Zeppelin:
The song remains the same and the hits keep coming for Led Zeppelin!  Check out lead game developer Tim Sexton discuss his philosophy on the development of this rocking pinball experience on the latest Grail Podcast with Dean Delray here.  Trying to wrap your head around the revolutionary ruleset in this game?  No better than to learn from the #1 ranked pinball player in the world and software engineer on this game, Raymond Davidson.  Check out his in-depth tutorial video here!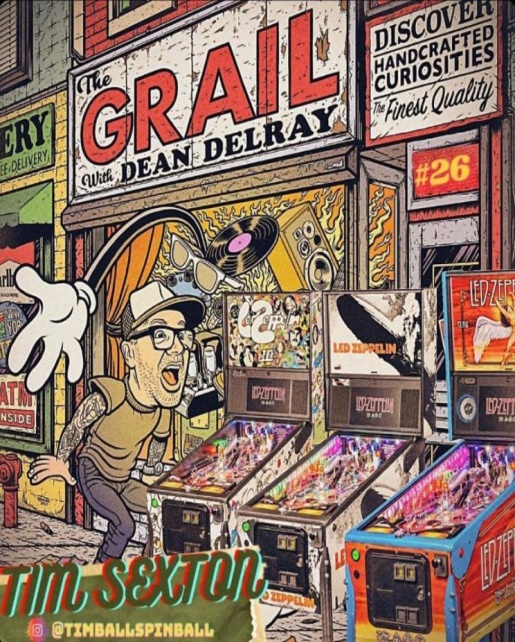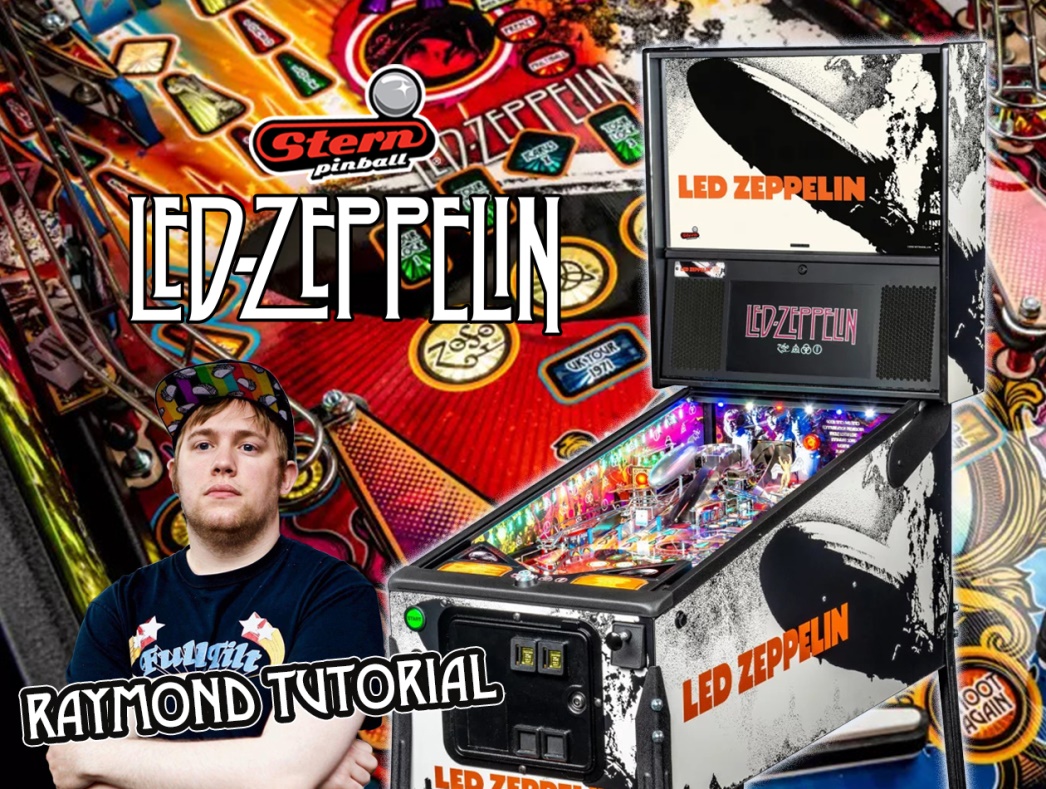 PlayStrongTM:
Do you have a PlayStrongTM pinball story to share with the world?  Send your inspirational message and pictures to Insider@sternpinball.com for a chance to be featured across Stern's social media channels in addition to winning exclusive Stern swag and merchandise!
Check out these incredible #PlayStrong stories!  While the combination of beer + pinball is unmatched, there's always room for some food!  Whether it's the world-leading streamer Ninja noshing while playing Star Wars or Culvers leveraging pinball for their online gaming platform, pinball has never been hotter or hungrier!  Look no further than North Dakota's travel department to highlight pinball as an attraction for their state.  Lastly you better buckle up because global streamer RB Flip out of France is taking pinball to the streets, literally!  Check out the first "Stern Pinball" car in history to compete in the Global Maxda MX-5 Cup on the famous Pro eSports platform iRacing!

Gameroom of the Month:
Congrats to Alex Henderson for winning Gameroom of the Month!  Do you have a special home gameroom you want to share with the world?  Leave a photo comment on this Facebook post and you may be our next winner!  Not on social media?  Not a problem!  You can submit your incredible gameroom directly to Insider@sternpinball.com for your chance to win an exclusive Stern Swag Pack!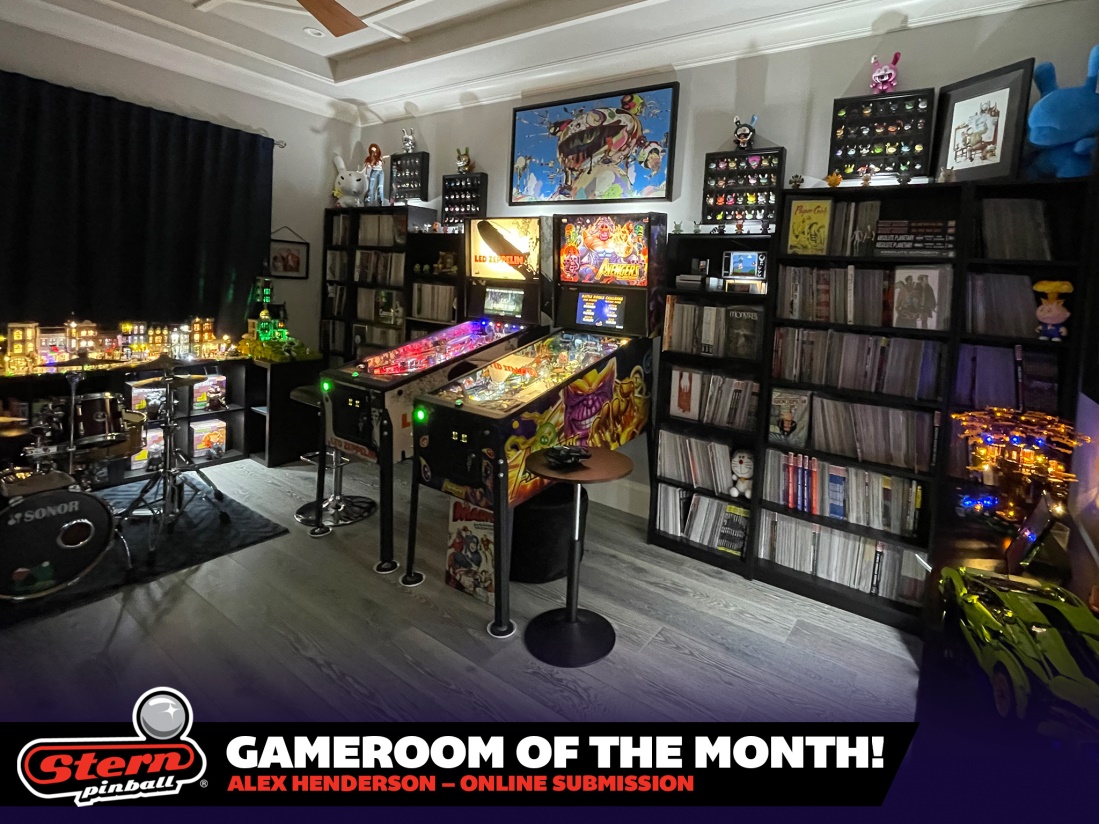 Elk Grove Village Award:
Stern Pinball has been selected for the 2021 Best of Elk Grove Village Award in the Manufacturers category by the Elk Grove Village Award Program.  Read the full press release on this prestigious honor and award here!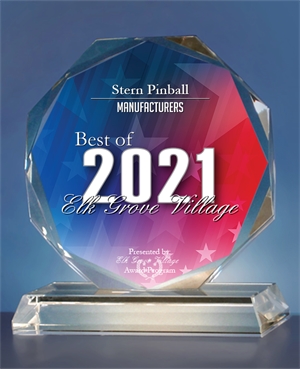 Pinball Rental Program:
Stay entertained by staying inside with the latest Stern Pinball machines!  Even if your local bar or arcade is temporarily unavailable, there are plenty of opportunities to play the newest Stern games.  Contact your local authorized Stern dealer for more information on renting your very own Stern pinball machine where available!  https://sternpinball.com/find-a-dealer/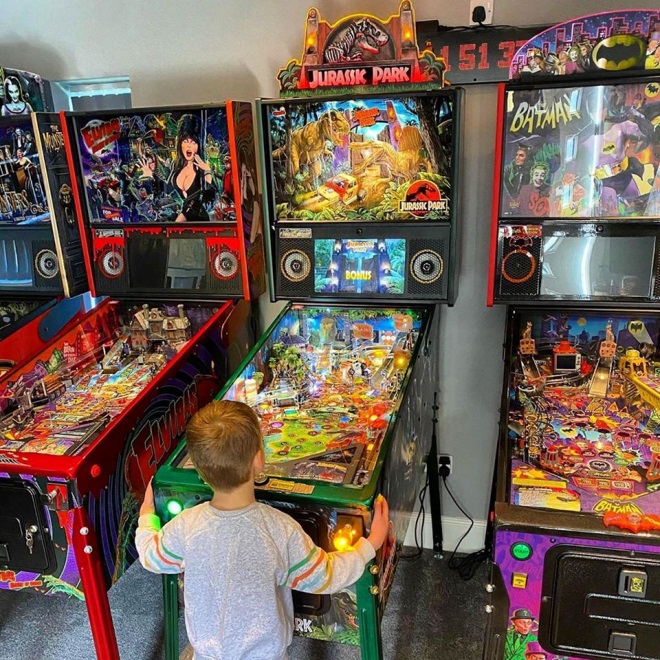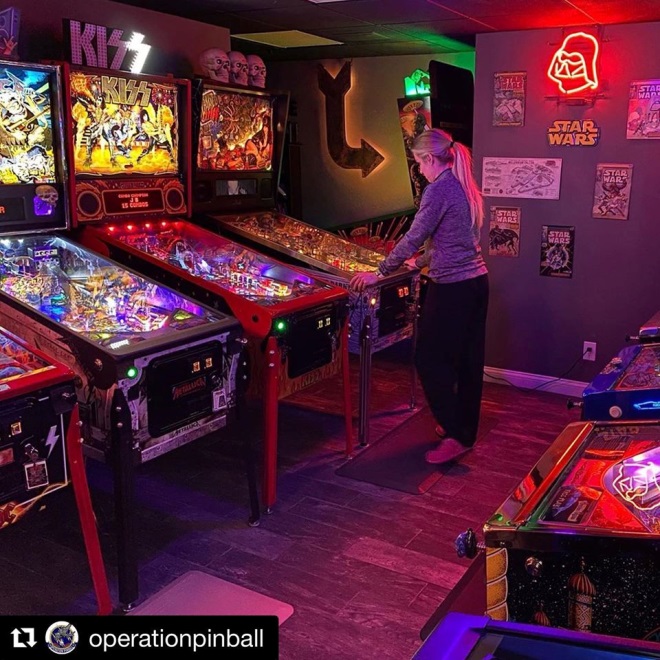 Stern Army Updates:
The Stern Army continues to grow with troops spreading the gospel of pinball across the globe.  Here are our newest troops and the pinball locations they support:
Private Brad Baker of Ohio (Pinball Garage)
Private Chris O'Neill of Michigan (One Well Brewing)
Private Corbin Angeli of Ohio (Rack It Up Arcade)
Private Mark McGuire of Georgia (Vertigo Pinball)
Private Tobias Denney of North Carolina (Silverball Subs)
Private James Brooks of Illinois (CP Pinball)
Private Dan Quinn of Virginia (Solace Brewing Company)
Private Craig Sengstock of Nevada (Pinball Hall of Fame)
Private Chris Weber of Ohio (Southland Lanes)
Private Mike Howard of Missouri (Up-Down)
Private Chris Riley of Missouri (West County Lanes)
Congratulations to the following Stern Army troops on their promotion from Corporal to Sergeant:
Sergeant Doug Polka of Pennsylvania (Kickback Pinball Café)
Sergeant Dave Aceto of Maine (Arcadia National Bar)
Sergeant Andy Rosa of Michigan (Richfield Bowl and Frankenmuth)
Congratulations to the following Stern Army members on their promotion from Specialist to Corporal:
Corporal Aaron and Brandon Pennington of Missouri (Meta Games Unlimited)
Corporal Heather Kendrick of Michigan (The Avenue Cafe)
Corporal Dwain Marchant of North Carolina (Reboot Arcade Bar and Boxcar Bar + Arcade)
Corporal Ryan Clancy of Wisconsin (Bounce Milwaukee)
Corporal Mike Burgess of Indiana (Fort Wayne Pinball Wizard's World Arcade)
Congratulations to the following Stern Army members on their promotion from Private First Class to Specialist:
Specialist Michael Palero of California (Chaparral Lanes and Riverside Game Lab)
Specialist Tony Evans of South Carolina (Asheville Retrocade)
Specialist Eric Grogan of South Carolina (Firefly Toys & Games)
Specialist Dale Geiger of Virginia (Maltese Brewing Company)
Specialist Jordan Semrow of Wisconsin (Player 2)
Congratulations to the following Stern Army members on their promotion from Private to Private First Class:
Private First Class Whayne Rouse of Indiana (Zanzabar and Recbar)
Private First Class George Courtney of Florida (Reboot)
Private First Class Erik Thoren of Wisconsin (Title Town Pinball)
Private First Class Roy Wallace of Australia (Zero Latency)
Private First Class Derek Thomson of Canada (Arkadium Retro Arcade)
For more information and to join the Stern Army, please reach out to SternArmy@sternpinball.com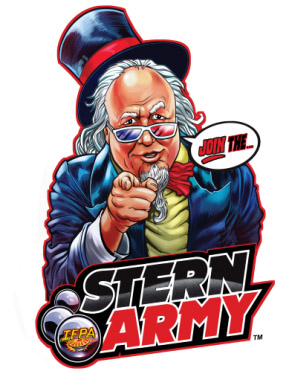 Stern Army Launch Parties:
Stern Army Launch Parties are back and we're hitting the ground running!  We've got a lot of celebrating to catch up on so we're giving everyone the opportunity to rewrite the wrongs that 2020 left us with, starting with officially endorsed launch parties for Stranger Things and Teenage Mutant Ninja Turtles! Contact your local Stern Army location for specific dates, times, and safety precautions and #PlayStrong!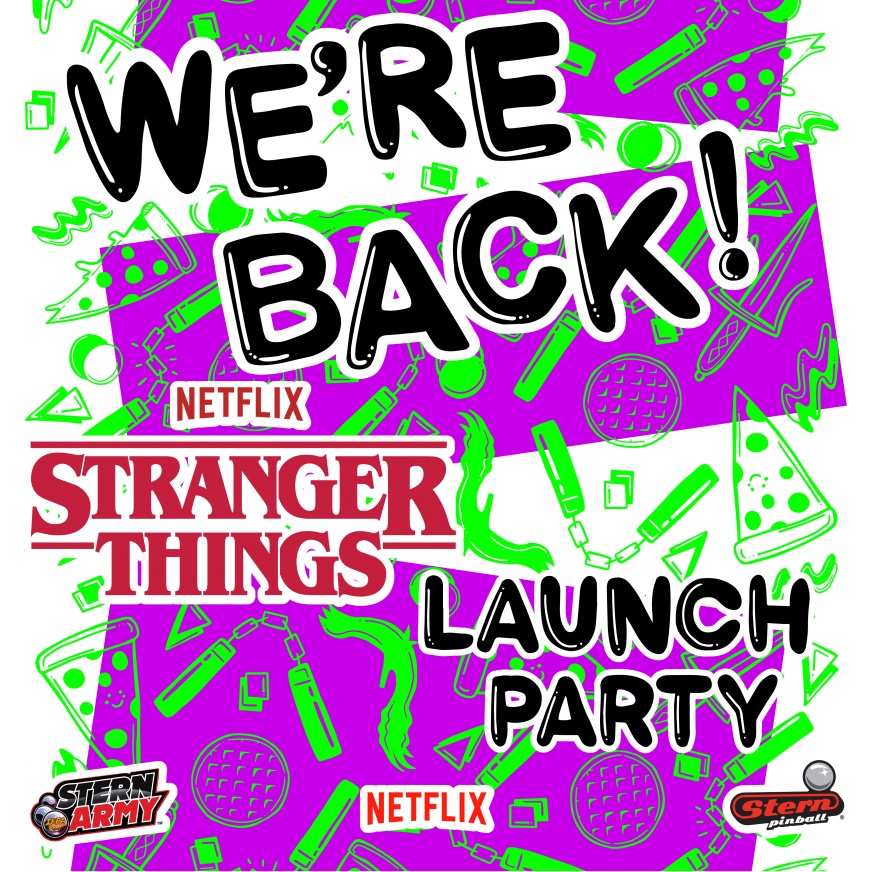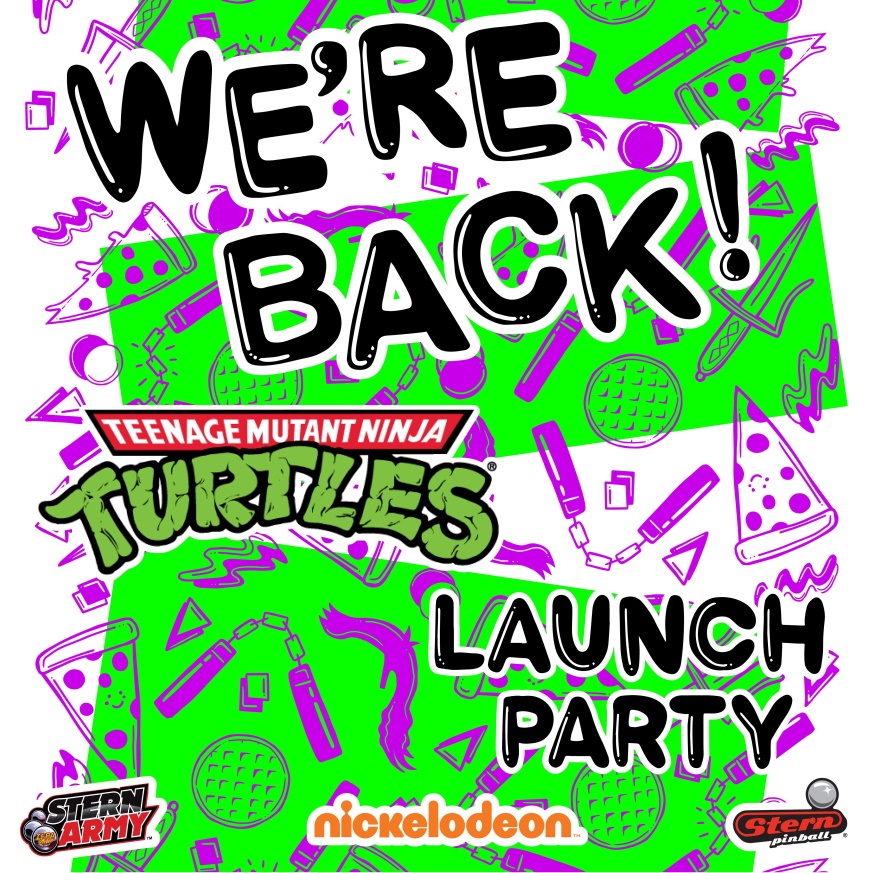 Stern Insider All-Access:
Congrats to Jonathan from Georgia, May's Stern Insider All-Access winner!  Jonathan received a Mandalorian autographed playfield!  Do you have All-Access?  Register and become a Stern Insider today! https://sternpinball.com/stern-insider/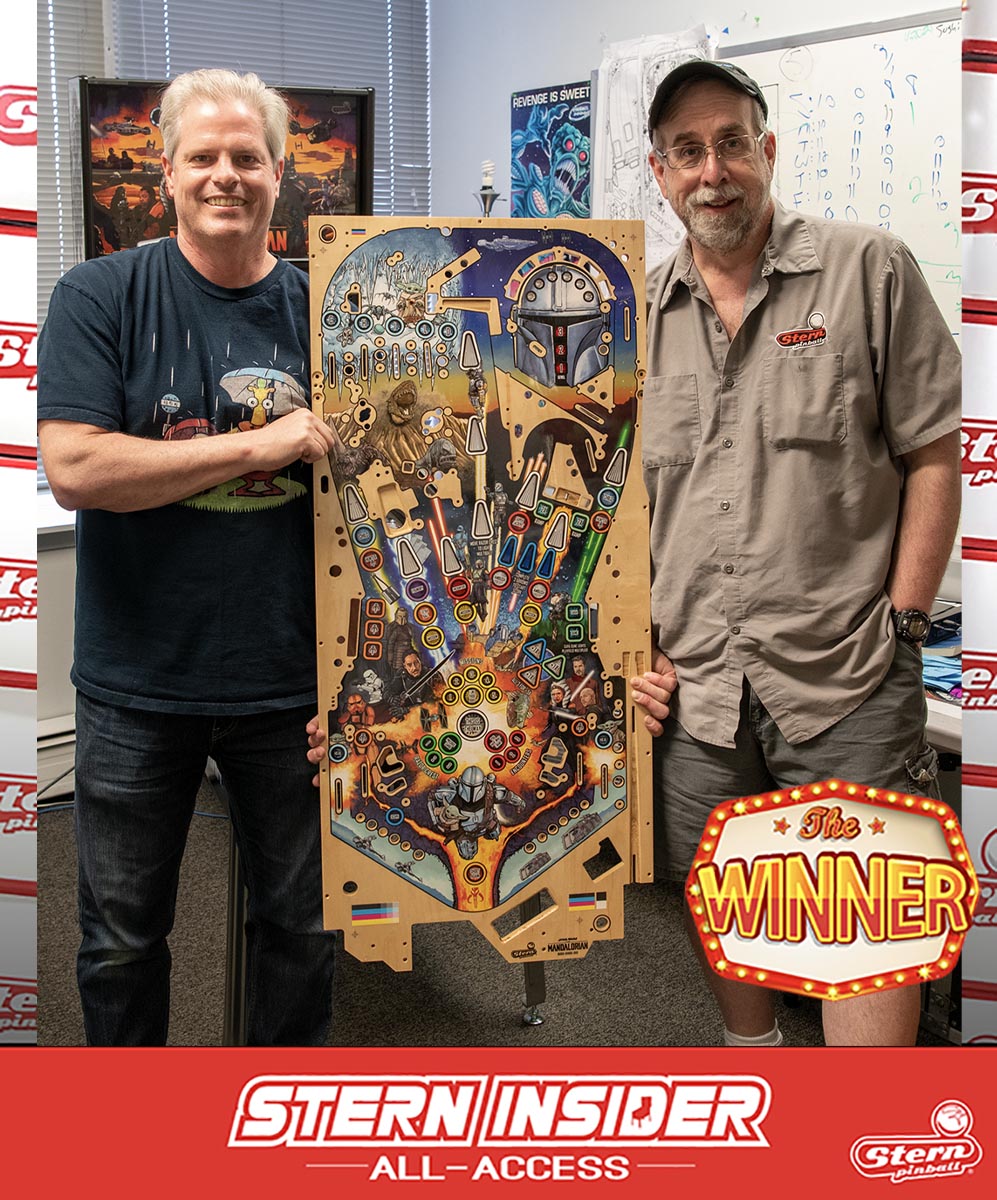 Status of Code:
We are continuously working to update and improve software for our machines.  There are always code updates and bug fixes in various stages of development; we will release them upon update completion.  If you would like to join our mailing list for code updates, please send an e-mail to Code.Updates@sternpinball.com.  If you do encounter any bugs please feel free to provide information to bug.report@sternpinball.com.
Dead Flip Pinball Streaming:
Make sure you are subscribed to Jack Danger's Dead Flip channel to watch some special streams including last month's highlight, the reveal gameplay stream of Mandalorian!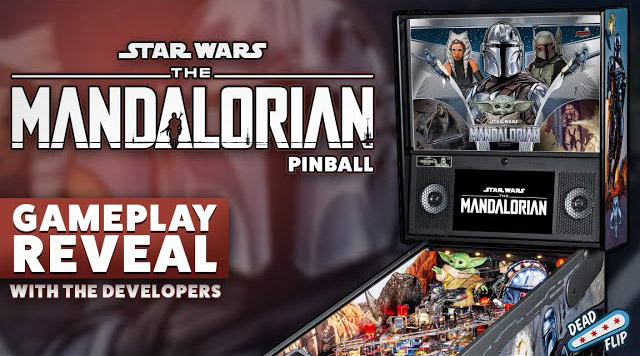 Accessories:
Check out our Stern Shop for all accessories, collectibles, clothing and more including this month's featured items, the scorching hot new Summer merchandise line!  Free domestic shipping on orders of $50 or more on all Stern merchandise.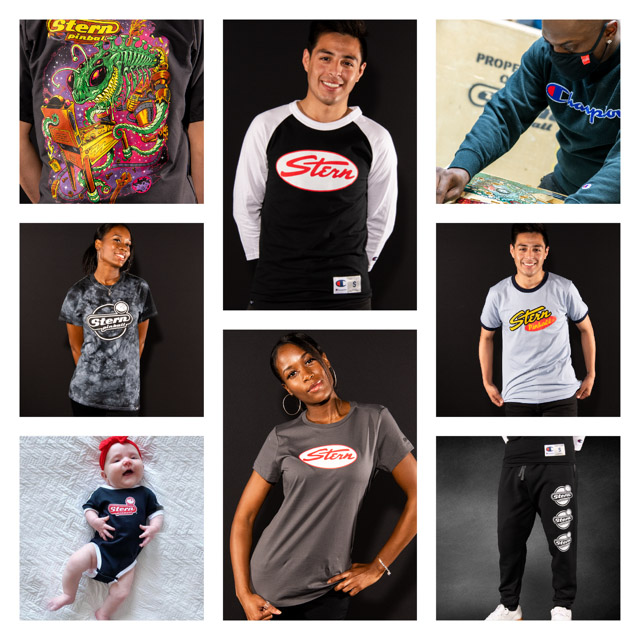 Stern Pinball accessories are also available to purchase from your local authorized dealer – https://sternpinball.com/find-a-dealer/
Stern Spotlight – Mike and Tom Kyzivat:
"Look out!  It's those dastardly Kyzivat Brothers!"
–George Gomez.
Yes, it is we, the Kyzivat brothers of Stern pinball!  We have resided here for many years, lurking in the shadows, making art and writing code, but no more!!  We have decided to take the spotlight for ourselves, and share our fiendish deeds and goings-on here at Stern Pinball, Inc.
MIKE:  Hey there. This is Mike and Tom Kyzivat, or as everyone at Stern calls us: "The Kyzivat Brothers."  I am a programmer here at Stern Pinball and I've been with the company for a little over 10 years.  I graduated from Northern Illinois University in DeKalb with a BS in Computer Science and a minor in Graphic Design.  I was originally hired in 2007 and it's kind of a funny story.  I was working for a direct mail company, a.k.a. junk mail company (yeah you had me to thank for all those useless flyers).  It was a pretty ho hum job, but while there I had found out that not only was Stern Pinball in Illinois, they were only 15 minutes from my house!!  Now, I had grown up in arcades playing pinball in the 80's and 90's and the whole reason I became a programmer was to work on games, video or pinball, so this was a revelation.  I immediately sent them an email to find out what I would have to learn to work for them, thinking I could get there someday, and to my surprise they asked for my resume.  I remember Marsha (the H.R. person then) had asked me how I knew they were currently looking for a programmer, and I replied I had no idea, I just knew I needed to work for Stern.  So I had my first interview with Lonnie Ropp, and then they asked me back for a second interview a week later, and the next day offered me the job–I just about died from excitement!!
Here at Stern I have had my hand in many games, both as a lead and a support programmer.  I'll list a few highlights: Shrek (my first game), X-Men, Spider-Man Vault, Avengers (both versions), Deadpool, Elvira, Black Knight: Sword of Rage and Star Trek.  But one of the best things about Stern is that I have been able to wear many different hats, so to speak, by branching out and doing other things.  I frequently write dialogue and have been able to provide voice work for a number of games, including Mustang, WWE, Star Trek, and most recently Teenage Mutant Ninja Turtles as Shredder.  That is a ton of fun!!  This really is the best job in the world.
TOM:  That it is, Mike!  But this write-up wouldn't be complete without the other half of the Kyzivat Brothers outfit: Tom!  Nefarious deeds and general tomfoolery might be my bailiwick, but art is my true passion!  I went to school for multimedia design and animation, and back in 2007, when Mike heard word from our very own Mark Galvez that Stern was looking for additional animator help, he knew exactly whom to call!  Ever since then I've been slingin' dots, getting to work on some of my favorite licenses like Shrek, The Dark Knight, X-Men, Spider-Man, and many more.  Now, with the benefit of the LCD screen, there's no limit to my animating power!  Mua, ha ha!!!  I now specialize mostly in pre-production, storyboarding animations and creating "animatics", which set the storyboards to time and provide a guide for the final animation.
Teenage Mutant Ninja Turtles is my favorite property of all time, so it blew my mind that Stern got the license!  I was more than happy to dive head-first into that project.  Like Mike, I've also been able to help write dialogue on occasion, and do character voice work.  For TMNT, I provided Krang's voice alongside Mike's Shredder—somehow that character dynamic worked extremely well.  But anywho, it's been a genuine thrill to work on so many amazing games!  It's exciting to see it all come together and a true honor to be a small part of such a unique and creative industry.
So now you know our nefarious goings-on here at Stern Pinball.  The next time you play a pinball machine and see some art, get that jackpot, or hear a funny voice, you will know that those dastardly Kyzivat Brothers could have been behind it!  It appears that we have run out of room for our tales of misdeeds and boasting… very well, Stern Insider!  You win this round, but we'll be back!! Nyah, ha-haaaaa!!!