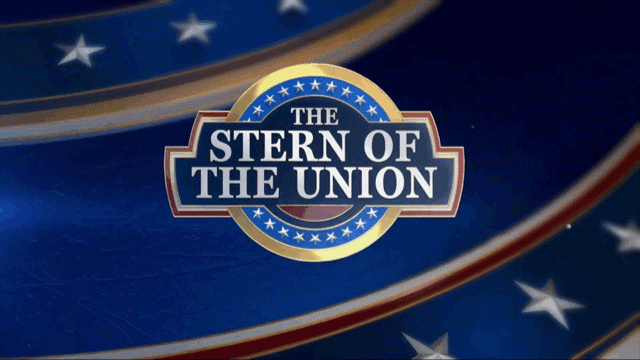 Back to All News
09/07/21
STERN OF THE UNION ADDRESS – SEPTEMBER 2021
The Stern of the Union Address will be presented on the first Tuesday of every month (holiday and vacation excepted).  Without further ado my fellow pinheads:
Stern Insider ConnectedTM:
This fall, Stern Pinball will launch the highly anticipated initiative to connect the existing universe of Stern pinball machines and all its future games.  The platform is known as Insider ConnectedTM, and is designed as a comprehensive system with elements that address both players and operators.  Read the official press release, watch this deep dive visionary video with Chief Creative Officer George Gomez and listen to this special episode of the Stern Insider Pinball Podcast with George as he describes the future of pinball with connectivity coming soon to Stern games everywhere!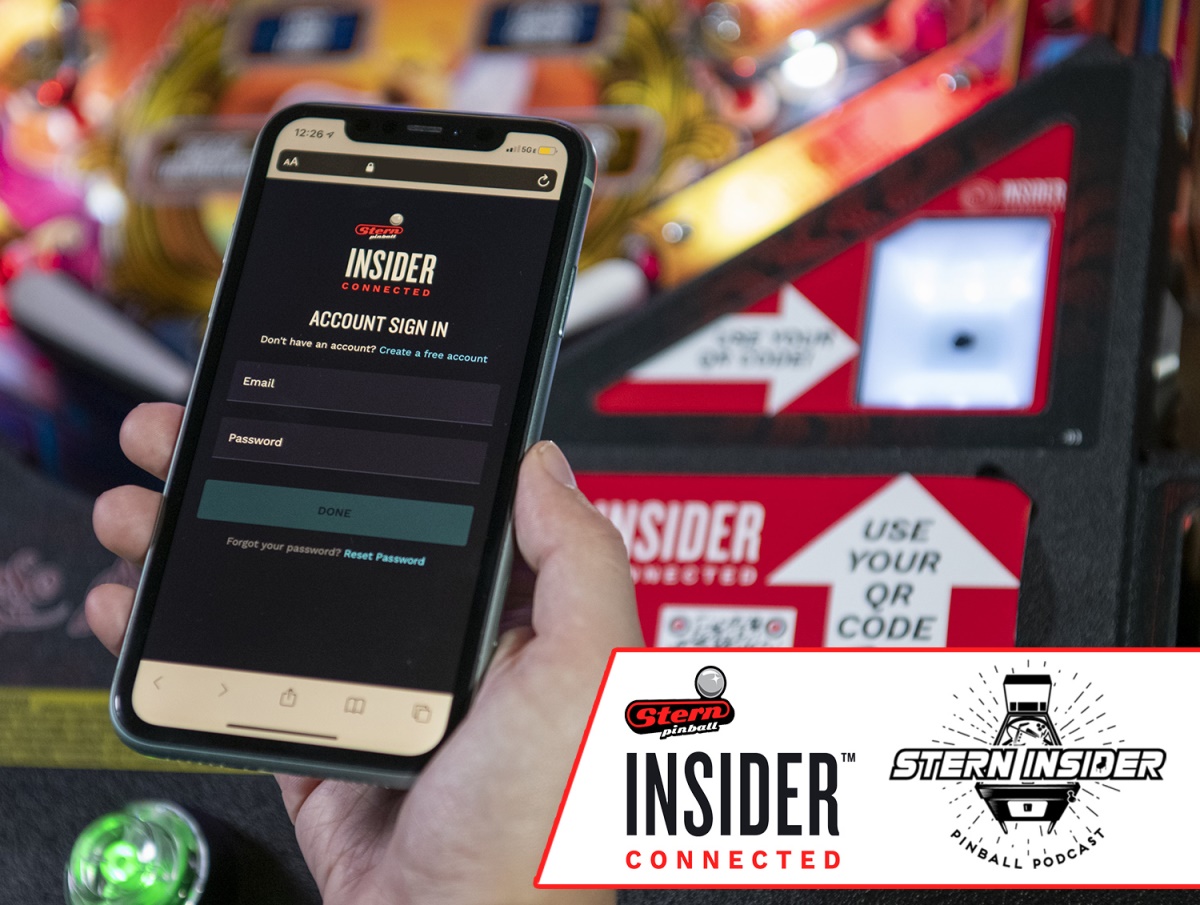 The Mandalorian Press:
Mandalorian mania continues across the globe as games make their way to locations (check out your local Stern Army location to play) with a continual onslaught of press and media exposure!  The Mandalorian pinball was highlighted in this special unboxing feature on Giant Bomb and also featured in this in-depth article on CBR.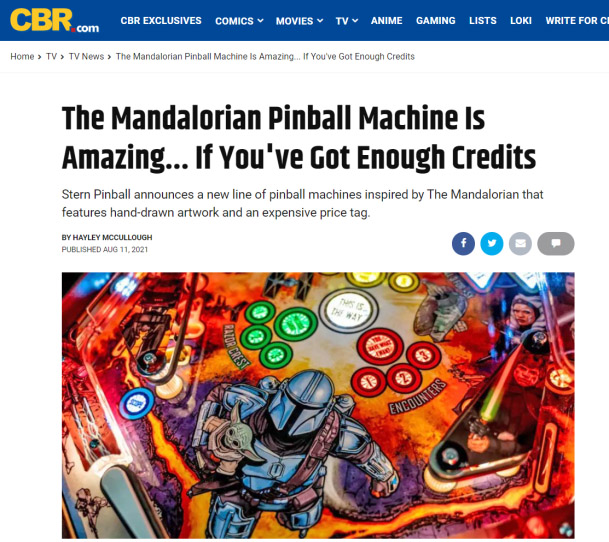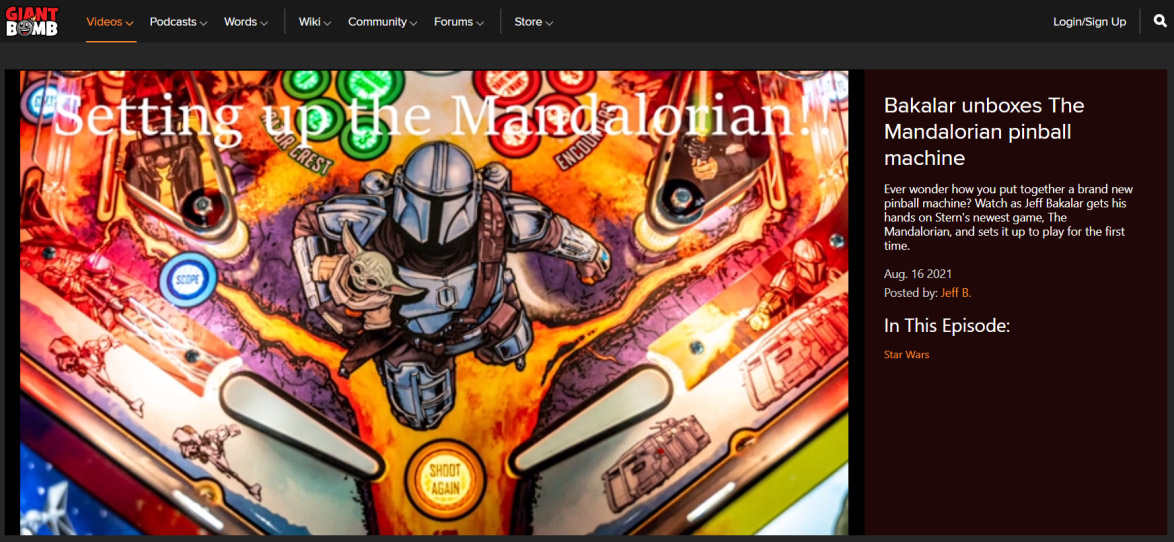 The Mandalorian Launch Parties:
Official The Mandalorian launch parties are coming to a Stern Army location near you.  Check out the full list of locations and contact your local Stern Army location for specific dates, times, and #PlayStrong!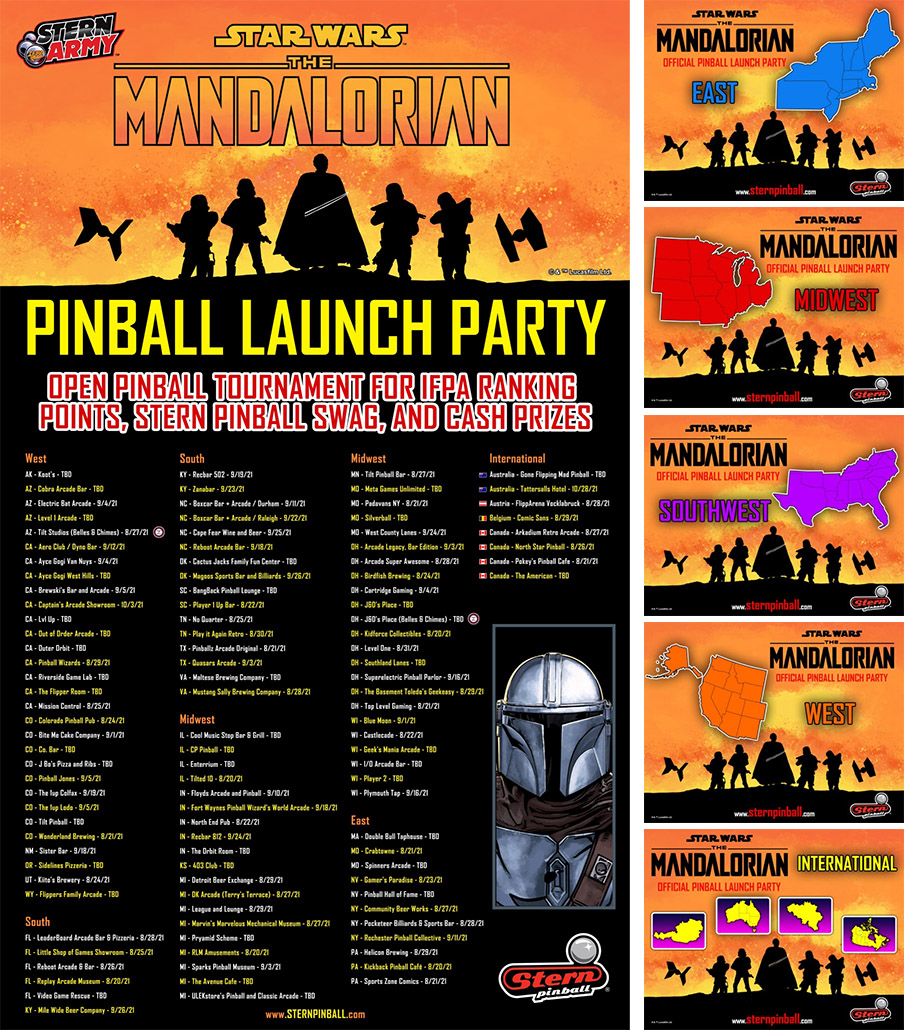 Gameroom of the Month:
Congrats to Ilyana Lavoie for winning Gameroom of the Month!  Do you have a special home gameroom you want to share with the world?  Leave a photo comment on this Facebook post and you may be our next winner!  Not on social media?  Not a problem!  You can submit your incredible gameroom directly to Insider@sternpinball.com for your chance to win an exclusive Stern Swag Pack!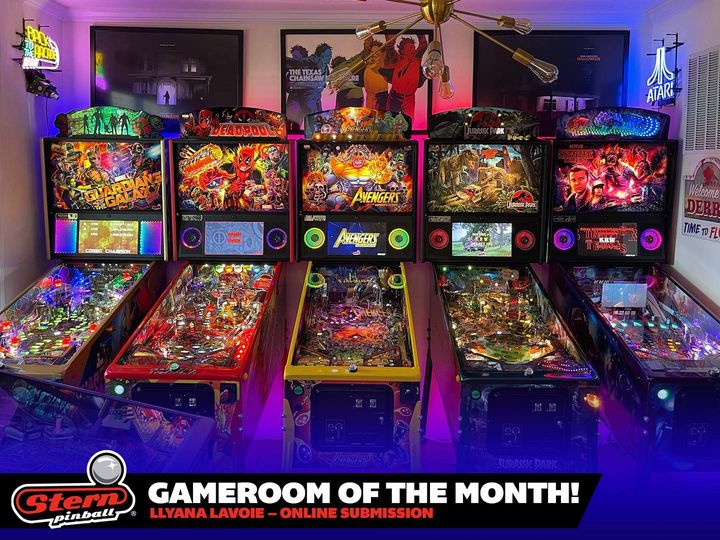 Stern Army Updates:
The Stern Army continues to grow with troops spreading the gospel of pinball across the globe.  Here are our newest troops and the pinball locations they support:
Private Dan Dolney of South Dakota (The Pinball Room)
Private Stephen Gentry of Alabama (Rock N' Roll Pinball)
Private Debbie Smith of Idaho (Idaho Pinball Museum)
Private Yannick Fichelle of France (Maxipinball)
Private Nancy Marsh of Ohio (Canal Street Arcade and Deli)
Private Rachel Bess of Arizona (Electric Bat Arcade)
Congratulations to the following Stern Army members on their promotion from Sergeant to Staff Sergeant:
Staff Sergeant Greg Poverelli of New York (Sunshine Laundromat and Pinball)
Staff Sergeant Kevin Shanus of North Carolina (Abari Game Bar)
Staff Sergeant John Geiger of Ohio (Melt Bar and Grilled and Arcade Super Awesome)
Congratulations to the following Stern Army members on their promotion from Specialist to Corporal:
Corporal Daniel Halpain of Texas (Flippers Tavern)
Corporal Katie Schowengerdt of Missouri (Two Plumbers Brewery + Arcade)
Corporal Mike Lund of Utah (Kiito's Brewery and Quarters Arcade Bar)
Corporal EJ Osis of Michigan (Offworld Arcade)
Congratulations to the following Stern Army members on their promotion from Private First Class to Specialist:
Specialist Mika Marttinen of Finland (Pinball 21 Gameroom)
Specialist Timothy Lawrence of New York (Jackbar)
Specialist Seth Steele of Tennessee (No Quarter)
Congratulations to the following Stern Army members on their promotion from Private to Private First Class:
Private First Class Peter Barclay of Arkansas (Williwaw Social)
For more information and to join the Stern Army, please reach out to SternArmy@sternpinball.com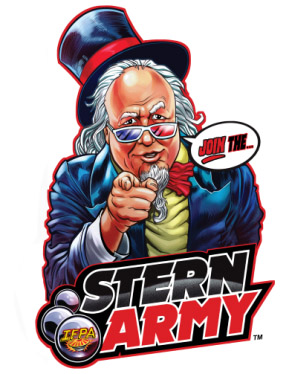 Led Zeppelin Wizard Mode Challenge:
Spoiler alert, Karl DeAngelo of IE Pinball is very talented at playing pinball and he displays his world-class abilities en route to achieving the Led Zeppelin wizard mode!  Watch a replay of the achievement here!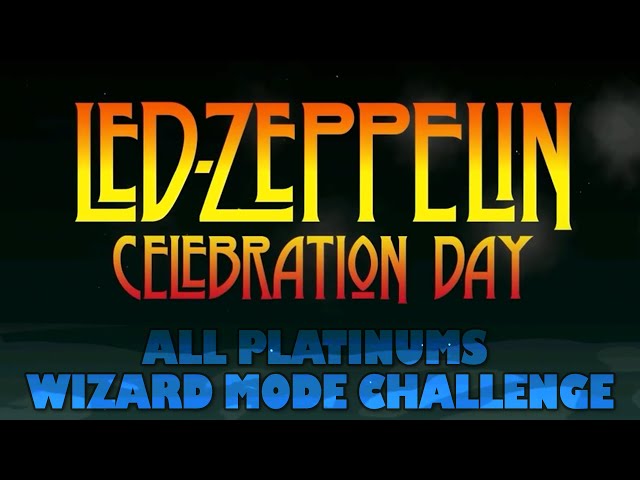 Status of Code:
We are continuously working to update and improve software for our machines.  There are always code updates and bug fixes in various stages of development; we will release them upon update completion.  If you would like to join our mailing list for code updates, please send an e-mail to Code.Updates@sternpinball.com.  If you do encounter any bugs please feel free to provide information to bug.report@sternpinball.com.
University of Cincinnati:
Something strange is happening at the University of Cincinnati's College of Engineering & Applied Science this school year!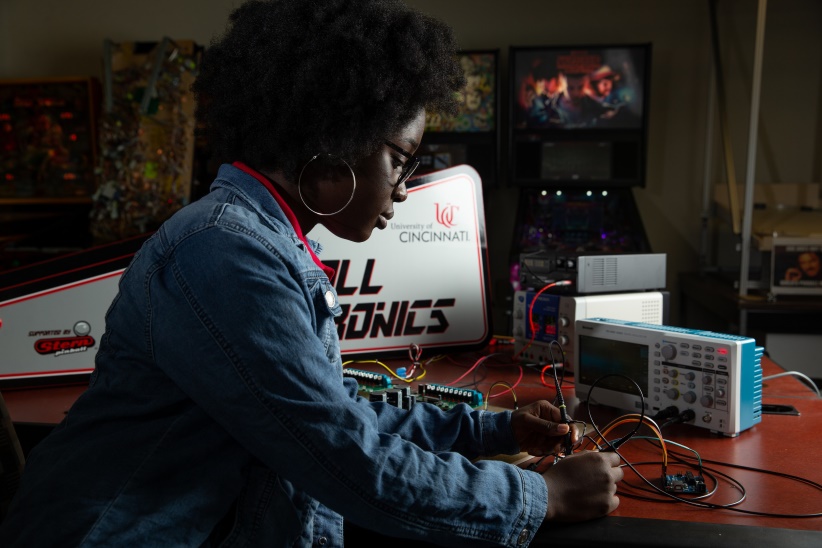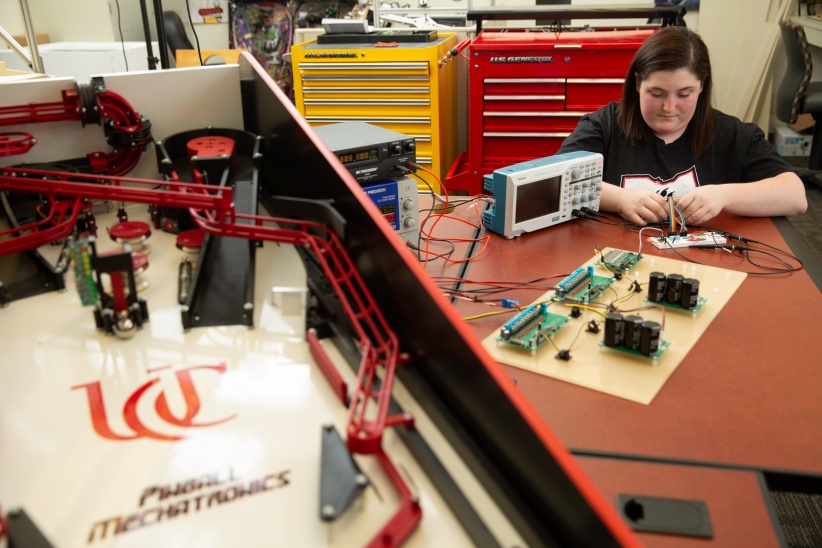 Pinball on ESPN Ocho:
Competitive pinball on ESPN?  It was a bold strategy and it definitely paid off!  Check out a replay of the competitive pinball event of year, The Avengers: Infinity Quest Stern Heads-Up Pinball Invitational!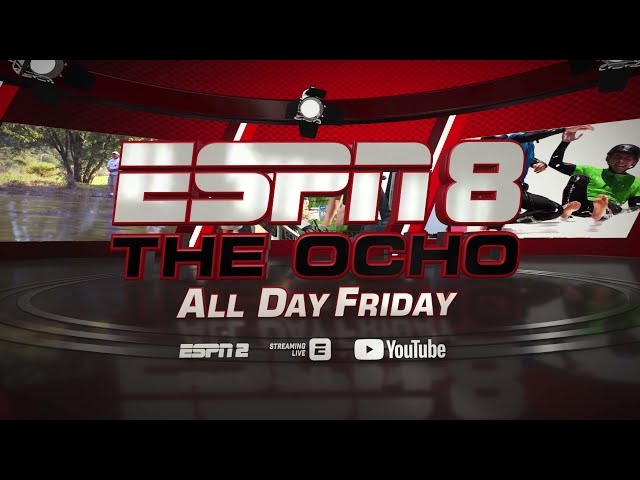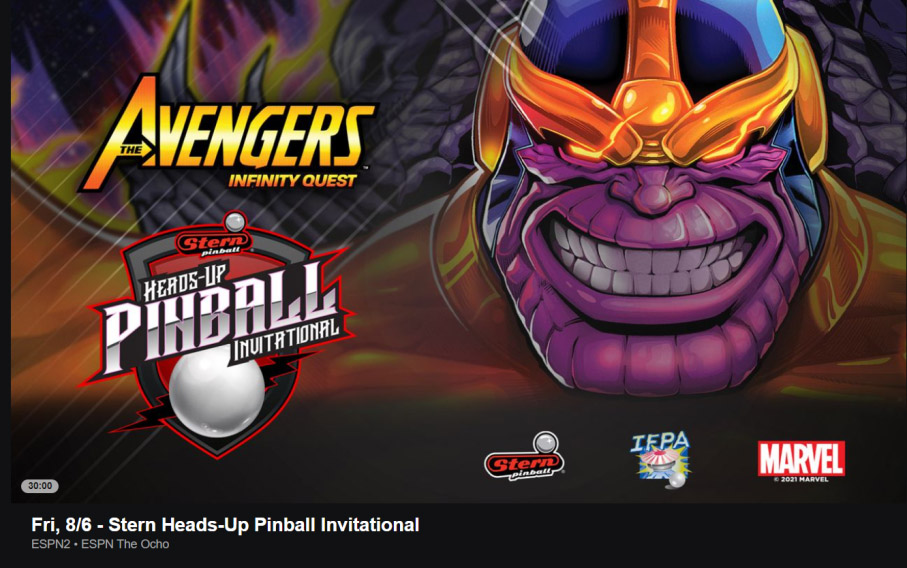 Accessories:
Check out our Stern Shop for all accessories, collectibles, clothing and more including this month's featured item, the New Era 39 retro Stern logo stretch mesh cap!  Free domestic shipping on orders of $50 or more on all Stern merchandise.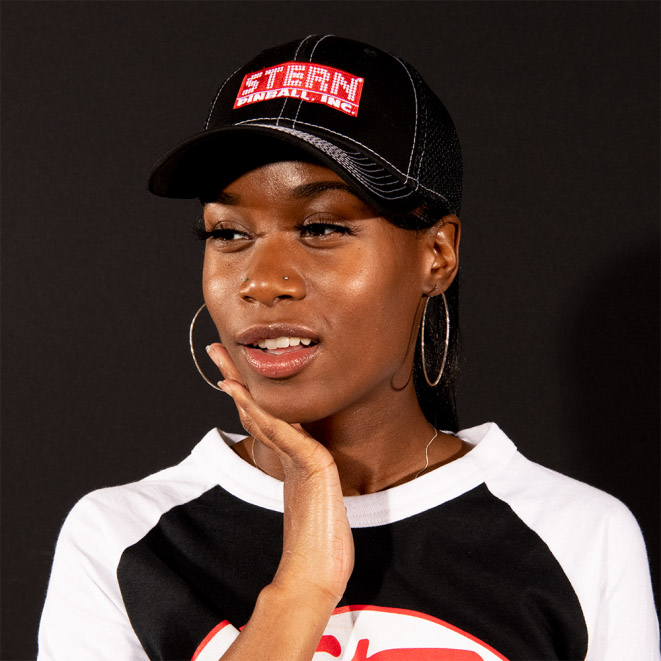 Stern Pinball accessories are also available to purchase from your local authorized dealer – https://sternpinball.com/find-a-dealer/
Stern Spotlight – Thalia Cruz:
Hello! My name is Thalia and my journey as part of the Stern Family began on December of 2016. I started my journey at Stern in the mini playfield department for our first run of Batman 66. I must say, that with no previous knowledge in the pinball industry this was no easy task for me, but I still poured my full level of concentration and dedication into it. After our first run for Batman was done and Star Wars was just around the corner, there were no more mini playfields to assemble or test, which allowed for me to move on to my next incredible challenges at Stern.
I guess my dedication paid off, for I was given the opportunity to be trained and (with time) eventually become a playfield tester. This was a whole new world of understanding the intricate world of pinball and playfields. The more I learned and trained in the playfield testing area, the more everything made sense; from troubleshooting node boards, adjusting flippers and pop bumpers, to any other mechanical component on the playfield. After testing for months, I was once again given the opportunity to continue to grow at Stern by becoming the lead quality control inspector in what we call "final QC". For the next 3 years, I was head of this department. My first main task as lead QC was to develop a system in which my department could more thoroughly inspect each game and make sure that it was in top shape before being packed. Once again, this was no easy task, especially when you have a handmade machine with more than 2000 components in it! I must have proven myself for I was given yet another opportunity to keep growing, but this time as lead quality assurance inspector. In other words, I went from being at the end of the line of production to the beginning of the line. Just as I did with my previous department, I was able to develop a more efficient process of inspection, thus allowing our whole production team to pack greater quantities of games at the end of the day.
In other words, since the end of 2016, every playfield that has left our premises has physically gone through those who have been a part of my team throughout the years.  I take personal pride in all the achievements that I have come across at Stern but mostly in helping establish the work layouts that till this day are being used in our current final quality department and our current quality assurance department.
This goes to show that even if you don't come from an engineering background or didn't even know what a pinball was (just like in my case) you can go a long way if you are passionate enough and just a simple go-getter. Every opportunity given to me has helped me understand how intricate and fascinating the world of pinball can be. I feel so fortunate to work with some pretty awesome people! Just like them, pinball has become such an important part of my life. I cannot wait to see what new adventures await me at Stern Pinball.