Back to All News
10/21/21
Connect All LCD Commercial Stern Pinball Machines with Stern Pinball's Insider Connected™ Upgrade Kits
CHICAGO, IL – October 21, 2021 – Stern Pinball, Inc., announced the availability of the Insider Connected upgrade kit, giving players and operators the ability to connect all LCD commercial Stern pinball machines to the world of Insider Connected.
Insider Connected is the greatest advance to pinball in decades, enhancing and extending player engagement with games across both home and commercial environments. It also presents professional operators with a robust set of tools to drive location play, build player loyalty, analyze performance, make adjustments remotely and maintain the machines.
There are 2 basic upgrade kits – a Pro version and a Premium/LE version.  Each contains a WIFI dongle, QR reader, micro SD card, plug in wiring, necessary hardware, stickers with QR code to register for Insider Connected, and easy installation & set up instructions.  The Pro version will come with a new plastic bottom arch (although newer model Pro games are fitted with the updated arch).  The Premium/LE version has a replacement for the upper right section of the metal bottom arch, where the QR reader will be installed.  There are a few models that will require special kits.  Although not yet available, we will soon provide availability for these models.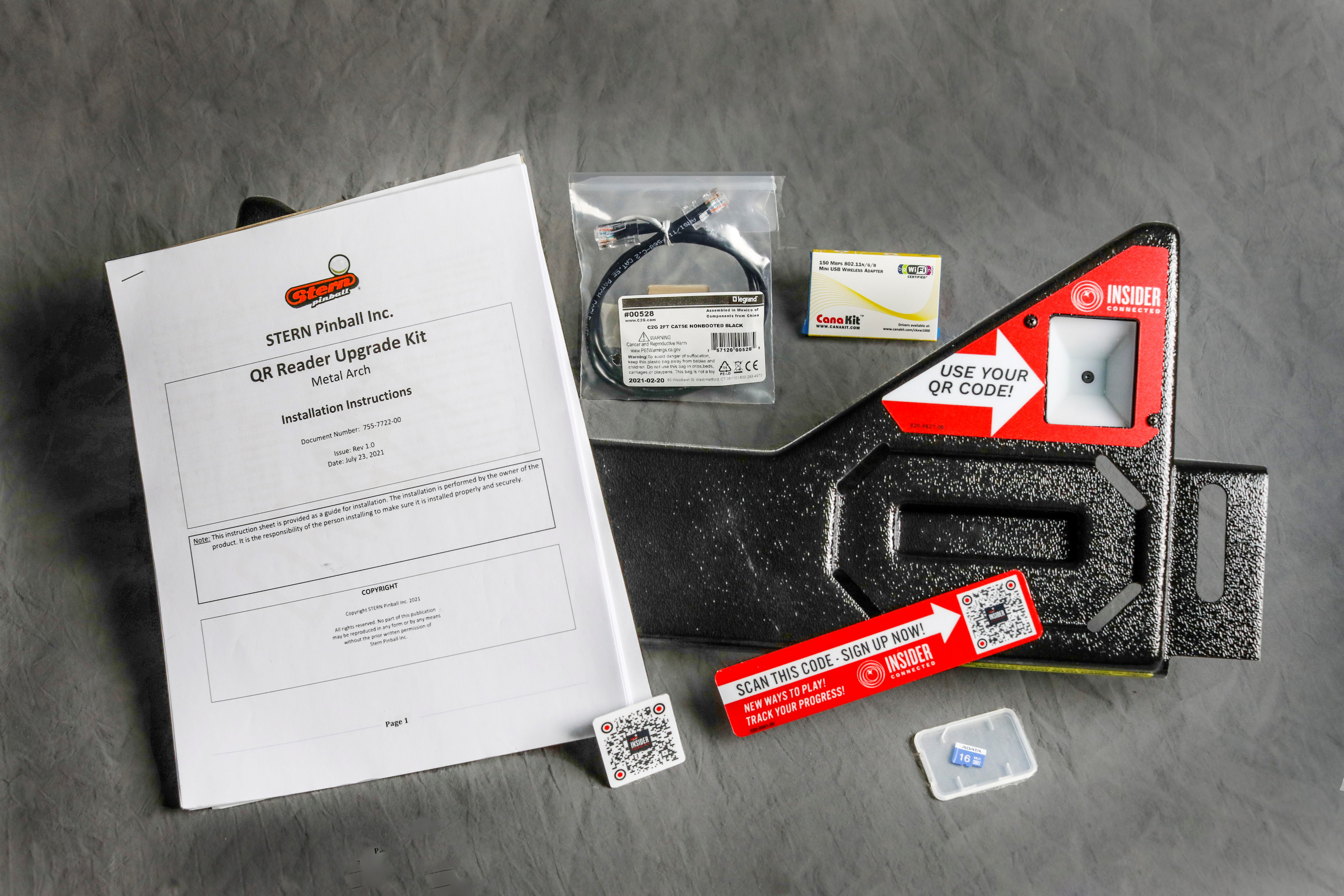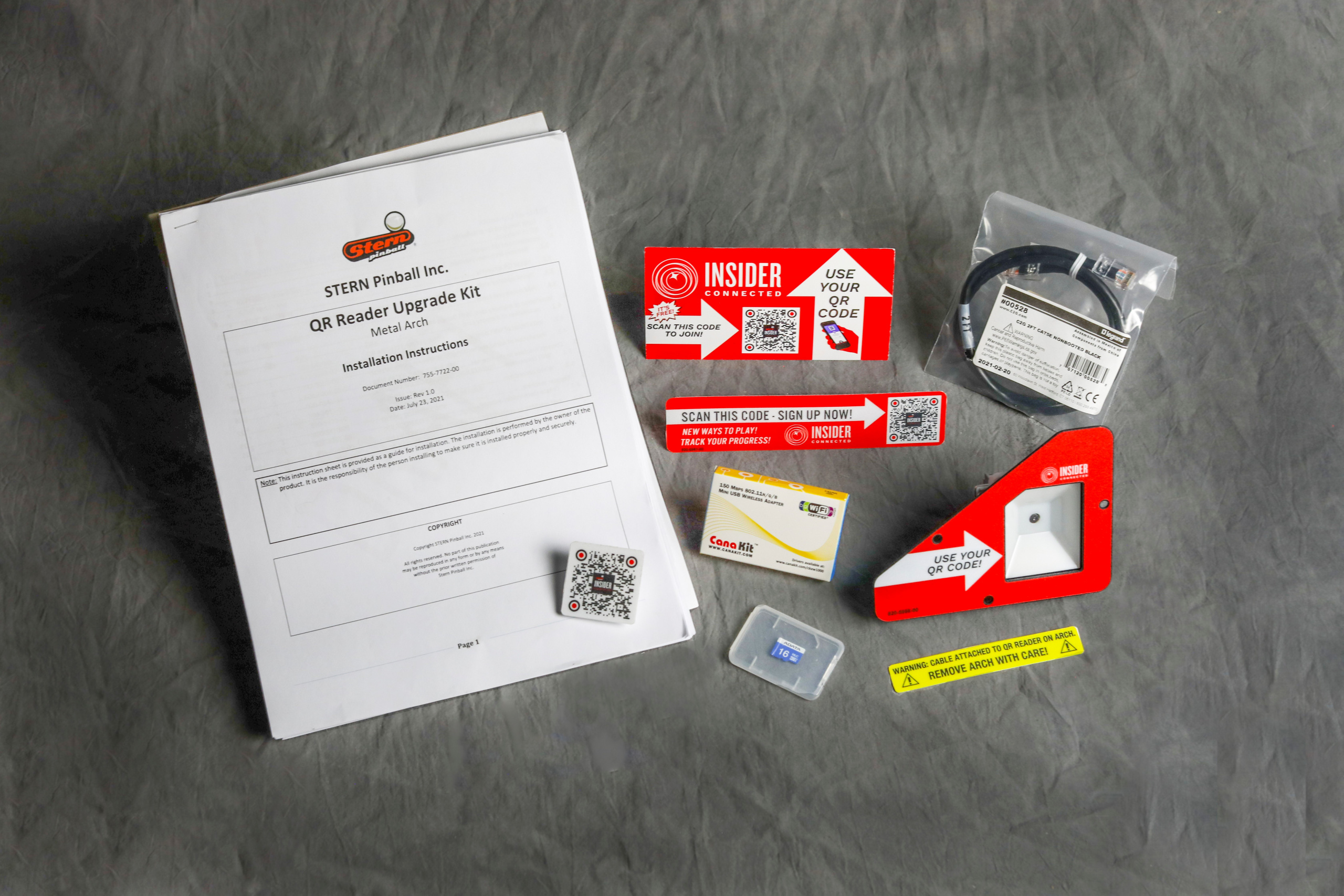 These upgrade kits are easy to install and we will soon share an instructional video to show how easy it is to install, set up, and connect any Stern Spike® 2 LCD game with these upgrade kits.
Insider Connected upgrade kits will be available starting in November through authorized Stern Pinball distributors and dealers around the world.
Pricing and Availability:
Manufacturer's Suggested Retail Price ("MSRP")*:                                      $US 199.99
*MSRP for sales to USA end-users, before any VAT, GST, Sales Tax, Duties, or other taxes.
About Insider Connected:
Registration for Insider Connected is now available at insider.sternpinball.com/.  Players can register at a connected game by scanning a QR code or at the Stern Pinball website. Once a player registers, they are issued a unique QR Code that can be used to identify that player at any connected Stern pinball machine anywhere in the world. When a player logs into the machine, they can track progress, earn new game specific achievements, engage with the player community, and participate in promotions and Challenge Quests.
Challenge Quests can be issued by operators to drive play at their locations and build player loyalty or by Stern Pinball to highlight a game title or engage the community. When players complete quests, they receive loyalty rewards.
"Insider Connected will transform how players interact with pinball machines.  Operators will benefit greatly from new tools to drive play and maintain games," said Gary Stern, Chairman and CEO of Stern Pinball, Inc.
About Stern Pinball, Inc.
Stern Pinball, Inc. is a global lifestyle brand based on the iconic and outrageously fun modern American game of pinball.  Headquartered minutes from Chicago's O'Hare International Airport in the heart of North America, the company creates, designs, engineers, manufactures, markets, and distributes a full line of technologically advanced terrestrial and digital pinball games, parts, accessories, and merchandise.  Stern Pinball serves digital, consumer, commercial, and corporate markets around the globe.
Recent Stern Pinball titles include Godzilla, The Mandalorian, Led Zeppelin, Avengers: Infinity Quest, Teenage Mutant Ninja Turtles, Stranger Things, Elvira's House of Horrors, Jurassic Park, Black Knight: Sword of Rage, The Munsters, The Beatles, Deadpool, Iron Maiden, Guardians of the Galaxy, Star Wars, Aerosmith, Ghostbusters, KISS, Metallica, Game of Thrones, The Walking Dead, Star Trek, AC/DC, Batman, and Spider-Man.  A broad range of players enjoy Stern Pinball's games from professional pinball players who compete in high-stakes competitions around the globe to novice players who are discovering the allure of the silver ball for the first time.  To join the fun and learn more, please visit www.sternpinball.com.