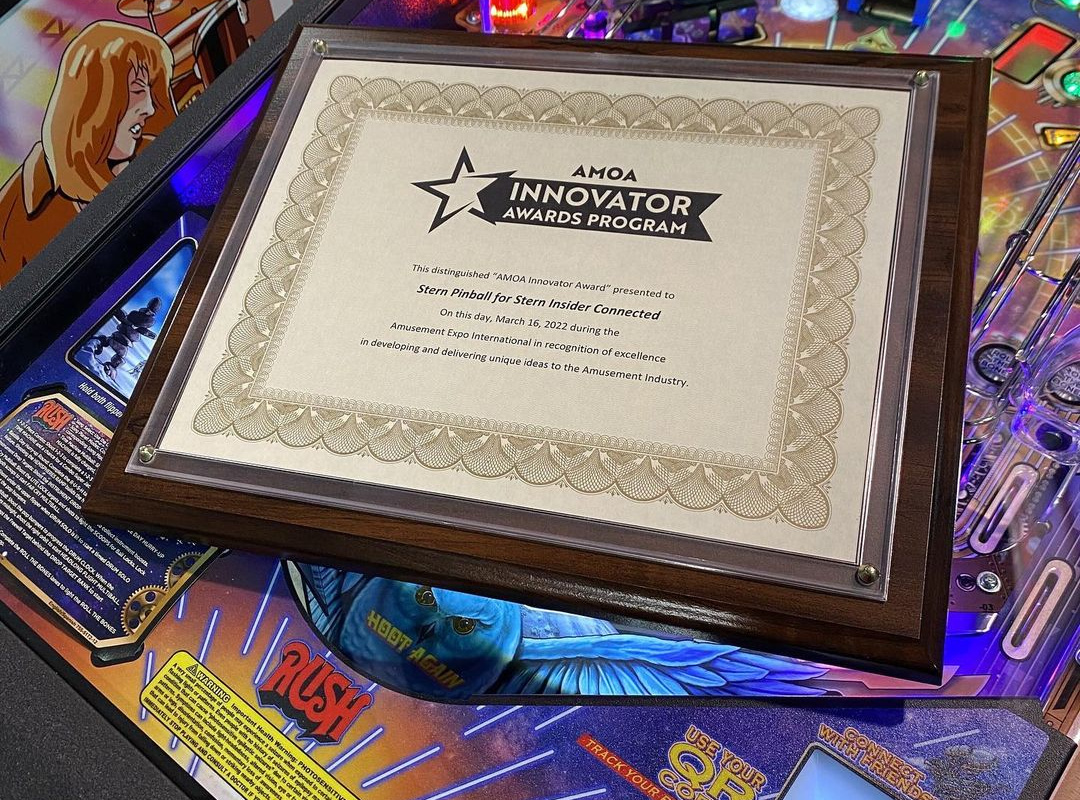 Back to All News
03/17/22
Insider Connected™ from Stern Pinball Earns AMOA Innovator Award
Another achievement. Another win for Stern's Insider Connected!  At this year's Amusement Expo International, Stern Pinball was presented with the AMOA Innovator Award for Insider Connected in recognition of excellence in developing and delivering unique ideas to the Amusement Industry.  The AMOA Innovator Awards Program objective is to recognize the efforts of manufacturers and suppliers in bringing exciting, new products to market for the amusement and entertainment industry.
Stern Pinball's Insider Connected is the greatest technological advance to pinball in decades, giving players even more reasons to play. Insider Connected lets players track scores and offers new achievements for connected pinball machines. Through their mobile phones or computers, players can access their profiles, post scores, find the locations of connected machines, or explore pinball activities in their area.
Insider Connected Pro provides tools for commercial operators to improve earnings and operational efficiency through remote updates and diagnostics. All Stern Pinball machines now ship with Insider Connected enabled. All pinball players can register for Insider Connected at insider.sternpinball.com/.
"Insider Connected is transforming how players interact with pinball machines.  Operators are benefiting greatly from new tools to drive play and maintain games," said Gary Stern, Chairman and CEO of Stern Pinball, Inc.