Back to All News
09/22/23
Stern Pinball Announces 2023 Roster for University of Illinois NIL Program
Illinois Football players serve as brand ambassadors as part of Stern Pinball's initiative to help empower student-athletes, both on and off the field
CHICAGO, IL – September 22, 2023 – Stern Pinball, Inc. has announced the 2023 roster for their University of Illinois NIL (Name, Image, Likeness) Program.  Representatives from the Fighting Illini football team serve as brand ambassadors as part of Stern's effort to support student-athletes at the University of Illinois Urbana-Champaign.
The players on the 2023 NIL roster are Luke Altmyer, Malik Elzy, Casey Washington, Josh McCray, Reggie Love III, Kenenna Odeluga, Hank Beatty and Shawn Miller. Stern Pinball congratulates all of these talented athletes and wishes them a successful 2023 collegiate season!
These players and their teammates will be playing the latest Stern pinball games, Venom and Foo Fighters, and competing against one another to boast their pinball prowess on social media. The two games will be housed in the Liuget Players' Lounge at the Henry Dale and Betty Smith Football Performance Center at the University of Illinois Urbana-Champaign.  Additionally, all players will be registered on Stern's Insider Connected platform, where they can track progress, earn new game-specific achievements and engage with the wider player community.
Venom, Stern's all-new line of pinball machines starring one of the most iconic characters in the Marvel Universe, features more than 20 characters including Eddie Brock, Flash Thompson, Gwen Stacy, Peter Parker and more! The action-packed machine is brought to life with beautiful comic book-style artwork as well as digital and physical changing elements based on your choice of character.
Foo Fighters brings a full concert experience home as players are immersed in an epic pinball adventure featuring 15 iconic songs spanning the band's expansive catalog, including All My Life, Best of You, Breakout and more. An entire new universe has been developed with jaw-dropping hand-drawn artwork and custom animations.
"We're thrilled to partner with Fighting Illini players for a second year in a row," said Dave Peterson, Co-Owner of Stern Pinball, Inc., and proud Illinois alumnus.  "It is an honor to support these talented players and introduce them to the game of pinball that is so near and dear to my heart," said Zach Sharpe, Director of Marketing at Stern Pinball, Inc., two-time pinball world champion, and proud Illinois alumnus.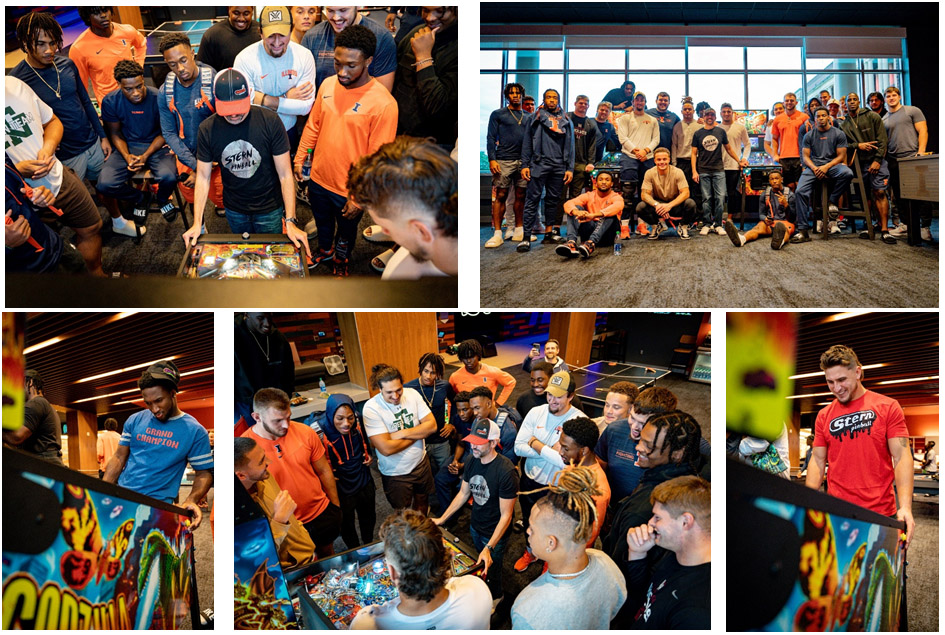 Zach Sharpe with the 2022 University of Illinois NIL Players and Teammates
About Insider Connected
Insider Connected is a comprehensive technology initiative to connect the universe of Stern pinball games. The platform is designed to enhance and extend player engagement with the games across both home and commercial environments. It also presents professional operators of the pinball games a robust set of tools to drive location play, build player loyalty, analyze performance, make adjustments remotely, and maintain the games.
Registration for Insider Connected is available at insider.sternpinball.com. Players can also register at a connected game by scanning a registration QR code on the machine. Once a player registers, they are issued a unique QR Code that can be used to identify that player at any connected Stern pinball game anywhere in the world. When a player scans into the game, they can track progress, earn new game specific achievements, engage with the player community, and participate in promotions and Challenge Quests.
About Stern Pinball, Inc.
Stern Pinball, Inc. creates compelling entertainment that inspires a lifetime love of games, sparks passion, forges friendships, and connects people everywhere through fun, innovative, technologically advanced pinball games, and experiences.  Headquartered minutes from Chicago's O'Hare International Airport in the heart of North America, the company creates, designs, engineers, manufactures, markets, and distributes a full line of technologically advanced terrestrial and digital pinball games, parts, accessories, and merchandise. Stern Pinball serves digital, consumer, commercial, and corporate markets around the globe.
Recent Stern Pinball titles include Venom, Foo Fighters, James Bond 007, Rush, Godzilla, The Mandalorian, Led Zeppelin, Avengers: Infinity Quest, Teenage Mutant Ninja Turtles, Stranger Things, Elvira's House of Horrors, Jurassic Park, Black Knight: Sword of Rage, The Munsters, The Beatles, Deadpool, Iron Maiden, Guardians of the Galaxy, Star Wars, Aerosmith, Ghostbusters, KISS, Metallica, Game of Thrones, The Walking Dead, Star Trek, AC/DC, Batman, and Spider-Man. A broad range of players enjoy Stern Pinball's games from professional pinball players who compete in high-stakes competitions around the globe to novice players who are discovering the allure of the silver ball for the first time. To join the fun and learn more, please visit www.stern pinball.com.